Diversity and inclusion are vital to a healthy workplace and a successful profession, and president Jenny Gu FCCA will make them her watchwords during her year in office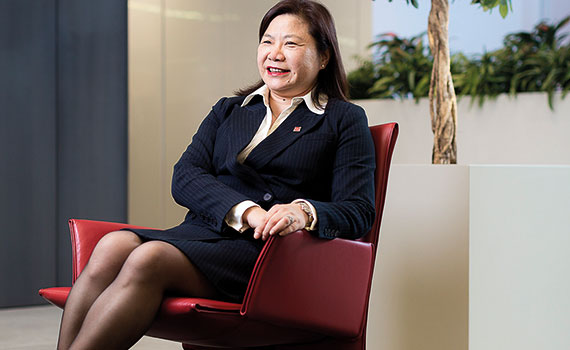 This article was first published in the November/December 2019 China edition of Accounting and Business magazine.
The world was a very different place when I was a girl growing up in Shanghai. Perhaps the biggest contrast between then and now can be summed up in a single word: opportunity.
While I was at school, chances for girls were limited in all societies. It took a great leap of imagination to look beyond the roles that were traditionally left for females.
Yet today I find myself writing my first column as the new president of ACCA – and I could not feel happier, prouder or humbler at having the chance to serve 219,000 colleagues across the world, as well as guarding the welfare of half a million students and affiliates.
I owe this great good fortune to ACCA, and I am thankful for all it has done for me and for countless thousands like me. I qualified with ACCA in 1998, and joining our wonderful association was perhaps the best decision I have ever made in my life. Now I am anxious to promote the interests of professional accountants all around the world.
My special passions – and I aim to make them the main themes of my presidency – are the values of diversity and inclusivity. I am honoured to serve as the first Chinese woman president of ACCA, and my mission is to champion the ever growing diversity of our organisation, especially in attracting females to the profession.
Diversity is not just about including differences of gender, ethnicity, sexual orientation, socio-economic status, age, physical abilities, and religious and political beliefs in the workplace, but also about embracing all the talents that accountants bring to their work. I recall my early days when accountants were seen as auditors and nothing more. Now we are trained for roles right across commerce and public administration – an important and welcome change.
This matters so much to me. I have seen improvements in opportunities for women but they don't go far enough. According to the most recent UN and International Labour Organization report, at the current pace of progress it will take another 200 years to bring gender equality to the workplace. I want to speak about removing barriers to equal pay and promoting equal chances for women, including at board-level, and to make the point that diversity is good for businesses. It brings creativity, innovation and ideas.
Finally, I want to inspire women to want more in their professional life, to aim higher. Ambition is all about silencing the inner voice that tells women: 'You aren't ready, you can't achieve, you won't be able to get there.' My aim is to ensure that in ACCA what everyone, especially women, hears is: 'You are, you can, you will.'
Jenny Gu FCCA is chief operating officer of Richemont China.