Business Leadership South Africa CEO Busisiwe Mavuso ACCA proclaims the message as loudly as she can: leadership failure is the most serious organisational failure of all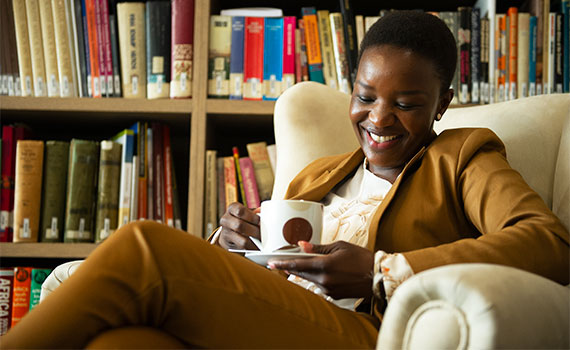 This article was first published in the November/December 2019 Africa edition of Accounting and Business magazine.
Busisiwe Mavuso wastes no time in telling it like it is. Since her appointment in July as the CEO of Business Leadership South Africa, the organisation to which the heads of South Africa's largest and best-known corporations belong, she has fired off a series of strongly worded statements about the sorry state of the nation.
She has criticised the Cabinet – South Africa's highest level of government – for wasting time squabbling, and exhorted it to get behind a controversial plan by the finance minister to turn the country's fortunes around. She has blasted South Africa's corporations for the small number of women on boards and in corner offices. She even issued a blistering statement on how beleaguered state-owned power utility Eskom – where she sits on the board – needs a clear plan and strong leadership.
Born in the Soweto township outside Johannesburg during the apartheid era, Mavuso did well in accounting at school. When she matriculated aged 16 in 1994, the year South Africa became a democracy, she says she decided to pursue accounting as a career 'without really knowing what it meant'.
It was a long road to qualification. With no money for university, she worked at a bank for a year before starting a degree in accounting and auditing. It took her nine years to complete, as a result of apartheid's legacy of a poorly funded education system for non-whites.
'When I started working I was also interacting with a computer for the first time,' she adds. 'It took me so long to complete assignments. I would be the first person in at work and the last person to leave in the evening.'
The first subject Mavuso raises in AB's interview is her frustration with South Africa's education system. She cites statistics indicating that 80% of grade 4 children (halfway through primary school) cannot read for meaning, while other children around the world are being taught coding and programming by that age.
She puts the failures of the education system down to poor leadership. 'We are the most unequal society in the world,' she says. 'It's frustrating, because the people that continue to be disadvantaged are those who were disadvantaged by the apartheid system. At some point we're going to have to take some responsibility about where the country is today. If we are put in a position to lead, then we have an obligation to do exactly that. If you fail to lead and intervene to move your company, constituency or country forward, you cannot continue blaming the evils of the past.'

Unpalatable truths
Mavuso has received 'some pushback from my own constituency' for voicing what can be unpalatable truths. 'You cannot afford to sit on the fence as a leader,' she explains. 'This is about contextual leadership, about being a leader of your time. I don't have 100% consensus, but I'm not looking for it – I'm looking to do what is right.'
South Africa, she warns, is 'on the precipice'. Government and civil society are making enormous demands on the business community, accusing it of not having done enough. 'And they are right; business has not done enough,' Mavuso says. 'If it had, then the transformation levels within corporate South Africa wouldn't be what they are.'
A recent Commission for Employment Equity report reveals that while black South Africans hold 76% of government positions, whites have 69.6% of jobs in the private sector. Mavuso says: 'I think it is fundamentally wrong that 25 years into democracy corporate South Africa only has 14.3% of its top management being black African. We have statistics telling us that more black people are entering universities, graduating and being absorbed into corporate South Africa. So what excuse does it have for not having boardrooms that are fairly representative of South African demographics?'
Mavuso herself is a bit of an exception. She sits on the board of business organisation Business Unity South Africa, and asset finance company Resultant Finance as well as that of Eskom. She also serves on the finance and procurement advisory committee at the University of Fort Hare in the Eastern Cape.
Mavuso was appointed to the Eskom board in 2018 as part of BLSA's vision to ensure South Africa is a capable state and that business leaders help deploy their financial and human resources to rebuild the country after a decade of misrule.
'Eskom is a place where everything that can possibly be going wrong is going wrong, and everything that can possibly fall apart is falling apart,' she says. 'It's amazing how much rot we uncovered. As we came in and started dealing with the leadership, we realised that the problems existed right down to the bottom.
'I listen to people from Soweto saying they buy R1,000 of electricity for only R300, and they're buying it from Eskom.'
Poisoned chalice
With Eskom having racked up R450bn (US$29.5bn) in debt and reliant on state bailouts, Mavuso's position on the board may be something of a poisoned chalice. Debt restructuring and cost reduction are the pillars of the Eskom board's turnaround plan, but government won't allow the company to shed jobs even though it has 16,000 more employees than it needs.
'There is a consensus among all the credit rating agencies that South Africa is not going to achieve the economic reforms it has put in place because of the political infighting,' she says. 'The credit rating agencies look for fiscal, institutional and economic strength and for susceptibility to event risk. As a country, we have to borrow just to stay afloat. We have once again missed our tax revenue target. We are sitting with a budget deficit of about R14.6bn [US$956m].'
She was equally critical of big business when it opposed the introduction of the national minimum wage of R3,500 (US$229) a month. It irked her constituents, but she refused to be silent. 'That's why you have this big trust deficit between business and civil society, between business and labour, and between business and government. It is precisely because, as business, we are in it for our businesses' business. Business has to worry about much more than just business. We cannot continue being an island of prosperity in a sea of poverty, because business can only prosper in a prosperous society.'
She lists the frustrations for business leaders as policy uncertainty, dithering on the land question, pointless discussions about what the central bank does, and sluggishness over releasing further broadband spectrum.
'A lot is expected from us to turn this economic trajectory around, but for that to happen we need certain things from a structural perspective,' she says, adding that while there may not always be agreement on everything, business leaders by and large agree on the main things that have to be done.

Socially committed
'Our greatest challenge is convincing the rest of the country and our social partners that business has the best interests of the country at heart. But my CEOs had better make sure they are right behind me backing me up on this, because I can't be jumping up and down and promising a whole lot of things when they are not going to deliver – I deliver through them.'
Mavuso launched the BLSA Connect initiative to connect black-owned small companies to the supply chains of big businesses. BLSA also supports the Youth Employment Service initiative, which aims to create a million jobs over two years.
After gaining a master's in business leadership and a string of other qualifications, she qualified as a professional accountant last year. She didn't take the South African accounting qualification route because of the programme's rigidity and inability to accommodate distance learning – she couldn't satisfy its full-time requirement as she needed to work to support her extended family.
'The ACCA Qualification allows someone like me to do my articles by providing a body of evidence,' she says. 'And with ACCA you write an international exam. When you pass that exam, you know you're as good as anyone sitting in Asia, Canada or the UK. I am glad I did it that way, because it gives me the greatest of confidence that I'm not only competing with my fellow South Africans, but with the rest of the world.'
Accountants, she says, have a key role to play in South Africa. 'The crisis we are in as a country is mainly a financial one. There are a lot of things from an accounting perspective that can be done, such as balance sheet restructuring, debt restructuring, and – at Eskom, for example – trying to find innovative ways to deal with debt.
'We also need to help with the accounting affairs of SMMEs [small, micro and medium enterprises], many of which don't survive beyond a year because they lack financial acumen. We can play a meaningful role there – change is needed not just at the national level, but also with companies' financial basics.'

Nicki Güles, journalist in Johannesburg
"At some point we have to take responsibility. If we are put in a position to lead, we have an obligation to do exactly that"