Khin Nyo Nyo Aung FCCA, financial controller at Coca-Cola Pinya Beverages Myanmar, describes how she has continued to learn and adapt to new technology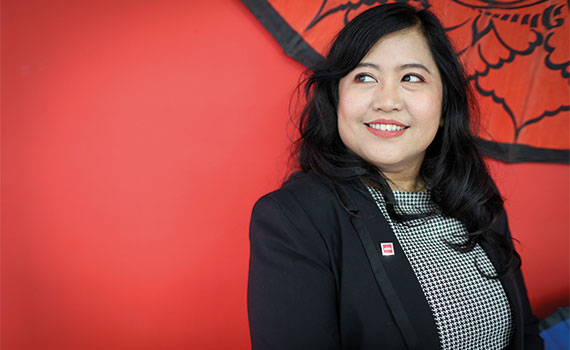 This article was first published in the November/December 2019 Singapore edition of Accounting and Business magazine.
Ask Khin Nyo Nyo Aung how she describes herself, and she responds without missing a beat. 'I'd say "compliance", "control" and "integrity",' she says, sitting in the recreation room of Coca-Cola Pinya Beverages Myanmar, where she has been a financial controller since 2017.
With more than 25 years' experience, including working for multinational companies such as DHL and British American Tobacco in Myanmar, Nyo's self-chosen descriptors don't come unearned.
In 1996 she graduated from Yangon University with a bachelor of science degree in physics, but knew that she would eventually find herself working in the sector. 'My mother often told me about a family friend who was an accountant, so even when I was young it was something I knew about and wanted to do,' she recalls.
The decision to study with ACCA was easy. 'ACCA was the first globally recognised accounting programme that came into Myanmar, so I knew that I would be going there,' Nyo says.
With financial assistance from her employer, Nyo gained the ACCA Qualification before accepting a job in Malaysia as head of finance at DHL, working her way up to become regional controller for global business services Asia Pacific.
After 17 years with the courier business, in 2013 Nyo returned to Myanmar, joining British American Tobacco as head of operations finance, later becoming head of planning and service. This was followed by a stint in Singapore as group financial controller at Singapore Myanmar Investco. Her experience with both companies helped bolster her confidence in international accounting.
Having the ACCA Qualification was, she says, hugely beneficial as she moved between countries.
'With ACCA being a globally recognised body, it has provided some consistency for me,' she explains. 'I don't find myself needing another bridging programme when I move jobs. It has also provided me with a lot of mobility and the ability to apply for jobs with any company. I feel like it has created opportunities for me.'
Working in different countries also taught Nyo how to better integrate local systems with international standards, she says. 'In each country I gained more technical and local knowledge,' she says. 'But thanks to my knowledge of the ACCA curriculum, the learning came quickly and easily for me, helping me become a better employee.'
Focus on compliance
Realising that she wanted to take a permanent position in her home country, Nyo accepted a position at Coca-Cola Pinya Beverages Myanmar in 2017. From day one she knew that she would have to ensure that the company – which had only re-entered Myanmar's market in 2013 after decades of having no presence in the country – operated with the highest levels of compliance, she says.
'We have strict adherence and compliance policies as well as a code of business conduct about how we deal with assets as well as other areas like human rights and bribery,' she says. 'I've always been proud of helping companies become better and more fully compliant; that's how I always wanted to lead my career and my life.'
In addition to her regular duties, Nyo has become an integral part of the company's training and skills development programme.
'For career development we have training and development available, and we are always encouraging employees to come and continue to learn – not just in a limited scope, either. We want them to be ready for any challenge.'
Such challenges included Myanmar's decision to adjust the start and end months of the financial year, requiring Nyo to ensure that her company stays within regulatory standards. She remains unfazed, however. 'We are working to align with the financial year changes, but this is only a slight challenge that we will overcome,' she says.
That same positive attitude to dealing with change also applies to the evolving technological advances that the accounting field is experiencing, Nyo says. 'As systems become more centralised and technology advances, our company will have to engage in more strategic and analytical thinking. But that is something we will be able to handle.'
Continuous learner
She credits ACCA with encouraging her to continue with her own learning, enabling her to embrace changes and challenges as they appear.
'After I graduated it didn't mean that I would stay still in my education,' she says. 'I have to fulfil CPD units, which help me adjust to changes in accounting standards. My continuing learning always keeps me up to date and helps me to think about issues in the most effective way possible.'
Nyo's ability to adapt to constantly changing conditions took time to develop, she says. 'ACCA has given me the discipline needed to prioritise my work and be ready for challenges. Because of my training, I know that I will always be ready to handle them.'
Nyo says that she looks forward to continuing to learn new skills and hone existing ones through ACCA, but also looks forward to sharing the information she learns with ACCA with up-and-coming accountants
'I always advise young accountants to be eager to learn and to always be curious,' she says. 'Don't say no to things: always think about what you can learn to improve yourself and the business.'
Victoria Milko, journalist
"ACCA has given me the discipline to be ready for challenges. I know that I will always be ready to handle them"