The venue for the second Africa Members Convention epitomises how reconstruction, aspiration and civic engagement can pay off, says ACCA president Jenny Gu FCCA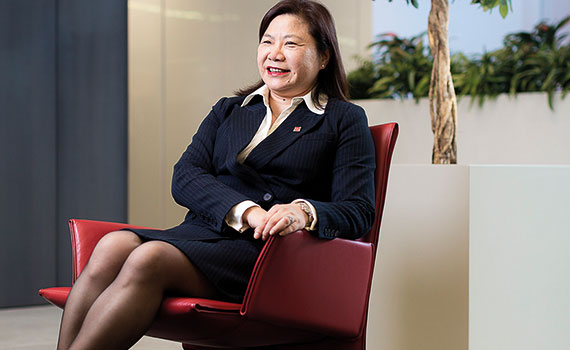 This article was first published in the February/March 2020 International edition of Accounting and Business magazine.
This article is a story of three numbers: 33, 99 and 840. It features one continent, Africa, and one astonishing nation, Rwanda, where I spent an inspiring few days at the end of 2019.
The 99 came to my mind while I was in the country for our second Africa Members Convention, as that was the number of days the mass slaughter of Tutsi went on for in Rwanda in 1994. For the people who lived through it, it must have seemed like the end of the world. But roll on a generation, and although the memories remain, a new Rwanda has emerged as a beacon of hope for Africa. That's why the now peaceful capital, Kigali, was the perfect venue for 840 ACCA members to gather from 33 nations across Africa – from South Africa in the south, Ethiopia in the east, Sierra Leone in the west, Sudan in the north, and all points in between.
It was an awe-inspiring display that showed the determination of our people to develop the next generation of finance professionals and play a full part in the rise of Africa as an economic power. It was so uplifting to hear the stories of people who had come to share their dreams and show their faith in our ability to fill a leading role in making Africa a better place, and the world a better planet.
I took one clear message away from the event: we can all do more to raise our voices as advocates for ACCA – whether that means going to a conference, contributing in public forums, building local networks, speaking on ACCA's behalf at community events, recommending an AB article or professional insights report, holding informal conversations with friends or family who express an interest in accountancy, or by simply sharing a social media post. Not only does all this activity help to raise your professional body's profile, it also helps to build your own in the process.
There are so many ways we can serve, and it's important that we do what we can to protect the public interest, defend ethical integrity and promote ACCA as a force for good in whatever way we can. It is that kind of civic devotion that can turn a nation away from the dark and towards the light.

Jenny Gu FCCA is chief executive officer at Richemont China.
"It was uplifting to hear the stories of people showing their faith in ACCA's ability to fill a leading role in making Africa a better place"