The design of strategic reports can be as important as their content. Donna Butchart urges FDs to become more creative and offers guidance on how to get them right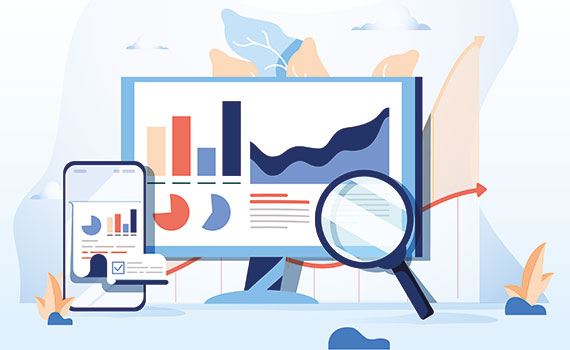 This article was first published in the June 2020 Ireland edition of Accounting and Business magazine.
As the role of finance director moves from the traditional finance executive to strategic partner, the role of business intelligence has also grown in importance as the tool to help with strategic insight. FDs can now gather, analyse and visualise financial data more effectively, and can derive valuable insights that help with corporate decision-making and scenario planning.
To do so requires significant investment in business intelligence tools and platforms, with the primary focus being on ensuring the design and implementation of the system facilitates effective data capture and collation. However, the layout of the output often doesn't get as much attention or investment; the design of the reports and dashboards is usually carried out by a traditional developer or business analytics consultant who is looking at ensuring the right data is included, rather than developing an aesthetically pleasing output.
But get the design wrong and the value of the dashboard is quickly eroded. The key data-narrative becomes lost and makes the output less valuable.
There is an argument that the FD needs to become more creative. In order for the dashboard and reports to accurately reflect the data trends, careful consideration needs to be given to the overall design. Dashboard layouts and colours are often left until the end of a project, and no real thought is given to placement or palette. The result can be a design that confuses the key messages that the FD is trying to share. The key design elements that the FD should consider including are listed in the panel.

Intuitive design
While the FD might have to adhere to corporate branding, they should also consider some basic design rules.
The layout of the data should only show the essential data. Including extraneous data makes the design cluttered and confusing. Providing sufficient white space around data (such as tables, titles and legends) ensures they are legible and easy to focus on.
Selecting colours that are conducive and cohesive within a limited spectrum will give the overall design consistency. Using saturated colours that are indistinct or having a huge variety of colour types may jar and appear harsh. Like an artist creating a painting, the colours and items should fit naturally together to tell a story. The exemption here is if there is a notable exception in the data that needs to stand out (such as financial risk or poor performance), in which case use a dominant colour.
As dashboards increase in sophistication and functionality, they must retain their usability. The end user needs to able to use the dashboard to understand the situation and as a prompt for a next step or interaction. Dashboards are no longer the static conveyors of information; they can now drill down into the detail. So ensure the dashboard design clearly indicates that an action can occur, and use this design motif consistently across dashboards so that users recognise it as an action point. This may be an icon, a specific colour or a hyperlink, but whatever is used needs to fit in with the overall design.
Also ensure the wording used in titles, questions and legends is neutral, as this affects how people will respond and can influence decision-making. A sales report entitled 'Number of products failing to reach the target' gives a far more negative connotation than 'Number of products below expected'.

Easy to read
There also needs to be a logical layout for your dashboards to make them easy to read. Traditionally the eye moves from left to right and from top to bottom, so build this into the reading order.
The eye also connects items that appear in groups. This means several unconnected graphs or tables that appear in a column instinctively cause the brain to see them as connected data. The use of grids, shading, borders and dividing lines can help to link those data shapes that are related, making it clear where data relationships fit.
If the FD is to make an impact, they need to understand what the dashboard is being used for, what data is required and what the desired outcomes are from using it. While the dashboard or report will usually comprise data objects, such as graphs, word tags and tables, it is still an important channel for telling a corporate story. So there should be a clear narrative that takes the user on a journey from the core data, through the collation and on to a final decision.
Data in a logical flow will make more sense than data simply grouped together. The more elements and interactions it has, the more options to consider. This can make already complex decision-making even harder.
The dashboard should simplify a role or an action. Understanding what needs to be achieved at the outset means it is possible to include only the essential elements, and to provide an obvious path that reduces the number of interactions, tasks and eye movements.
Making dashboards and reports compelling and understandable is essential if they are to facilitate corporate actions and decision-making. To achieve this, FDs need to unleash their creativity and become dashboard-design artists.

Donna Butchart is managing director of consultancy Project (EU).
"Making reports compelling and understandable is essential if they are to facilitate corporate actions and decision-making"