After more than three decades in Europe, Rod Britton FCCA, CFO at Autogrow, has taken his experience back home to work in the emerging agritech business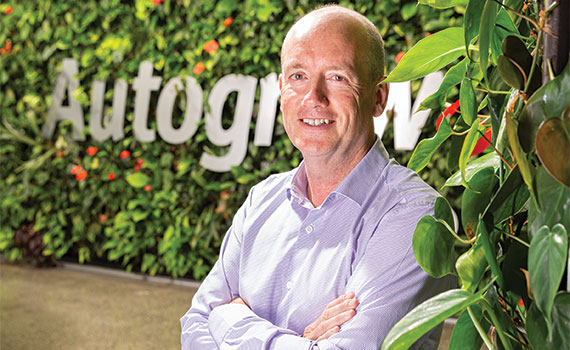 This article was first published in the June 2020 Singapore edition of Accounting and Business magazine.
What's it like to leave the financial centre of the world for a small yet plucky economy in the South Pacific?
'Right now, New Zealand feels pretty good, to be honest. There are definite advantages to living in a country at the bottom of the world during a global pandemic,' says Rod Britton, CFO at Autogrow, an agritech firm that supplies software and technology products and services to the global horticulture market.
Britton landed his role with Autogrow in February 2018 after more than three decades in London. Chief executive Darryn Keiller was looking for an experienced CFO with the skills needed to prepare the business for investment and global growth. Britton, meanwhile, wanted to get stuck into another promising technology business as he settled back into life in his home country.
'After more than 30 years abroad and a string of big CFO roles I was ready to come home. I missed my family – my elderly parents particularly,' he says, adding that his wife was keen to have what New Zealanders call an 'OE' (overseas experience).
'From a professional perspective, I could see it was an exciting time to do business in New Zealand, particularly looking at the country's emerging agritech sector,' Britton says in his still-strong British accent.
New Zealand's start-up ecosystem for agritech and new food has been ranked in the global top 10 by data insights firm Startup Genome. Meanwhile, the New Zealand government has announced that it will back the country's NZ$1.4bn agritech sector to become a multi-billion-dolllar sector by 2025.
In February, Autogrow was one of 60 New Zealand agriculture innovation firms selected by the government to showcase their technologies at evokeAG, an event in Melbourne, Australia that was designed to create export and partnership opportunities.
Good place for innovation
'New Zealand's a good place for innovation generally and a much better place than the UK when it comes to government investment in research and development,' says Britton.
The country offers a tax credit scheme for research and development, while government agencies such as New Zealand Trade and Enterprise and Callaghan Innovation give businesses access to overseas investors, capital-raising networks and a range of funding and support.
With 35 staff based in New Zealand, Malaysia and the US, Autogrow has two main prongs to its business. The development and sale of control devices, a mix of hardware and software that allows farmers to control the indoor growing environment, is one. FarmRoad, a new crop management software platform for larger scale farming, is the other.
'The controlled environment agriculture market – our market – is limited in its use of technology, relatively speaking,' Britton notes. 'Some farmers don't use any automation, while others across the globe are thinking seriously about automating what they don't automate today.'
Autogrow's products are ideal for the market because they're easy to use and give farmers a good return on investment, says Britton. 'Our control devices, for example, allow farmers to dose and manage climate at a distance without the need for hands-on intervention, all managed through our cloud-based service. At the other end of the spectrum, our FarmRoad service will eventually allow for the complete digitisation of a farming operation so that it effectively runs itself.'
With data from AgFunder's 2018 Agrifood Tech Investing Report showing global investment in agritech increasing by an estimated 36% per year in the five years to 2018, Britton is focused on preparing Autogrow for investment. So far, he's implemented a new pricing tool and customer management system, and developed an investor-grade financial model suitable for budgeting and raising capital.
A key part of this preparation has been developing Autogrow's accounting practices in the areas of due diligence and board reporting. New agreements are now in place with partners around the world and Britton has also introduced a new sales commission scheme.
Britton completed the ACCA Qualification at the City of London College in the late 1980s while holding down a full-time job at British Telecom – no mean feat, he admits.
'I don't think I've worked as hard for anything in my life; It was just really, really hard. I failed the first time round. I'll never forget the day I got the letter in the mail saying I'd passed: I was ecstatic.' says Britton, who can still recite his membership number from memory, having written it on exam papers so many times.
ACCA has, he says, been essential in getting him to the position he is in now. 'Do I think my ACCA Qualification and accountancy background has helped me achieve success in my career? The short answer is yes. ACCA is well recognised globally. It opens doors. In my experience, it's always part of the conversation.'

More than numbers
Today, with more than 20 years' CFO experience behind him, Britton says he realised early in his career his interests went beyond just figures. 'Don't get me wrong: being a numbers guy isn't a bad thing,' he says. 'But I'm pretty ambitious and not really one to stay in the middle of the pack. I'm the kind of CFO who likes to roll up his sleeves and be involved in everything from the analysis and strategy to mentoring and supporting people to achieve their potential.'
In past roles, Britton has picked up responsibility for HR and legal functions, been involved with staff engagement programmes and helped executive teams carry out large-scale business transformation. He's also implemented skills training to help staff stay in work and once persuaded a firm to stump up £10,000 to cover an employee's drug rehabilitation. Back in the 1990s, he gifted his Disney World time share to a work colleague with a terminally ill daughter whose dying wish was to see Mickey Mouse.
'In my mind, a high-performing CFO needs to have a lot of soft skills alongside commercial acumen and analysis,' he says. 'You have to set high standards and give people the tools and support to achieve those standards. With the right team in place, I believe a company can pretty much achieve anything.'
In 2018, Britton self-published a book, Business capability: how to assess the competency of your technology-based business, on Amazon. Drawing on his own experience, the e-book is a step-by-step guide to understanding what a technology business owner can do to prepare their business for growth or a new phase.
'I wrote the book for fun to start with, but I definitely got more serious about it as I went along. In the end, I finished it between jobs, after moving back to New Zealand. I wanted readers to understand what you have to consider before a business is ready to scale up and grow. But I also wanted it to be accessible – so I came up with the idea of putting a bright yellow lemonade stand on the cover. It's got a couple of cute cartoon characters who guide you through the book.'
At its heart, Britton's e-book is about sustainability and structuring a business for long-term survival and growth. 'Business sustainability to me means being profitable enough to satisfy your customers, your staff and your shareholders,' he says. 'Of course, everyone needs to get what they want from the business. But it's also about keeping an eye on the horizon to understand what's happening in the world and how it might affect what you do.'
Autogrow is, says Britton, acutely aware of how climate change is pressuring farmers around the world to change their practices. At the same time, the company realises that many farmers are hesitant to use data-driven technology to help them make that change.
'The average age of a farmer in the United States is 58 – they're not a generation that's grown up with technology and that's a challenge for us,' he admits. 'We're thinking about how we might solve these issues as a business. We need to design systems that take something very complex and present it in an engaging way.'
Meanwhile, recent data from the World Economic Forum reveals that by 2050, global demand for food is expected to be 60% greater than it is today. 'In that sense, technology products like ours potentially have an important role to play in global food security by helping farmers become more efficient at putting food on our plates and making their businesses more sustainable as a result.'
Right now, one of the biggest challenges facing the world's economy – and firms like Autogrow – is working out how to adjust to a post-Covid-19 world. In late March, Autogrow quickly pulled together a plan after New Zealand Prime Minister Jacinda Ardern announced a month-long lockdown. At the time, the business was deemed an essential service as part of the New Zealand food supply chain and was allowed to keep trading. Fortunately, says Britton, it had enough product on hand to satisfy sales as access to essential product parts manufactured in China stalled but it had to reduce face-to-face sales in favour of online sales and marketing.
For the most part, Autogrow staff are continuing to work from home. Britton attends daily senior leadership briefings on Zoom and carries out all team meetings online. 'It's not easy but it's working. We're keeping an eye on the numbers to fully assess the impact on the business and we're also trying to get through this time together as a team,' he says, adding that he has set up a virtual drinks get together on Zoom where staff from New Zealand, the US and Malaysia come together to talk about anything other than work. Inevitably, his 15-month-old toddler Sebastian plays a starring role in his stories.
'These are interesting times for us all – no matter where in the world we live,' Britton concludes. 'Overall, I think there's going to be a big shift in world politics and no doubt CFOs everywhere will have to draw down on our experiences to help companies adjust to the new normal. For some of us, it may even require completely rethinking our business models.'

Jacqui Gibson, journalist
"There's going to be a big shift in world politics and CFOs will have to draw down on our experiences to help companies adjust to the new normal"