Interviewed ahead of the Covid-19 pandemic, Liberal Democrat MP Sarah Olney ACCA explains how she is making her financial nous count in parliament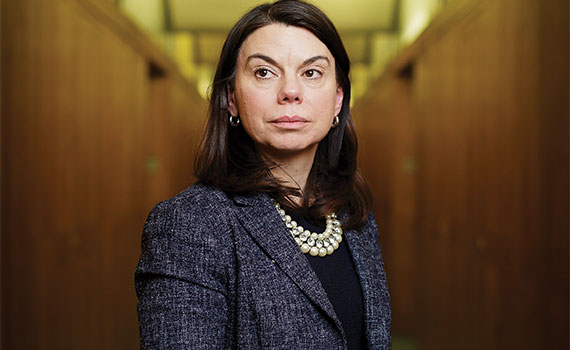 This article was first published in the June 2020 UK edition of Accounting and Business magazine.
In 2016, the UK unleashed a tidal wave of political turmoil when it voted to leave the European Union. For Sarah Olney ACCA, that year was also significant for two other reasons. First, she had earned her ACCA Qualification after eight years of studying. Second, she was – much to her own surprise – elected the Liberal Democrat MP for Richmond Park, in London.
'Becoming an MP was a complete accident,' admits Olney, who nevertheless seems entirely at ease in her compact Westminster office. 'I joined the Lib Dems after the 2015 general election because the Tories had won a majority and I was not terribly happy about it. I thought I'd just help out with a bit of leafleting.'
Despite that modest ambition, she soon got to know Ed Davey, now acting co-leader of the Liberal Democrat Party and MP for Kingston and Surbiton for most of the past 23 years. As Olney lived in Kingston, Davey encouraged her to put herself forward as the parliamentary candidate for the neighbouring constituency of Richmond Park – a seat that Conservative MP Zac Goldsmith then held with a majority of more than 23,000 votes.
'When Ed suggested it to me, I thought it sounded quite fun to fight a general election as a candidate, be on the ballot paper and be there at the count,' Olney recalls. 'Something to tell the grandchildren – Granny once stood for parliament, you know? That was literally all I thought I was getting into.'
She was duly selected as the Liberal Democrat candidate for Richmond Park, but found her name on the ballot paper sooner than expected when Goldsmith triggered a by-election. A renowned environmentalist, he resigned as an MP in October 2016 in protest at the government's decision to approve the construction of a third runway at Heathrow Airport. Goldsmith ran as an independent candidate in the by-election, but lost out to Olney, who took the seat with a majority of 1,872 votes.
'I was completely amazed,' Olney says about her victory. 'Zac stood as an independent rather than as a Conservative, which probably tilted the balance in my favour from the start, but he was the sitting MP and I assumed he would be returned.'
She believes that as well as dissatisfaction around Brexit – the Richmond Park constituency had voted strongly for remain in the EU referendum earlier that year – Donald Trump's victory in the US presidential election three weeks earlier played a significant role in her win.

Parliamentary pivot
Olney's election as MP for Richmond Park in December 2016 represented a dramatic turning point in her career journey. After gaining an English degree from King's College London, she hadn't known what she wanted to do next, so she had worked in publishing, events and for an arts charity. Then, in 2008, she joined online marketing agency Distilled, which gave her exposure to finance. She was responsible for all financial operations within the company, including the management and year-end accounts, billing, credit control, payroll, reconciliations and VAT.
'I realised that's actually what I was interested in,' she says. 'And it set me on the path to becoming a qualified accountant.' As she was working full time, she opted to study for the ACCA Qualification because it allowed her to study in the evenings and at weekends. 'I was able to do it in my own time and at my own pace,' she explains. After spending six years at Distilled, she worked at SCi Sales Group and the National Physical Laboratory, both in London.
She says the thing that first appealed to her about finance was 'it's a useful skill that I could take anywhere. I've had the privilege of working for some world-class organisations.'
She also likes the fact that finance professionals operate right at the heart of an organisation's life. 'If you don't understand how the money's coming into an organisation, and where it's going, you really don't know much about an organisation at all,' she points out.
Having a finance background to fall back on also proved very useful to Olney after she subsequently lost her seat to Goldsmith at the June 2017 general election. Once again standing as a Conservative candidate, he reclaimed the constituency with a wafer-thin majority of 45 votes. At that point, Olney had just six months' experience of being a constituency MP, so she had barely had a chance to get going.
Ahead of the election, she had feared a humiliating loss. 'But then I thought, "I've still got my husband, my kids and my house. Those are the things that are really important to me. I never expected to be an MP and I can get back to the life I had before without too much disruption. I've got my accountancy qualification now, so I can go back and do that."'
She admits it was galling to lose by 45 votes – 'I'm not going to pretend I was happy about it' – but the defeat created new opportunities. Conscious that there might be another snap election, she served as chief of staff for the then Liberal Democrat leader Vince Cable for a few months. Later, however, she decided that she wanted more stability, so she took a job as a financial accountant with a charity, Historic Royal Palaces, which is based at Hampton Court. Her role involved tax, treasury and financial reporting. She describes Historic Royal Palaces as 'a very exciting place to work' and says the only thing that could have persuaded her to leave was being re-elected to parliament.
Which is exactly what happened in the general election of December 2019. Olney capitalised on dissatisfaction with Brexit to unseat Goldsmith once more, this time with a majority of 7,766 votes. While she was personally thrilled to be re-elected, she was also bitterly disappointed to find that she was just one of 11 Liberal Democrat MPs returned to parliament. 'I'm here as a Liberal Democrat because I wanted to be part of a bigger movement to make a difference,' she says. 'It was never just about me. So the fact that we, as a party, didn't do any better was very disappointing.'
Since it seems unlikely there will be another general election before 2024, Olney now has a real opportunity to establish herself as a politician. Our interview took place before Covid-19 had fully taken hold in the UK, but at the time of speaking, as the Liberal Democrat spokesperson for business and trade, Olney was looking forward to keeping an eye on the government's trade negotiations with the EU and the US. She is also a member of the Commons' public accounts committee, a role that will allow her to wield her financial expertise to the full. 'It's about examining various government departments to see if they deliver value for money and how well they're spending taxpayers' money,' she explains. 'So that's going to be an interesting challenge.'

More grind than glamour
Olney says the benefits of being an MP include getting the chance to encounter people in her constituency whom she wouldn't otherwise get to meet and to find out things she wouldn't otherwise get to know. 'To be at the heart of political life is a privilege,' she says. 'A lot of people get their heads quite turned by that bit, but the day to day of politics tends to be much more the slow grind of writing letters to ministers and making phone calls on behalf of constituents.'
Being able to bring about change is meaningful, Olney says. While some are micro changes that might affect only two or three people, others are on a much bigger scale. 'I think there are more opportunities for that than people realise,' she explains. 'Even when your party's not in power.'
Again, speaking before the pandemic, Olney expressed concern about the trade barriers that small businesses could face following the UK's departure from the EU. 'The worry is that they're just not going to be part of some supply chains any more, and there's still no clarification on what the customs processes are going to be.'
Another area that needs clarification, she says, is tax – especially the amount of tax owed to individual governments by the tech giants. 'There needs to a global joined-up effort in order for people and organisations around the world to work out what tax is owed where.'
Whatever happens over coming months, Olney has much to look forward to in her nascent political career. So has she ruled out ever returning to finance? 'If I lose the next general election and I'm not an MP any more,' she says, 'I shall be very glad to return to my accountancy career.'

Sally Percy, journalist
"Becoming an MP was a complete accident. When I joined the party, I thought I'd just help out with a bit of leafleting"