Thomas Stone FCCA, the president of IT Tallaght, reflects on the funding challenges that are facing the higher education sector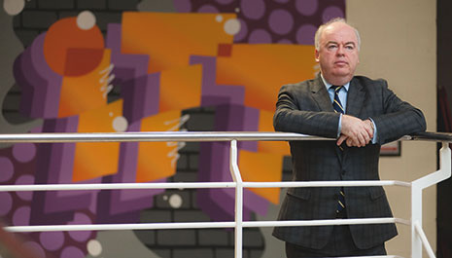 This article was first published in the May 2016 Ireland edition of Accounting and Business magazine.
If the 1960s laid the basis for Ireland's economic transformation, it was investment in education, above all else, that powered the engine of change. When the first of Ireland's regional technical colleges, later institutes of technology, opened their doors in 1970, they made access to high-quality third-level education possible for many thousands of people across the country for the first time.
Some 20 years later, it was the needs of one long-ignored region, ironically on the doorstep of the capital, that saw one of the last pieces of the jigsaw put in place. From modest beginnings in 1992, IT Tallaght, known today as ITT Dublin, offers world-class learning, training and R&D facilities to its students, and has built strong links with Ireland's business community and its health sciences, engineering and IT sectors.
'Prior to 1992, there was no third-level college in Tallaght,' the president of IT Tallaght, Thomas Stone FCCA, recalls. 'The community wasn't served and participation in third-level education was low, relative to the national average. Today, about 72-74% of our student cohort comes from the postal districts surrounding us. And if you include Wicklow and Kildare, that rises to 92%. So, in terms of profile, it has served its purpose and continues to do so.'
As the rebranding of regional technical colleges as institutes of technology indicates, there has been a process of sustained evolution, so what is driving that transformation, particularly against the backdrop of constrained resources?
'It's hard to point to any one particular factor, but a key one certainly has to be the profile of the staff,' Stone says. 'In most disciplines, the majority of our staff have come with not only high-level academic qualifications, but also from very practical backgrounds. They bring that to their role as lecturers. There's also a strong belief in institutes of technology around linking in with local industries to support research and training. That may not always be the case in some of the universities.'
The more modest size of the student body also fuels what Stone says is the distinct personality of IT Tallaght. 'Those who came in and set it up were all in their 20s and 30s back in 1992, and that culture of openness and partnership has been maintained over the years. Our total student population is around 5,600, full time and part time, and we have about 490 staff. Our normal class size is between 40 to 60 students, and, because we are small, lecturers know by name virtually every student. The ethos is very supportive, open and equitable, within the context of a higher education institute.'
The funding model for third-level institutions in Ireland is a relatively straightforward one, based on a payment from government for every registered student. This is done on a weighted average basis and paid annually. 'March 1 is a very important date for all the colleges and universities, because that's the date they have to be sure all students are registered,' he explains. 'The Higher Education Authority has a certain funding pie and it divides that up mathematically, based on the credits across each institution.'
Dwindling resources
While the funding approach is clear and easy to understand, Stone says it may be too simplistic. 'There is probably a review required, given some disciplines are more expensive to run than others. For example, a degree programme in forensics and science is going to be far more expensive than a degree in accounting.'
The reduction in funding for the education sector over the past seven years has compounded the challenge. Having served as the college's financial controller before taking on the role of president in 2014, Stone was in the vanguard of managing dwindling resources.
'It has certainly been an extremely difficult few years as funding dropped significantly across the higher education sector,' he says. 'At IT Tallaght we have maintained a strong financial base and kept within our budgets, but it was a period where, typical accountant, I had to say no more times than yes. Fortunately, we've come through and are not in deficit. I'm also proud that we have been able to do some new things, particularly in terms of part-time programmes and links with industry.'
Last September, the college opened its latest teaching facility, just off campus. With its 10 lecture theatres, it has boosted capacity by over 30%. 'We went off-campus rather than build something new because it was the best thing to do financially. It's created a really important resource in terms of extending our teaching space.'
Looking to the future, as the prospects for capital development projects slowly improve, Stone says one of his priorities as president will be the development of a sports science, health and recreation building. 'We were a little unfortunate in terms of public-private partnerships during the crash, so this is an area where I'd really like to do something.'
Like IT Tallaght, the suburb of Tallaght has changed out of all recognition since the early 1990s. Today it boasts a modern town centre with a distinctly European feel. While not all social issues have been resolved, few would dispute that huge progress has been made or that IT Tallaght has been central to it.
'There would be pockets of disadvantage throughout south County Dublin,' Stone says. 'In the sense that the profile of our student population is extremely local, we would say that we have addressed that reasonably well. Is there more work to be done? Absolutely. But many of our students here would be first-generation higher-education students, and we feel we have made higher education a reasonable choice for school-leavers here.'
Scant attention
Given the challenge of funding across the education sector, Stone confesses himself disappointed at the scant attention the issue received in the recent general election. 'Unfortunately, one could take the view that the amount of emphasis put on higher education through the various manifestos wasn't huge. Given we are seen as one of the significant drivers in the economy, third-level education didn't have the political traction you would expect. When there's no election, the importance of what we do, in terms of the economy, is seen to be extremely important, so that lack of emphasis was a bit frustrating.'
The election dealt a further blow when long-awaited legislation to create a three-campus technology university, bringing together the Dublin Institute of Technology, the Institute of Technology Blanchardstown and IT Tallaght fell at the final stages as the Dáil was dissolved. Although disappointed, Stone says: 'We're still working ahead and we would certainly hope it will be on the agenda of the next government. Merger talks continue and everyone is working very hard in respect of how this can best work.'
Practical outputs of those talks include a graduate research school with a common approach across the three institutes. However, Stone stresses that IT Tallaght will continue to play its unique role in meeting the needs of its region. 'More efficient use of resources will allow us to do more of what we're doing now. The new university would possibly be the largest university in Ireland, with 27,000 students, and that could bring a lot of advantages.'
IT Tallaght is structured around three academic schools: business and humanities, science and computing, and engineering, with degree, master's and PhD courses. A common denominator of all schools is that courses and programmes are informed by the industries they are directed at. 'When we develop a new programme, we have people from industry involved in the design of it. We also test the programme with industry before we deliver it. So, within reason, if we can identify a need or demand and serve it, we do. We can be a bit more agile because of our size, and so direct resources a little quicker.'
Stone points to IT Tallaght's track record of support for the pharmaceutical industry as evidence of this. A mini pharmaceutical plant on site allows students to be trained in complex processes, with the courses benefitting from links with most of the large pharma companies in Ireland.
Broader links with business are also supported through IT Tallaght's Synergy building, an innovation hub for tech startups that sits side by side with the Centre for Applied Science and Health on the campus. 'The idea behind that is that, in one building, you have pure applied science and research. Beside that, you have entrepreneurs and the innovators, and the two are mixing together.'
From taxation to education
Born and raised in Dublin, Stone completed a B Comm at UCD before entering the business world. It was in one of his first roles, as assistant financial controller with Club Travel, that he decided to study accountancy. 'I wanted to qualify as an accountant and saw great flexibility with ACCA. However, I felt I would need practice experience and so I worked with two firms, Sherry Muldowney and Coyle & Coyle.'
Specialising in taxation, he took a job with the Revenue as an inspector of taxes in 1987 and found himself in charge of one of the units dealing with the new regime of self-assessment. 'Revenue has always been one of the most progressive government departments. Change was in the air at the time and people were up for it. As a country, we are very fortunate in having a very honest and fair administration of tax. That's something that's really important to maintain.'
In 1992, he took the leap into education with the new Institute of Technology, Tallaght. 'I specialised in accounting and taxation, and developed the programme with colleagues. As it grew and grew, it was decided to form a department of accountancy and professional studies. Luckily, I was the first head of that.' Rewarding as the experience was, Stone adds: 'If you had said in 1992 that one day I'd be president of the institute, I'd have laughed. It's a huge honour, however, because what we do here is help students go forward, not just in the academic sense, but in a holistic way.'
That success has also begun to generate great loyalty to the college. Stone says that, as former graduates move into senior positions, they are turning to IT Tallaght for their recruitment needs. 'In accountancy, in particular, I would say we have a very good reputation in terms of our graduates. Employers and prospective employers value them and come back, year after year. When we see, 10 to 15 years after they study here, students becoming very successful, taking on senior managers' roles or becoming directors in accountancy firms, that's very satisfying.'
Donal Nugent, journalist
"There's a strong belief around linking in with local industries to support research and training"