Countries in Asia may be trailing some parts of the world in terms of carbon reporting but they are gradually taking responsibility for their carbon footprint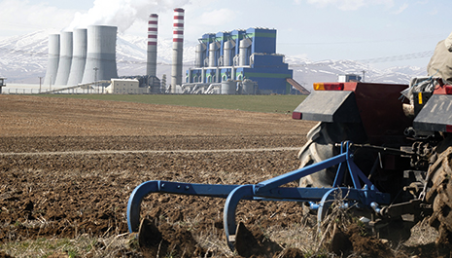 This article was first published in the June 2016 international edition of Accounting and Business magazine.
The idea of businesses disclosing information about their environmental impact is not a new one, but as climate change accelerates it is becoming more urgent. The first moves towards environmental reporting took place in the 1970s when Japan, for example, passed its 1979 Law Concerning the Rational Use of Energy, Act on Promotion of Global Warming Countermeasures. However, it is only in recent times that the expectation of disclosure has become more widespread. For example, all companies incorporated and listed in the UK have been required by law to include greenhouse gas (GHG) emissions data in their annual reports since 2013.
Last year's COP21 talks in Paris underscored the complex relationship between world economics, financial growth and the environment and demonstrated global determination to accelerate climate action. Meanwhile the unveiling by the Financial Stability Board of a task force on climate-related financial disclosures this year emphasises the role businesses must play – and the enormity of the task facing them.
Whether it is mandatory or encouraged, carbon reporting is just one of the ways in which countries can take responsibility for this global issue. Measures such as taxation and trade barriers are of course part of the solution, but the data gathered about a company's carbon footprint can offer useful insights into how and where it might be reduced. For investors, reports can reveal potential risk – particularly with regard to fossil fuels.
According to KPMG's 2015 survey of corporate responsibility reporting, Currents of Change, which surveyed 4,500 companies across 45 countries, 82% of G250 companies globally report their carbon emissions. G250 companies in Asia Pacific have got in on the act, but are less likely to do so than their peers in other regions, with a 74% rate of carbon reporting, compared to 80% for the Americas and 92% for Europe, according to the survey.
The report's co-author, Wim Bartels, global head of sustainability reporting and assurance at KPMG, believes that in time, this gap will close. 'The thing to remember is that generally speaking, European nations have for a long time put societal interests to the fore in terms of governance models. Elsewhere, economic growth has been seen as separate from environmental matters. In my view, in Asia, that approach is quickly changing.'
Eric Hespenheide, who is chair of the Global Sustainability Standards Board, the independent standard-setting board of the Global Reporting Initiative (GRI), which has been a pioneer of sustainability reporting since 1997, shares Bartel's findings: 'I see the same evidence as KPMG regarding the number of entities reporting their carbon emissions, and Asia seems to be lagging. It is possible that many companies do not feel the need to report since it is largely voluntary. Another reason may be that they do not want to report as the data may cast them in a poor light if they have high emissions compared to peers and competitors.'
Leap-frogging ahead
Although carbon emissions are a prime contributor to the precarious state of the world's climate, other social and environmental issues are also worthy of the attention of companies and investors. When it comes to corporate responsibility (CR) reporting, for example, Asia is fast making up for lost time and has effectively leap-frogged the rest of the world to become global leader in the space of just four years: in 2011, 49% of companies reported on CR in Asia Pacific; in 2015, the figure had risen to an impressive 79%, 2% ahead of the Americas and 5% ahead of Europe.
'The demand for sustainability reporting and sustainability data is on the rise, fuelled by regulatory action from policy makers, stock exchanges and investors,' confirms Hespenheide. 'Still we know that reporting on carbon and other sustainability impacts needs to improve in Asia and around the rest of the world as well. Stock exchanges in Asia, such as Taiwan, Hong Kong, Singapore and Malaysia, are raising the bar on transparency by promoting non-financial reporting among listed companies. One thing that would help is reaching a general consensus on a global reporting standard and increasing knowledge of how it should be implemented in businesses.'
And this is where the challenge lies: what sustainability elements should be reported, and how? Where mandatory reporting is in effect – in countries such as India, Indonesia and Japan – requirements vary enormously, and may not include data relating to carbon emissions.
'Generally speaking, in an annual report, the attention given to information regarding sustainability is somewhat concise,' admits Bartels. 'But it really should include carbon emissions data that is relevant for financial stakeholders: how the company is doing relative to its peers; whether the company is demonstrating a reduction over time; and what could be the impact of a future carbon taxation, for example.'
These are all important points, and they raise the question of whether investors can put pressure on companies to offer better transparency, measurability and context. 'Mainstream investors have long not cared about sustainability, because it is nothing to do with the final balance sheet,' Bartels explains. 'That's now changing, not least because the world's largest investors are taking note. Just recently, BlackRock stated that we shouldn't be interested only in quarterly reports; instead, we must take 'whole value creation' into consideration, including sustainability. These are the parties that can set the tone and drive investment decisions. They're still not a majority, but there's big growth in this area.'
By all accounts, whole value creation is lacking in Asia Pacific's current reporting of carbon: the region scored just 40% under KPMG's 'Quality' heading, with key player China managing a particularly dismal 10%. Although accuracy and assurance are a contributing factor in those shortcomings, a lack of analysis, contextuality and what Bartels describes as 'materiality' play a more damning part. Setting and monitoring targets, for example, allows companies to measure their performance over time, and in relation to their peers. By pre-empting risks associated with carbon – specifically with regard to the value chain and suppliers – businesses can gain a better understanding of their own competitive advantage in their marketplaces. Simply put, recording performance is not enough; it's evaluation that matters.
With the advantages of carbon reporting clearly outweighing the challenges, Asia Pacific's poor track record in terms of quality is surprising. Could regulation be both a driver and a deterrent? 'The Asian environment is more focused on compliance rather than the longer-term societal implications of carbon reporting,' explains Bartels. 'There are exceptions – Tata Steel in India, for example – but most are simply complying with regulations, rather than understanding what it means to their business and going beyond.'
Also impacting quality is the type of emissions being reported – or rather, those not being reported. 'Scope 3 emissions' relate to carbon impact outside the boundaries of a company's own operations. For manufacturers, that could involve the practices of both suppliers and consumers. For example, a product may not require a lot of energy to make, but the carbon demanded to use it can negate those savings. 'Scope 3 is particularly difficult since a company is almost entirely dependent on data outside of its control,' concedes Hespenheide. 'It also requires a great deal of estimating and use of averages to make the calculations. This can cause wide margins of error in the reported numbers.
'That said, about 40% of the GRI reporters that address climate change and GHG emissions also report their scope 3 emissions. The related disclosures were introduced in 2013 and we expect that attention to scope 3 emissions will increase after COP21. Many multinationals that have been reporting on
scope 1 and scope 2 are now moving to take a closer look at their suppliers and request emissions information from them. To be a successful player, in many global supply chains companies will have to implement GHG emissions accounting practices.'
The advantages of acting on carbon reporting are many. From assessing competitive advantage, mitigating risk and communicating with investors, through to the possibilities for innovation and collaboration that scope 3 measurements in particular create, carbon counts. The relationship between corporate and social responsibility cannot be ignored either, and we can expect globally minded talents to seek out similarly conscientious employers.
'Starting to report now is an opportunity for organisations to understand their current impact as well as their exposure to regulatory measures and related costs,' concludes Hespenheide. 'In addition, it enables organisations to assess their innovation potential. New practices, processes and technologies will be required to master this global challenge. Business has a significant contribution to make here.'
A role for the CFO
KPMG's Bartels has the following advice for CFOs getting to grips with carbon reporting:
Define your objectives: 'CFOs should ask, "What are the implications of carbon for my company, including the value of the company." That could relate to addressing the expectations and concerns of future employees, as well as the impact of climate change for the company now and in the future.'
Assess value chain emissions: 'Where is the highest carbon impact in the value chain? Starting with their own operations, companies should apply a reasonably robust methodology. Don't over-design: the first insight is not about accuracy; that will come over time through the process.'
Communication: 'Carbon reporting should involve the entire company, so ensure all staff understand its relevance. Done properly, all business units will be talking the same language when it comes to carbon.'
Third-party assurance: 'KPMG's own assurance service started because companies wanted to show credibility in their carbon sign-off. There are always areas for improvement, and an external eye can detect areas of strength, and also of weakness. A third-party will challenge clients – and that's what leads to change.'
Frances Arnold, journalist
"Stock exchanges in Asia are raising the bar on transparency by promoting non-financial reporting among listed companies"