The most common restrictive covenants are 'non-compete' and 'non-solicitation' – of employees, clients, suppliers or agents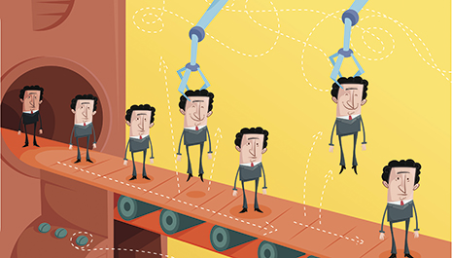 This article was first published in the June 2016 UK edition of Accounting and Business magazine.
As competition in the market for accounting and finance professionals hots up, companies are vying with each other to attract the best talent. Employers will often go to great lengths to get their man or woman, particularly if they bring with them a valuable contacts book, clients or their most able former colleagues. But just how far can organisations go in their efforts to secure – or even poach – big names in the business without transgressing employment law?
The legal implications of grabbing the talent are not straightforward and have resulted in complex legal cases with claims, counter claims and court rulings.
'Poaching happens all the time and often without anyone involved thinking of the legal ramifications,' says Alex Denny, an employment lawyer at Faegre Baker Daniels. 'The problem is, employers have very little protection from the law in terms of what employees can and can't do after the termination of their employment. Their only assured protection is duty of confidentiality, which means the departing employee can't reveal any trade secrets or vital information about the company.'
Crucial covenants
This means an individual could leave their job and move to another company, or set up their own business, and steal all the best clients and employees from his previous employer without any legal recourse – unless, that is, the employer has imposed a 'restrictive covenant'. Most savvy employers will have included them in employment contracts, particularly for more senior recruits with direct access to clients, customers, suppliers, funds and confidential information.
The most common restrictive covenants are 'non-compete' – the employee can't compete against their former employer or work for a competitor – and 'non-solicitation' of employees, clients, suppliers or agents. Others include non-interference with contractual relations and not presenting oneself as being affiliated with the company after leaving.
The challenge for employers is that the courts don't like these restrictions. 'They view them as being in breach of public policy on the basis that they are in restraint of trade,' says Denny.
The UK government has weighed in on this subject, with business secretary Sajid Javid recently announcing plans to issue a consultation on the use of non-compete clauses amid concerns they could be stifling entrepreneurship, as part of his drive to 'break down any barriers that are curbing innovation'.
'So, in order for the employer to demonstrate that the covenants should be enforced, they have to show that they are reasonably necessary to protect a legitimate business interest,' says Denny. 'The courts have established that these interests include protection of confidential information, and client and employment relationships. Companies can only apply covenants that go no further than necessary to protect the company's interests. So, for example, in the case of non-compete, employers are unlikely to be able to restrict someone from working for a rival organisation for, say, five years. Broadly speaking, the most an employer can get away with is six months, or possibly 12 months for a very senior employee who could wipe out the business if they moved straight to a competitor.
'You've got to put the covenants in place with care,' stresses Nicholas Lakeland, head of the employment and pensions team at law firm Silverman Sherliker. 'You can't restrict people forever, and it's generally hard to enforce non-compete within a restricted geographical area unless it's someone special. The emphasis tends to be on non-soliciting and poaching.'
With these last covenants, there is often a graduated approach. Again, for a senior figure meeting clients every week, a 12-month restriction is the limit at which it is likely to be upheld. Take a small step down to, say, the deputy sales director: they may also have a 12-month restriction but might be on a lesser package and only deal with a certain stratum of client, so nine months is more likely to be enforced, according to Lakeland. Then the restrictions decrease at each level until you get to the graduate, who will have low or no restrictions.
Another covenant limiting potential damage is to prohibit contact between the departing employee and certain current employees. 'Typically these prohibit the departing employee from approaching senior employees with whom they've had serial dealings in the last 12 months of their employment,' says Denny.
There's also the option of gardening leave to consider, under which departing employees are put on a forced separation during their notice period so they don't have contact with clients. 'This should be in place at the start of the contract and, for some accountancy firms, could be make or break,' says John Palmer, the senior guidance managing editor at the government's conciliation and arbitration organisation Acas.
Legal recourse
It's all in the drafting. If the employee has signed a contract with these covenants in place, the employer has a good chance of enforcing the restrictions in court. But in reality the majority of companies either do nothing or send snotty letters to former employees complaining about their actions. To drag them through the courts and enforce covenants is time-consuming and costly. As a result most cases that go to court involve high-status former employees.
The nuclear option is to get an injunction against the former employee, which can cost anything from £50,000 to £100,000 just for the first hearing. Plus these are discretionary and only awarded in full when proper evidence is heard, which takes time.
'Let's say an employee has a six-month restriction on his contract against soliciting or dealing with clients,' says David Widdowson, a partner at law firm Abbiss Cadres. 'He or she moves to a competitor and does exactly that. The former employer finds out a month later and writes to the former employee demanding they stop. Then there are at least a couple of weeks before they get a response saying "get lost". They're unlikely to get before a judge for a few weeks. The judge might then give a temporary order, but you still have to wait for the full hearing. All in all, by the time you get to a resolution, you're likely to be at the end of the restrictive period, at which point the employee is allowed to do whatever they want.'
In the case of solicitation of clients, there's also the client's view to consider. 'What if the client says they don't care about the covenants and want to work with the former employee? This may depend on the industry in which the parties are operating. Is the non-dealing restriction in breach of regulation guidelines? It's a thorny issue,' says Denny.
Having said this, should an enforcement of restrictive covenants be successful in court, it's likely to be the employee who would have to pay damages, and if they breach an injunction, they can face jail.
The new employer of a 'covenanted' employee must also be careful not to risk being dragged into legal proceedings as a result of covenant breaches. 'If they knew (or should have known) that the employee they took on was subject to restrictions and hired them anyway, they can be charged with inducement to breach contract, which is serious. All parties involved need to be aware of their responsibilities,' warns Denny.
Chris Evans, journalist
"The most common restrictive covenants are 'non-compete' and 'non-solicitation' – of employees, clients, suppliers or agents"