The nascent accountancy profession in Myanmar is set for a boost as the country's transition to democracy brings with it reform of financial reporting and sector regulation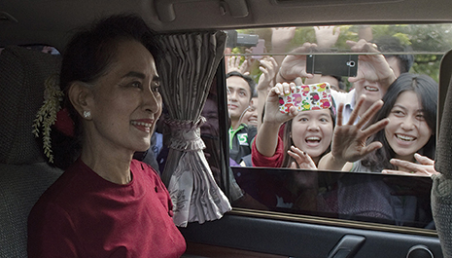 This article was first published in the July/August 2016 international edition of Accounting and Business magazine.
Myanmar, the world's newest democracy, is improving its financial reporting. With the country's first and only stock exchange (in Yangon, the biggest city) having opened in March this year, the reforms come at a good time, and accompany greater foreign investment, legal changes and regional economic integration.
The profession certainly needs developing. Following independence from Britain in 1948, professional accountants became thin on the ground in what was then called Burma. The Myanmar Accountancy Council Law of June 2015 gave legal recognition to international qualifications for the first time since a coup in 1962 prompted nationalisation across all economic sectors and the introduction of a radical socialist programme.
Outlawed
This hampered the development of modern accounting practice. Indeed, private accountancy was outlawed until the early 1990s. All accountants were state employees and the practice of accountancy was actively discouraged by the state's totalitarian leaders.
As the head of ACCA Myanmar, Kyaw Lwin Oo, explains, anyone who wanted to become a professional accountant needed a bachelor of commerce degree (with a merit or higher mark) plus two years of postgraduate study. 'Each year comprised six subjects. If a student failed one, they had to redo all six – and the exams were very tough,' he says. As a result, the system produced only 3,000 certified accountants in three decades, around 500 of whom are currently practising.
Lwin adds that keeping a handle on Myanmar accounting rules was tough because the government system was 'very changeable and they didn't know anything about the outside world. But it was also partly to protect their powers. If you became a minister, it was like having the key to a safe.'
It was only from 2012, once political and economic reforms had begun to take shape under president Thein Sein that the Big Four set up in Myanmar. However, even now, with the government of Aung San Suu Kyi in power since April, foreign accountancy firms are still unable to carry out audits on their own.
The ban on foreign firms, imposed in 1963, reduced opportunities for professionals to keep up to date with accounting requirements at the international level. Soe Win, managing partner for Deloitte Myanmar, says: 'Over the past year, the relaxation of the law allowing local audit and accounting firms to work more closely with foreign accounting firms represents a significant development.'
He says that the passing of the Accountancy Council Law is an important milestone, although key tracts of the law have yet to be fully implemented. 'For example, the opportunities for the audit market and the regulation of audit firms now await the issuing of secondary regulations,' he says.
The law gives the Myanmar Institute of Certified Public Accountants (MICPA) a more prominent role in regulating the profession, he adds, 'but in practice progress in this area is subject to the Myanmar Accountancy Council [MAC] agreeing to delegate responsibilities to MICPA. We very much hope that the combination of capacity building in MICPA and MAC delegating more responsibilities to MICPA will do much to strengthen the accountancy profession.'
Further financial reporting reforms are expected under the new National League for Democracy (NLD) government, which swept to victory last November on a platform that included anti-corruption, greater transparency and broadening the tax base.
Helping hands
Myanmar is also receiving help from foreign partners. A UK-Myanmar Financial Services Taskforce was set up in 2014 to support the development of Myanmar's financial services.
ACCA established a presence in Myanmar in March 2014 and is working to overcome the perception that there are few job prospects for professional accountants. Lwin says: 'We have more than 20,000 companies in Myanmar, but most lack a proper structure and governance. Someone might say, "I am the boss, my wife is the general manager and my daughter is the accountant." Most companies are SMEs, with a slow rate of transactions, and most companies don't pay tax.' There are at present 47 ACCA-qualified accountants in Myanmar.
Win says: 'We are always looking to help local staff improve their ability to deliver quality accounting services through ongoing training in International Financial Reporting Standards [IFRS] and audit methodologies as well as on-the-job support to deliver services to international standards. We employ a significant number of staff who are trainees on ACCA and CPA programmes in the Myanmar Vigour audit practice, which is a member of Deloitte.'
Tony Preston, head of the British Embassy's 'Prosperity Team' in Myanmar, which oversees the financial services taskforce, says: 'The country's business community, with a few exceptions, had been in self-imposed isolation to a certain degree. Now, with foreign businesses seeking partners and international organisations running workshops on ethics and finance, awareness of the importance of accountancy is increasing. At the moment you see a lot of investment funnelled through a very small number of companies, and that's because they have their books in order and proper governance structures. But the wider business community is not in that situation yet.'
Meanwhile, Myanmar's Ayeyarwady Bank has announced it will be one of the first domestic banks to release an IFRS-compliant financial statement. The MAC has refrained from adopting IFRS in its entirety, and full adherence will take years.
Nonetheless, since 2009, Myanmar has been following MFRS – a set of standards based on the IFRS for SMEs. Richard Martin, ACCA's head of corporate reporting, describes MFRS as 'a major step and a necessary foundation. It has been shown generally that IFRS assists in attracting foreign investment, and I would think this would also be true with Myanmar.
'The main issue is proper understanding of the standards by accountants in Myanmar and good application. International Public Sector Accounting Standards [IPSAS] were considered but not formally adopted at that stage. The application issues in the public sector may be greater than in the private.'
Win says that no MFRS updates have appeared over the past five years. 'It is still the case that accounts are not always prepared in strict accordance with the issued standards, and many sets of accounts are not compliant with the nationally adopted standards,' he says.
Yangon stock exchange
Experts hope the launch of the Yangon Stock Exchange will bring a greater level of transparency and corporate governance, even though it has just one company trading on it at present. 'The stock exchange is in its infancy,' says Preston. 'There are likely to be more companies floating soon and it's a driver for companies to get their books in order.'
Win says: 'We hope that the Yangon Stock Exchange and its regulators will require better compliance with MFRS/IFRS, setting a higher standard for public interest entities which will filter down to all businesses.'
Another factor driving up standards in accountancy is regional integration. The Association of Southeast Asian Nations (ASEAN) Economic Community (AEC) came into operation this year and could help promote a regional labour market in accountancy professionals.
Preston says: 'Accountancy is one of the sectors under the AEC that will allow freedom of movement. We could see accountants from Singapore, Thailand and Malaysia coming to Myanmar to operate. The domestic sector can require a certain level of domestic awareness and experience before they can operate, but the potential is there and the domestic sector should be preparing itself. The trend of integration in the region already exists.'
Myanmar 'is obviously in its early development stage compared with the more mature ASEAN member countries', says Aucky Pratama, executive director at the ASEAN Federation of Accountants (AFA).
The AFA is an umbrella for the professional accountancy organisations of the 10 ASEAN member countries. Its key objective is to minimise the gap in development and quality of professional accountants and financial reporting among its members.
'Stakeholder buy-in – particularly regulator and policymaker buy-in – is key to supporting the implementation of international standards. The AFA plays an advocacy role, particularly in assisting member bodies to communicate the importance of implementing international standards,' says Pratama.
Jessica Mudditt, journalist based in Yangon
"If you became a minister, it was like having the key to a safe"