Award-winning CFO Moazam Shah FCCA describes the challenges of working for a key conglomerate in Saudi Arabia in the current economic climate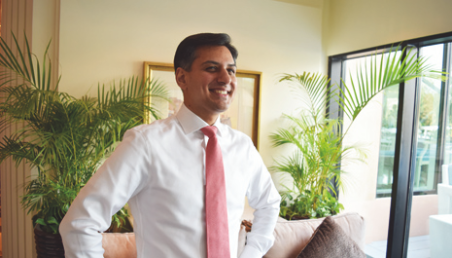 This article was first published in the July/August 2016 international edition of Accounting and Business magazine.
It gets exceedingly hot in Riyadh in the summer, with the mercury rarely falling below 40oC, but that does not deter Moazam Shah FCCA from going for his evening run around the residential compound where he lives with his family.
After six years in Saudi Arabia, Pakistani national Shah has acclimatised to exercising in extreme heat. 'It's a time for myself, to catch up on my thoughts,' he says. 'My measure of success in life is my ability to juggle a lot of balls at the same time without letting one drop. I've a very high-intensity professional life. No matter how hard I try to switch my mind off from work, it affects my personal life; swimming and running help.'
Shah jokes that, over the past three years, half of his hair has gone grey. 'It has been a rollercoaster ride,' he says, describing the myriad initiatives he has dealt with in that time, from successfully dealing with a corporate turnaround situation to leading a complex business transformation process, from restructuring the finance function to concluding a mergers and acquisitions (M&A) transaction, from partnering with business in identifying areas of diversification, to raising funds for expansion projects.
In 2015, Shah became the CFO of Al Zamil Industry, Trade & Transport, a Saudi conglomerate headquartered in Riyadh. He joined at a difficult time in the kingdom, in the immediate wake of the plunge in oil prices; more than 80% of government revenue came from oil in 2015.
'My job is not just engendering a cost-conscious culture but helping business improve the top line as well,' Shah says. 'Recently, we have gone for diversification within the company's product portfolio to mitigate the economic and political risks, not just in Saudi Arabia but the rest of the Gulf, too, as due to the dip in the oil price the local construction-related industry has also been affected,' he says.
When Shah joined Al Zamil, the company was going through a major restructuring, making it challenging for the board to oversee the day-to-day operations of the business. Shah was given the opportunity to step up from his CFO role and to work as a bridge between the operational management of the business and the shareholders.
'In my extended role, which stretched well beyond the traditional CFO role, I was managing the expectations of a high-profile board of directors by being actively involved in restructuring key positions in the organisational structure of group companies, team building at divisional level, talent identification, and effectively managing the working capital cycle of the business.
'At the same time, I also built up the finance department from scratch, structured it in such a way as to align it to the overall corporate objectives of the group, and set up the key performance indicators for treasury, financial reporting, and financial planning and analysis,' he says.
The effort paid off. Shah won the CFO of the Year Award 2015 at the Annual Middle East CFO Alliance Awards in Dubai, United Arab Emirates, and received a distinction in the Revolutionary CFO of the Year 2015 category at the annual MENA CFO Awards, » run by Dubai business advisory and facilitation service Naseba.
His successful turnaround of Al Zamil has garnered attention from the media and event organisers, and seen him invited to speak at numerous forums in the Gulf Cooperation Council region and the US. Such recognition is the culmination, so far, of an 18-year career that started at PwC in Karachi, Pakistan.
Shah comes from a family of doctors, engineers and academics but wanted to do something different. 'Accountancy was one area for me that was completely unexplored,' he says. 'I had no family or connections in the field so the whole idea of stepping into a new territory probably triggered my decision.' He enrolled in professional accountancy and started as an audit trainee at PwC in Karachi. 'Over the next four years it set the foundations of my DNA as a finance professional,' he says.
After a year as an internal audit manager at a food manufacturing company in Lahore, Shah wanted to internationalise his career. He enrolled at ACCA, packed his bags and went to London to study and work at a firm in Kensington. 'Coming out of PwC to a small firm was quite a drastic change, but I took the opportunity to learn something at the international level and get a foot in the door,' he says.
Back to the Big Four
Shah soon had his eye on returning to one of the Big Four accountancy firms. While there were some cultural differences to overcome, it was less to do with the work ethic than the cultural mindset, he says. He illustrates this with a story of an interview at EY in London, where he was met by a man whom he assumed to be the partner's assistant.
'He was very pleasant, walked me to the lift, and we chit-chatted on the way,' Shah recalls. 'Then he said: "Let me help you with your coat, and by the way I am the partner interviewing you." I was shocked, that he came down to reception and was then helping me with my coat. This was a big culture shock, but a pleasant one,' he says.
While Shah did not opt for a job with EY, he did with PwC as a senior associate in New York, in 2005: 'That was a life-changing experience for me, working among some of the world-class finance professionals in an office with more than 200 partners as well as more than 4,000 staff members,' he says. 'Gaining experience at one of the world's largest professional services firms meant a lot.'
Three years later, Shah decided to continue travelling and moved to Australia in 2008, when the global financial crisis started to loom, to work for Deloitte. The move, however, was not straightforward; having initially been offered a position in Melbourne, a spate of redundancies there resulted in his being sent instead to Perth. 'I hadn't finished the two-month probation period when I was told that as I was the last one in, I was the easiest to be let go. It was kind of a blip in my career, but I took it as a challenge. If Australia was not meant to be, that was not a problem,' he says.
Shah weighed up his options and saw that the Middle East had been relatively insulated from the global financial crisis, especially Saudi Arabia, thanks to its then abundant oil revenues that were still fuelling an economic boom. He landed a job as a group senior manager, finance at Supreme Foods Group, a food manufacturing business in Riyadh. 'It was my first time in mainstream finance; that needed some adjustment,' he says. 'It was the first time in my career that I was out of the Western world and the Big Four. It was a 180-degree change, culturally as well.'
In 2012, he was appointed CFO of the Gulf Union Foods Company, a Saudi-based drinks manufacturer, and was instrumental in transforming the business digitally by introducing SAP, a German-manufactured enterprise resource planning application, as a common technology platform, as well as implementing business intelligence tools to facilitate the executive decision-making process.
He also helped lead the execution of a major M&A transaction for the business. It led to his current job, streamlining and digitalising the six legal entities under the conglomerate's roof.
Challenging time
It is a challenging time to work for such a key company. With the Saudi kingdom having allowed oil prices to fall in the face of burgeoning US shale-based hydrocarbon competition, its government is now running a deficit. With a barrel trading below US$50 this May, and with the Saudi government facing mounting costs, such as its US$6bn-a-month bill for waging war in Yemen, in April Riyadh went to the markets to borrow capital for the first time since 1991.
Such a move, and the April announcement of its Vision 2030 programme to move the country away from dependency on hydrocarbons, will be a force for change in the regulatory environment of the kingdom. Meanwhile, the Saudi Organization for Certified Public Accountants is now moving to adopt International Financial Reporting Standards (IFRS) from 2017.
'I am hoping that financial reporting will be enhanced with more transparency for potential investors due to the transition to IFRS, whereby auditors will require more disclosures, more analysis, and be more accountable,' Shah says. 'To invite capital from foreign investors requires a heightened level of transparency.'
He also highlights the need for there to be more professional accountants in the kingdom: 'For ACCA, Saudi Arabia is still an unexplored and untapped market. By virtue of its large population, and local and expat financial professionals, it's a huge potential market,' he says.
The challenging regional economic environment is set to keep Shah busy for the immediate future. 'I will be evaluating the economic climate of the region in the next few years,' he says. 'So far I am quite positive, but let's see. If there's nothing exciting to work on, I will move on.'
Paul Cochrane, journalist based in Bahrain
"My job is not just engendering a cost-conscious culture but helping business improve the top line as well"