Standard Life's Orla Collins FCCA reflects on the pace and breadth of regulatory change and how to shape it, and the pensions time bomb every worker should be thinking about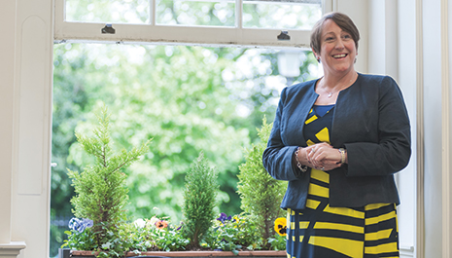 This article was first published in the July/August 2016 Ireland edition of Accounting and Business magazine.
It's easy to imagine financial services as the bright new centrepiece of the Irish economy, a vision facilitated by the gleaming office blocks that fill Dublin's docklands. As a FTSE 100 company with more than 6,000 employees worldwide and over £300bn under management, Standard Life might seem a natural part of that picture, except this company has been in Ireland since 1834, giving it well over a century and a half's head start on the IFSC.
With such longevity, it seems appropriate that the company – still the biggest fund manager in Ireland that has a local presence – should call a Georgian redbrick on St Stephen's Green home. While Standard Life may have a relatively low profile among Irish consumers (largely due to its model of providing services through financial advisers rather than a high-street presence), it has begun to invest more heavily in building its profile in recent years, sponsoring events such as the 2014 golf Ryder Cup in Gleneagles, Scotland and again this year in Hazeltine in the US. It will also sponsor the British and Irish Lions 2017 tour in New Zealand.
Chief risk officer at Standard Life International and head of risk and compliance, Standard Life Ireland, is Orla Collins FCCA. When Collins last featured in AB in 2011 she was completing her term as ACCA Ireland president, the first woman to hold that position. It's been a busy five years for the Dublin native since then, having been elected to ACCA Council in 2012 and, more recently, immersing herself in a new role that she enthusiastically describes as her 'dream job'.
Collins's move to Standard Life followed reflection that she 'wanted a position that would provide an opportunity to learn and grow. Once I read the specification for this role I knew it was for me,' she recalls. 'It brought together every part of my career to date and offered me the chance to learn something new. When I look at the team I now manage, aside from our legal adviser I've done every one of those jobs at some point in my career.'
The position had been open for nearly a year – something that proved beneficial to both parties, Collins adds. 'They knew what they wanted and were holding out for the right person,' she says. 'Given they were expecting that person to come from a risk or insurance background, I was probably lucky I came into the frame at that time. I wouldn't have been an obvious choice if I had entered the process earlier.'
Fifteen months in, she is fully enjoying the challenge of a role that gives her responsibility for developing, implementing and maintaining the operational risk, compliance and financial crime frameworks of Standard Life Ireland, effectively managing risk and providing assurance that the Irish businesses are compliant with regulatory requirements to its CEO, chief risk officer for UK and Europe, and regulatory authorities in Ireland and the UK. 'It has given me a wider perspective and, as part of the senior leadership team, what I do is focused not only on my own team but on making sure that the entire business strategy is agreed and implemented,' Collins says.
Grappling with the pace and breadth of regulatory change is central to this and is a process that shows no signs of slowing down, with European Union's (EU) new packaged retail and insurance-based investment products regulations among a number of developments coming down the line. Collins observes that 'having to interpret and implement some of the new EU directives to tight time lines is causing people to think differently across the industry. This is no bad thing. In my role you need to be forward looking and plan for the unknown.'
While she agrees that 'in reaction to the financial crisis, we have probably seen an over-engineering of regulation, especially in the banking sector,' she adds that insurance, while it is very regulated, is also highly structured and a long-term investment. 'A great deal of regulation in the sector is about bringing increased transparency to it,' Collins notes. 'There was a lack of clarity in the past in terms of charging structures and the fees behind products and that impacted on customers' understanding of what they were buying. We still have a way to go, but we are moving in the right direction.'
An exciting part of this is the opportunity, through working groups and industry forums, to help inform the interpretation and implementation of new regulations. 'There are » sometimes grey areas when they are introduced, and we can feed into consultation papers and discussion documents that help the regulators in terms of how they approach them,' she says.
Pension preparedness
All of which brings us to the thorny issue of pension preparedness, an area in which Collins is frank and forthright: 'The phrase "pensions time bomb" is used a lot, but people still think it's fiction,' Collins says. 'I can tell you the pensions time bomb is very real. The National Pensions Framework noted in 2010 that for every one retired person there are six people in employment. By 2050, there are expected to be less than two people in employment for every retired person, so we need to take our head out of the sand in this regard.'
It's not an issue unique to the country as governments across the developed world grapple with the challenges of ageing workforces. Gradually increasing retirement age is one strategy and, in Ireland, the State Pension (Transition) was abolished in January 2014, raising the pension age to 66. A further increase to 67 will follow in 2021 and to 68 in 2028. While the state pension is currently relatively generous, in international terms, at a third of the average industrial wage, this will almost inevitably fall in real terms in line with the demographic challenges ahead. Against this, there remains widespread lack of recognition of the level of investment required individually to fund private pensions.
'A 65-year-old man now has a 17-year life expectancy, while, for a retired couple aged 65, there is a 25% chance that one partner will live to the age of 99,' Collins points out. 'To meet these financial demands, people will either have to work longer or save a great deal more. If you were to ask me how big the pensions issue is in the Irish workforce, on a scale of one to 10, I'd say that for the average employed person, it's up there at eight to nine. Among professionals and more senior executives, it may be at five, but there are still plenty of concerns. Many people will want to retire with an annual pension payment of €30,000 to €40,000 per annum. However, they are funding this with contributions of €3,000 to €5,000 per annum.'
The story for women in the workforce is even more concerning, an issue that Collins says Standard Life has been highlighting. 'The average woman has a pension of €3,000 per annum to live on in retirement; therefore, she will be 2.5 times worse off than her average male counterpart in retirement.'
With recent research showing that almost two-thirds of Irish people don't realise that pensions are tax efficient, it is an open question as to how well the public are being educated on what is both an opportunity and a responsibility. 'I think a lot of people are terrified of pensions and see them as complicated,' she says. 'They are, to a degree, complicated vehicles but my belief is people don't ask enough questions and don't seek clarity when they are unsure. I would always say "Go and talk to advisers, listen to what they say, ask the questions, ask more questions, and when you are comfortable and understand what they are saying, then make your decision".'
Nurturing the next generation
A member of ACCA Council since 2012, Collins credits her time as ACCA Ireland president with whetting her appetite for bigger global roles. 'Being on the International Assembly really brought home the scope of how international the Qualification is and, after my year as president, I felt strongly that I would like to do more for ACCA,' she says.
Collins first ran for Council in 2011 but found herself 20 votes short of a seat in the final cut. It was a disappointing result but it provided time for reflection and left her determined to try again. 'I went back out again to seek election the next year and, building on the connections I had made and using a slightly different strategy, I topped the poll.'
One of five Irish members currently on the Council, Collins says 'we all get on very well but it's important to note we come from very different sectors as well as different parts of the country. Each of us brings our own perspective.'
As to what motivates that continued desire to contribute to ACCA, she points to the organisation's strategic aim of 'developing professional accountants the world needs' as pivotal. It is also closely allied to her own personal commitment to recognising and nurturing talent. During the downturn, she worked with ACCA members who had found themselves at career crossroads, helping them to consider options and prepare for interviews. Currently, she is an active participant in the Career Ready programme, which twins her with a 15-year-old secondary school student, helping to prepare them for the work environment over an 18-month period. 'I probably wouldn't be in the role I am in today if it was not for the encouragement from a fellow ACCA member early in my career, so helping others, at whatever age or stage of their career, is something that is really important to me,' Collins says.
Now completing her fourth year on Council, Collins serves as vice chair of the audit committee and was recently asked to sit on a global governance task force, which looks at the future of the organisation and how it's structured. Involvement at this level also brings valuable exposure to people who are often very prominent in their own countries and fields. 'The skills I've learned from being on ACCA Council and the insight I've gained is something I can take back and use in my day-to-day job,' she says. 'That richness of perspectives would be hard to replicate anywhere else. We are working together to make sure the Qualification and strategy remain fit for purpose for the journey ACCA is on, and that ACCA continues to meet the needs of its members. It's hugely rewarding to be part of that.'
Donal Nugent, journalist
"Helping others, at whatever age or stage of their career, is something that is really important to me"