CFOs who are able to collaborate effectively with external stakeholders and C-suite colleagues across the organisation can facilitate superior performance, says Alice Tan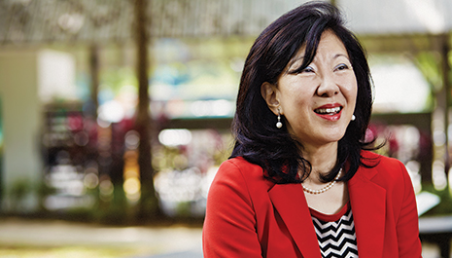 This article was first published in the October 2016 Singapore edition of Accounting and Business magazine.
CFOs can no longer get by simply on the basis of traditional finance skills. A report from EY and CPA Australia, Ready for the future economy? The CFO's perspective, surveyed 88 Singapore-based CFOs on the challenges they face, their roles and skill sets, and observed that more is demanded of them today than ever.
Clearly, we need to move beyond the numbers, financial processes and procedures to understand business needs better and co-create solutions to close performance gaps.
In this current landscape, CFOs need to proactively pursue collaboration with fellow C-suite executives as well as external stakeholders. According to the Harvard Business Review, collaboration allows people 'to achieve things collectively that they cannot achieve individually'. This is particularly true for CFOs in the public sector, where strategic objectives must be achieved sustainably in the public interest.
A Land Transport Authority finance-led cross-functional project to streamline the organisation's finance functions showcases an example of collaboration to co-create more effective solutions. Over the years, LTA had developed several key business systems, each with their own respective finance modules. As a result, there was duplication of common finance functionalities and interfaces with third-party payment service providers (PSPs) and banks, with customers transacting with each business system separately. This led to a fragmented view of the customer across multiple business lines.
The finance department initiated a review, collaborating closely with IT, public-facing divisions and external consultants. They assessed the feasibility of consolidating and streamlining the common finance functions/processes and system interfaces to achieve greater synergy and more efficient use of resources.
The intended outcomes of the project are as follows:
to provide a single finance platform for centralised back-end processing
to provide a single consolidated account view to the customer, hence reducing the number of customer touch-points for an improved customer experience
to move towards greater automation with the use of straight-through processing for higher staff productivity
to allow finance staff to move away from transactional work towards higher-value analytical work.
Effective collaboration, however, comes with its own set of challenges. These include cultural and behavioural obstacles, lack of diversity and non-aligned goals. Diversity of opinion, for example, is a key ingredient of successful C-suite collaboration as if senior executives within an organisation are too similar or have been working together for a long time, they may be in danger inadvertently of practising 'groupthink'.
CFOs increasingly represent the public face of an organisation. To do this and to collaborate effectively, they need a broad range of skill sets, from technical and commercial knowledge to leadership, people and business skills, including conflict management and emotional intelligence.
Breaking free of spreadsheets and spending more time on strategy, people and culture is the way forward for CFOs. However, softer skills often do not come naturally.
In managing conflicting views, for example, CFOs need to be able to balance the short-term and long-term needs of the business. They must have the confidence to challenge decisions that are not in the long-term interest of the business. CFOs must also adopt a more entrepreneurial mindset that embraces failure as part of innovating. The aim is to help mitigate risk without inhibiting innovation.
Communication is key to effective collaboration. CFOs need to be able to articulate priorities and trade-offs in order to influence stakeholders and obtain buy-in. This may involve developing integrated reports, measuring progress towards sustainable and responsible business models, and engaging more closely with stakeholders in general.
Mastering the art of collaboration will not be easy for CFOs, but becoming adept at it will help ensure that the finance function continues to provide strategic value to the rest of the business.
Alice Tan is CFO of the Land Transport Authority
"Communication is key to effective collaboration. CFOs need to be able to articulate priorities and trade-offs in order to influence stakeholders and obtain buy-in."