For Airport Authority Hong Kong CFO William Lo FCCA, piloting the project for a third runway at the international hub is both a challenge and a career highlight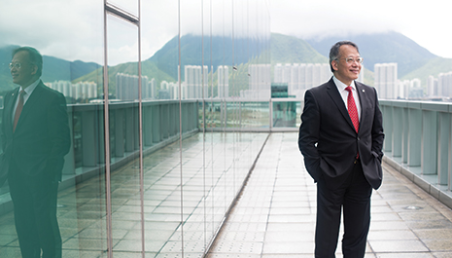 This article was first published in the October 2016 China edition of Accounting and Business magazine.
William Lo doesn't often have time to gaze out of the window of his office, but on the rare occasions when he does, the CFO of the Airport Authority Hong Kong (AA) watches the planes coming in to land. During peak hours they circle over the island of Chek Lap Kok awaiting their slot, one every minute.
Hong Kong International Airport (HKIA) is one of the most successful airports in the world but its two runways are running close to maximum capacity. If it is to maintain its position, it has to grow – and that means a three-runway system. It's a project that was first mooted in 2008 when the AA began working on the HKIA Master Plan 2030.
'The airport business is a very long-term, infrastructure and capital-heavy business. You can't make a decision one year and get it done the next. We are always looking 20 years ahead and undertake this 20-year exercise every five years,' says Lo, who joined the airport authority in 2010 after a successful career in the private sector.
Career challenge
He has been involved in almost every step of the massive project and without hesitation admits it's been the most challenging – but also the most rewarding – of his career. Broadly speaking, his first task was to come up with a financial model – the projection, project forecast and everything else required for a solid financial feasibility plan. The next step was to develop a detailed funding plan and then to execute it to finance the project.
'That is the satisfaction of being the CFO – you're involved in many parts of the process,' says Lo.
He's in a cheerful mood because after a lot of what he jokingly refers to as 'sweat and tears, but no blood', the project has finally been given the green light, and work is set to commence on 1 August.
When the third runway was first discussed in 2008 a rough cost estimate was made, but there were no concrete plans as to how it would be funded – that work began when Lo came on board. HKIA Master Plan 2030 was released in 2011 and was followed by a three-month consultation that received a positive reception from the public.
'In 2012, the government required the Airport Authority to do three things – to create a scheme design, to do an environmental impact assessment and, for the finance people, to go ahead and study the financials,' says Lo.
The Airport Authority Hong Kong is a public organisation, 100% owned by the government – a different model from that of the previous airport at Kai Tak, which was managed by the Civil Aviation Department and run by civil servants. It's a very successful public organisation – in the 2015–16 financial year it made a profit of HK$8bn. Indeed, writing the annual dividend cheque to the government was a highlight for Lo.
'The last dividend cheque I wrote was for HK$5.3bn – that's a five followed by nine zeros. My hand was shaking when I signed the cheque – it was one of my happiest moments in the job,' says Lo.
Funding sources
But now, to meet long-term air-traffic demand, HKIA has to expand into a three-runway system. The Airport Authority took a big step towards financing the new runway by retaining the profits, which cover about one third of the expected HK$141.5bn total project cost. The next step was to find the rest of the money. As Hong Kong is an international financial centre, it made good sense to look there to fill the funding gap.
'If you have an independent or third-party investor it will be a strong endorsement for the whole project. And third-party money is always cheaper than shareholders' money – that's the basic theory of financial management,' says Lo.
By going out to the market to borrow – by way of bank loans and bonds – the Airport Authority realised it could raise up to HK$69bn – almost 50% of the entire project. That left a shortfall of HK$20-something billion. The initial idea was to fund this partially by charging departing passengers a flat fee based on the user-pays principle, but this led to heated discussions with the travel, airline and hotel industries. 'People were jumping up and down, shouting "That's too high, you will dampen the desire to travel",' says Lo.
After extensive discussion and deliberation, the revised regime for the airport construction fee was agreed, entailing differential charge levels depending on flight distance, ticket class, etc, with 70% of travellers expected to pay $90 or less per departure.
'We have also raised the landing and parking charges that are payable by the airlines so that we can have a little bit of extra income to fund the project. Individual customers have to come up with something, so that everyone makes a contribution,' says Lo.
The completion date for the three-runway system is scheduled for 2024, by which time 56-year-old Lo expects to be retired, but already he knows that the project has been his career highlight and a rewarding journey as well.
'It has taken me to new horizons. Last month I appeared before Legco [the legislative council] twice for public hearings. Those who are in support of you as well as those who are against you go there. I was shouted at, called a liar to my face. There were all sorts of accusations – [not least] that I was borrowing too much – and the lawmakers asked all kinds of questions. I was really in the hot seat,' says Lo.
No surprise then that he says one of the most challenging aspects of being a CFO is dealing with people. Of course, to be a good CFO you have to have a good grasp of figures – 'a natural-born numbers skill', he calls it – but in addition you need to have good communication skills. 'This is something you can't learn in the classroom,' he says. 'It's a skill honed over years in the job.'
Lo has to communicate with many and varied people in the course of his work, from his colleagues, peers and board members to the many stakeholders – customers, employees, Legco, the media and pressure groups.
'Dealing with people is the most challenging thing. Everyone's belief systems are different. Even if you have quite good communication skills you can't win all the games through communication – you have to compromise and settle. Every now and then you can't win if the other side is very hot headed,' says Lo.
The fact that many of the public consultations over the three-runway system have been so heated is testament to the fact that the airport is at the very heart of Hong Kong life. Not only is it much loved by Hong Kongers, it is regularly rated one of the best airports in the world by travellers. But it wasn't like this from the outset. When the airport opened in 1998 it faced a series of fiascos from flight delays to lost luggage.
'That was the toughest time for my colleagues back then, but we try to live up to the old Chinese saying: "Whenever you fail you rise up". That's how we try to live our lives,' says Lo.
Six years after the airport opened it had overcome its teething troubles and was winning awards and accolades. Now that bar has been raised even higher. Not satisfied with being one of the world's best airports, Lo says the aim now is to give customers the best experience, to make them feel that they are at home. This has meant introducing an art and culture programme, Michelin-starred restaurants and plans for a massive technology upgrade. On top of that comes a huge expansion into retail that will not only boost the airport's attractiveness, but also its coffers.
'Retail is very important to modern airports. Look at Heathrow, Dubai, Incheon and Schiphol – they are all trying to make this business work. For many successful airports the non-aeronautical profit is principally from the retail side,' says Lo.
He points out of the window at a swathe of grass, once a nine-hole golf course called Nine Eagles. Beside it are a collection of cranes and diggers working the land.
'This whole site area is approximately 25 hectares. We want to convert it into a major commercial complex comprising retail, dining and entertainment (RDE), and offices,' says Lo.
The first phase of the RDE complex is expected to open in 2020 and the Airport Authority is looking to partner with a property developer for the project.
'We are moving forward from being just an airport operator – we have succeeded in that – and next we want to make an 'aerotropolis', a concept that will encourage people to go to the airport not just for take-off and arrivals, but for all sorts of economic activities,' says Lo.
Environmental initiatives
But he's quick to explain that profit isn't the bottom line. Often non-financial targets – issues such as market leadership, branding and the social side – are more important than maximising profits.
'Being a public company – the market operator for the business – we have to take care of the environment and the community,' says Lo.
The Airport Authority has invested in one of the largest fleets of electric cars in Hong Kong and has replaced more than 100,000 traditional lights in the terminal buildings with LEDs. Since 2013 it has produced annual sustainability reports. The first three were focused on letting people know about the work that has been done to maintain the airport's operational excellence and to protect the environment, but the upcoming report takes a different tack, conducting more focused discussions with key stakeholders, and increasing the disclosures on the authority's supply chain.
'We have taken a new initiative, talking to our many stakeholders – caterers, maintenance workers and young people. As we are about to embark on the third runway, we want to address this in the next sustainability report,' says Lo.
After spending his earlier career in the private sector where profitability was king, Lo says he finds the job especially rewarding. Of course, a profit must be made and salaries paid, but there's another dimension to the job.
'This is the economic engine of Hong Kong. In this job, you feel you are serving the people of Hong Kong and the Hong Kong economy. You aren't only working for money, but for the wellbeing of the whole of Hong Kong – and that gives you a lot of satisfaction,' he says.
Kate Whitehead, journalist
"In the airport business you can't make a decision one year and get it done the next. We are always looking 20 years ahead"