Two retired accountants have made it their mission to tell the individual stories of 72,000 British troops who died at the Battle of the Somme but whose bodies were never found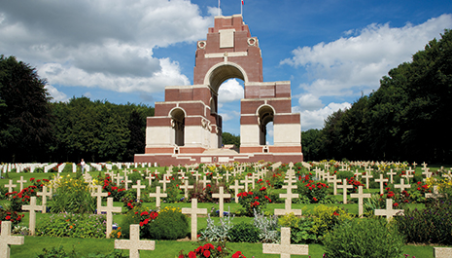 This article was first published in the November/December 2016 UK edition of Accounting and Business magazine.
The centenary of Britain's bloodiest battle falls this year. The Battle of the Somme raged in France between 1 July and 18 November 1916, with vast numbers of dead on all sides, including 420,000 British and Commonwealth troops. Many of the dead have no known grave – they went over the top and effectively vanished – the names of 72,246 of them are recorded on the vast Thiepval Memorial in the Somme region.
It was a quest to find out something about just five of those names that first brought Ken Linge – an FCCA until his retirement in 2010 – and his wife Pam to Thiepval in 2001. They were looking for the graves of men listed on their local war memorial in Haydon Bridge, Northumberland. Five were recorded on the Thiepval Memorial as missing in action.
Pam found the experience extraordinary. 'It's mind-blowing,' she says. 'You can't just visit once, there is something that draws you back.'
When they learned in 2003 that a visitor centre was being built at Thiepval, focusing on the battle and the memorial itself, they asked the organisers what they were going to do about the individuals whose names were etched on the monument. Ken recalls: 'They said, "Nothing. You'd have to be mad to think you can do anything about that!" So we volunteered.'
The Linges set out to uncover all the biographical details they could find of the men commemorated on the memorial. They were under no illusions about the scale of the task. 'We knew we'd never come close to finishing it,' says Ken, 'but we could try to record something about as many of the men as possible.'
To do this would require immense focus. 'You have to look at contemporary sources like local newspapers, rolls of honour, letters and memoirs, often published after the war,' says Ken. 'On finding something referencing a named man, you start digging deeper.'
Both retired accountants, Ken and Pam found their professional skills helped in tackling the huge undertaking. 'The investigative side helped,' says Pam, 'Being methodical, pulling together information, trying to sort out what is real and what isn't – not giving up on searching for the truth.'
Ken stresses the importance of data presentation and ordered thinking. 'You're trying to do a family history for 72,000 people, so you've got to have a logical approach and a dogged determination – that comes from being an accountant.'
The memorial itself shows the peaks of the battle. Nearly 20,000 were killed on the first day, 12,000 of whom have their names carved at Thiepval. There is a surge of Welsh names mid-July following a disastrous attack on Mametz Wood by a Welsh division.
It was particularly difficult for families to accept that a husband, father or son had simply disappeared. 'There are lots of letters from Londoners saying the same things,' explains Pam. 'Things like, "You took them into battle – how can you have no idea where they are?" People just didn't understand.'
Many soldiers were buried in hastily dug graves, but as the fighting moved on, the location would be shelled or forgotten. Other men died in collapsed trenches and bunkers, while some effectively vanished when struck by a shell.
'What interests us isn't the military side,' says Ken. 'It's who are these men? Men who never had the dignity of a marked grave.'
The Linges have produced a book about some of those men and continue with their Thiepval project. With over 12,500 names dealt with so far they have, as Ken puts it, 'passed a magic number – there's less than 60,000 left!'
The couple have accepted what is quite literally a monumental task, but one that is surely worthwhile.
Matt Warner, journalist
"You're trying to do a family history for 72,000 people, so you've got to have a logical approach and a dogged determination"