As CFO of IBM ASEAN, Angeline Chua demonstrates how the corporate finance function can step up to play an expanded role as strategic business adviser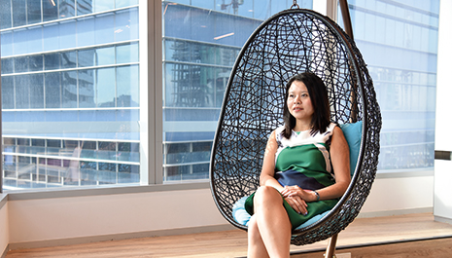 This article was first published in the November/December 2016 Singapore edition of Accounting and Business magazine
With her strong financial background and leadership skills, becoming a CFO had always been one of Angeline Chua's ultimate career goals. Following her personal road map, she diligently set about acquiring the skills and experiences that would allow her to reach her objective.
Twenty years on, Chua is CFO of IBM ASEAN. In her 15-year career in IBM, two moments shine especially bright. The first was when a manager urged her out of her comfort zone to put herself forward as a CFO candidate for the first time, and the second was when a client signed a 200 million-dollar deal after six months of hard work in her first role as a CFO.
Commenting on her rise to CFO of one of the region's biggest IT players, Chua says: 'I was just a lead analyst back then. I was called up by my manager and told I had no choice but to take on a CFO role. He didn't give me any room for self-doubt.'
'It was inspiring that a manager could push me to break out of my comfort zone to achieve a breakthrough in my career. That moment was a turning point and definitely stayed with me through the years as I developed in my roles as a CFO in different teams.'
Persuading that client to ink a major outsourcing deal encompassing IT operations in 20 countries seven years ago was one of Chua's first achievements as a CFO. She worked with a team, liaising with different levels across finance, treasury, legal and business departments to achieve the terms requested by the client.
'I participated as a finance individual, working with the team from the solution design to pricing and resolving terms and conditions on the contract,' she says. 'When we finally signed the deal, I reflected upon the six months of hard work, the number of reiterations that we had to work with our clients, the many individuals involved in getting us to the winning price with the winning solution. That was a fantastic achievement of teamwork, and I have no words for the sheer satisfaction it brought me.'
Harnessing data
Driven by these encounters and the importance of communication and collaboration, Chua believes in empowering finance professionals with competency in these qualities. From her perspective, the finance component is key to succeeding in business. As technology drives rapid change across markets, it produces data that is extremely valuable in business analysis, and the finance function is well placed to harness it.
'Data is power and power will mean success. I think the question is how do you take the data and translate it into business insights and information that allow you to make decisions at the right time and to differentiate yourself from competition,' Chua says. 'Finance has been viewed as the organisation with the numbers. We are the organisation that can integrate the different parts of business operations together.'
A strong foundation built on collaboration and communication, with the finance component as trusted advisers – this sums up what IBMers believe in and what Chua is all about, as the CFO in a region experiencing fast economic growth and advances in technology.
'Collaboration is especially important in IBM because of the complexity of the company. I constantly remind my team that we should never consider ourselves as "finance" – we are business advisers,' Chua says. 'As we strive to be business advisers, we step beyond our own boundaries of finance to integrate with other business units. And as you do that, you also pick up new skills that may not be something you are doing today. That, to me, is a winning formula for the individual and the organisation.'
Building foundations
To Chua, the successful finance professional of today is one who can communicate an idea across multiple levels and to all relevant departments, to fuel the company's growth with data. Regardless of the level of competence in technical finance skills, success depends on being able to articulate a point to stakeholders. 'The message must get across, or it's all for naught,' she says.
'The areas I focus on for professional development in IBM are areas in which I see value over the years. I can now reflect and pinpoint how I have acquired my skills and I try to achieve the same for my team, focusing on three dimensions.'
The first of these dimensions is skills development. Chua encourages her team to make use of case studies, online learning and external courses to gain technical and transferable skills. For her, training and scaling up are a constant process. IBM is an ACCA Approved Employer, and Chua is quick to recognise the relevance of the technical skills ACCA brings to the table for finance and accountancy professionals.
'ACCA is an organisation that continuously monitors the evolving requirements from an accountancy and finance organisation standpoint. It brings essential thought leadership and infuses that into its curriculum to help individuals succeed.'
The second dimension highlights relationships. Chua is a firm believer in looking from the outside in. She makes a point of attending events to network with CFOs from other organisations. 'Peer-sharing' is important, she believes, because it provides perspectives from different industries, and insights into how CFOs are managing businesses in their respective fields.
In managing six countries within ASEAN, Chua walks the talk, frequently participating in speaking engagements, while encouraging the country CFOs of IBM to do the same. 'Networking is a powerful tool for learning,' she says.
Mentoring is also encouraged within IBM, and Chua is appreciative of how it has shaped her through the years. 'I have gained much through mentorship with senior executives I personally know. I talk to them on a quarterly basis about my challenges and what's going on in my life. You'd be surprised by the great ideas you can get by talking to somebody,' Chua says.
The third and final dimension of professional development touches on experiences. Chua believes in learning on the job and staying open to ad hoc projects that may not be relevant to one's job scope. 'You will start to see how you resolve obstacles, manage yourself and think beyond boundaries. These are takeaways in themselves,' says Chua.
After 15 years within the same company and her life enriched by 12 different roles, Chua places great value on the returns from experience.
'Think about that: 12 different roles, each with unique requirements, skills and situations. Every time you step into a new role, you reinvent yourself. This constant learning is what we focus on in IBM, for what you experience will enhance your next undertaking.'
Achieving differentiation
In building a robust finance team for the region, Chua's belief is that a finance organisation which excels at operational efficiency and insights will be able to differentiate itself from the market. If it fails to do this, it becomes a mere finance support arm.
'Superior analytical skills are necessary for any organisation to be successful in the future. And the CFO and the bigger team should know where to go to pursue the most profitable growth. This can only be done if you pull all the data together and are able to draw out the information and insights that you need to make decisions on a timely basis,' says Chua.
Analytics is going to change the way business decisions are made. Finance professionals need to be agile and realise their own value as business strategists. 'Data is now everywhere and finance holds the data. Business units will start approaching finance to help with operational efficiency by providing operational matrix insights, and to predict outcomes with current progress,' says Chua.
'The professional will be able to harness structured and unstructured data to give operational insights, which will drive business efficiencies needed to make necessary investments, in turn driving returns. That is how our profession can evolve to deliver higher value.'
Joen Goh, journalist

"Data is power and power will mean success. The question is how do you translate it in to business insights"