Microsoft UK senior FD Ivana Luketic Kostic FCCA explains how disruption and new ways of doing business have been at the heart of her 15-year career with the tech company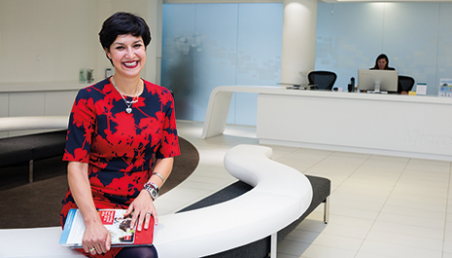 This article was first published in the November/December 2016 UK edition of Accounting and Business magazine.
Working for one of the world's most valuable and ubiquitous organisations must surely present plenty of opportunities to travel and see the world. And this is exactly what Ivana Luketic Kostic FCCA, Microsoft UK's senior finance director, has been able to do in her 15 years since joining the technology giant. She never expected to be working anywhere other than her home country of Croatia, but her career with Microsoft has taken her from Zagreb to Paris, Munich, Moscow and Belgrade before her present location at the Microsoft UK campus, just outside Reading in leafy Berkshire.
'The change in locations and the change in workplaces in Microsoft has really helped me not just to grow as a professional but as an individual,' she says. 'Growing up as a teenager, influenced by television and the news, with propaganda against other nations, it was such an eye-opener to have the opportunity to go outside and see that the world is different from what we were told. Even if my journey at Microsoft ended tomorrow, I have learned so much about myself.'
Throughout her career, Kostic's working life has been marked with change, not just in where she has worked but also in the times in which she has worked. Disruption is nothing new for her. She began her professional career with Arthur Andersen in 1996, leaving in 2001, just before the Enron scandal brought about the accountancy giant's demise. While at Andersen, she began studying for her ACCA Qualification.
'There were not many multinational companies in my country at that time, though Andersen's London office was responsible for Croatia and was auditor of the largest – in fact, the only – oil company in the country,' she says. 'I was still at university studying economics but had the opportunity to take on some work with Andersen, and stayed with them for five years.
'I learned a ton there. It was not a big practice, so you were engaged with all kinds of work, from audit to due diligence. It was very intense, but something that I would recommend for any young professional. Every week it was a different client, and it gave me a foundation for anything that I would do in the future.'
Closer to the action
That future came knocking when Kostic was offered the position of finance manager in Croatia for Microsoft in 2001. She hadn't planned to move, but after learning that Microsoft was opening up in the country she thought it would be too good an opportunity to pass up.
As well as Croatia, Kostic's remit covered Macedonia and Serbia along with a number of other countries in south-east Europe. 'It was a big change for me. It was like moving into real life, where I was closer to the action.' And so started her 15-year journey through the tech giant's organisation.
For her, the defining moment came three years later when she moved to headquarters in Paris. There, she was able to work across Europe, the Middle East and Africa, and begin to understand 'how the whole system works'.
For three years, she was a senior business controller of the central and eastern Europe region. Then in 2009, she took on the role of CFO in Russia, which she describes as 'a whole new experience'.
It was during this time, while also studying for her executive MBA, that she felt close to hitting a wall. 'Had I reached the limit of information that I could absorb?' she wonders. Clearly not, as she held the position of Russia CFO for five years, a time that included her first maternity leave. And she feels that she was able to benefit from remaining in the one role for a good length of time, as it allowed her to see the results of the actions she was taking. In companies as large as Microsoft, it is often not possible to see such results as they take time to permeate through the organisation.
Now, one year into her role as UK finance director, she can appreciate the differences that exist between the various parts of a single organisation, and perhaps more importantly, the differences between the regions within which she has worked. 'The UK is on a different scale,' she says. 'There is a different geopolitical environment in the UK. Think about how differently the government is tackling technology, how open it is to learning about new areas such as the cloud, data security and privacy.'
But there is an even more fundamental difference. Previously, Kostic was focusing on her own area, but now she sees her role as supporting and helping to accelerate the whole business. A stable economic environment also calls for management skills beyond the survival-mode essentials required in an emerging market. 'It's still Microsoft, but it is different,' Kostic says. 'My core transferable skills are my finance skills. Everything else, I have had to learn.'
Leading the team
So what is the role of a UK senior finance director in Microsoft? The company, Kostic says, is a people business, so she needs to spend time 'leading the team', getting her finance team ready for 'the next big thing'. And it is about how the team supports the rest of the business. 'It is a partnership, supporting the business so that it can make informed decisions.'
Then there is prioritisation, particularly around the traditional finance tasks of statutory accounts and tax, as well as the management accounts that help the business measure success internally. Kostic is always looking at how to simplify the processes necessary to run such a business. Repetitive tasks are outsourced – not surprising given the nature of the business – to ensure that all processes are optimised. 'Accounting is not our core job,' she explains. 'Are there people out there that can do this better than us? Yes.'
Last – but anything but least – comes compliance. This is not just relevant to finance, but relates to the whole risk map of the business, starting from the tone at the top of the organisation, anti-corruption and the whole way in which the organisation carries on its business. 'If there is a top priority, then it is compliance,' Kostic says.
Looking at Microsoft as a whole, Kostic recognises it is in a period of change, and, in essence, reinventing itself. Not so long ago, it was the market leader in business software and operating systems. But then along came the likes of Google, Salesforce and Amazon, which has driven the company to re-evaluate.
Technology empowerment
'Our strategy is to empower every person and every organisation on the planet to achieve more,' Kostic says, 'through the tools and different use of technology, how people can make their lives better. Technology is not an inhibitor, it can help you live a better life. And in Microsoft, it is about a growth mindset. You don't need to know all the answers to be successful, but if you collaborate with each other, you can connect the dots.'
In this respect, Kostic cannot stress enough the key importance of the cloud to create a seamless experience. Looking at Microsoft's own portfolio, it is about how Windows can work with Office, and how they both work with all devices. 'The cloud is no longer about disruption, it is the mainstream,' she says.
Another part of the Microsoft strategy has always been about targeted acquisitions that are about strategic alignment and integration to achieve benefits for customers, partners and shareholders that are greater than the sum of the parts. Most recently, the company announced this year that it would acquire LinkedIn, the professional network service, for US$26bn. Other moves by the company include its acquisition of Skype for US$8.5bn in 2011 (which went on to replace Windows Live Messenger), of Nokia's mobile division for US$7.2bn in 2014 (now being sold on to a division of Foxconn), and of Minecraft (for US$2.5bn, also in 2014), the virtual construction game that can sit on a wide range of devices, from Microsoft's own Xbox consoles to most smartphones.
One wonders how these acquisitions are assimilated into the Microsoft business, but Kostic is keen to point out that the company wants the businesses to maintain their own identity, 'to lead their own lives', as she puts it. This is to help those businesses retain their creativity and their individual characters.
It is not possible to speak with someone from any of the large multinational technology companies without asking about tax. Such companies have been in the sights of the tax authorities for some time, with some recent headline-grabbing rulings focusing yet more attention on this area. 'The fact is, we do actually comply with all the tax laws in the UK and around the world,' says Kostic. 'All of our structures, operations and employment reflect that global footprint.'
The next big thing
For now, though, Kostic is concentrating on the next big thing, particularly for the finance function. For her, there are three key areas: data analytics, artificial intelligence and virtual reality. Data analytics will help businesses make better decisions, AI will empower the decision-makers, and VR will help visualise the impact of those decisions.
Kostic clearly relishes the opportunities that such technological advances will have on both her own career and the business as a whole. But is it possible, when surrounded by all things digital, to switch off and disconnect for a while when working in such an organisation?
'I use technology so it works for me,' she says. 'It helps me organise my life – all the more important now that I have a five-year-old and a two-year-old. I embrace the positives but also set clear boundaries. Free time is family time.'
Philip Smith, journalist
"You don't need to know all the answers to be successful, but if you collaborate with each other, you can connect the dots"