Sunny Grewal FCCA, FD of 1966 Entertainment, the organisation responsible for the sponsorship rights of the England football team, talks about why he loves his job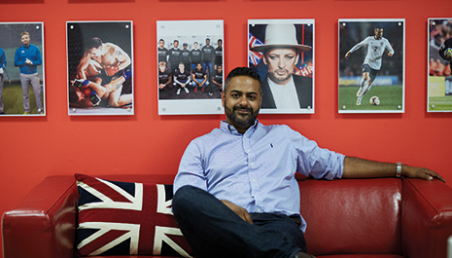 This article was first published in the November/December 2016 UK edition of Accounting and Business magazine.
It is always apparent when you meet professionals fortunate enough to be doing exactly what they love – and Sunny Grewal is definitely an accountant living the dream.
An avid Manchester United and England supporter, he has worked with the likes of Pele and David Beckham, plus a raft of other England footballers. For the last seven years he has been finance director of 1966 Entertainment, the company responsible for safeguarding the image rights of the England football squad and for ensuring contractual rights are agreed with Football Association (FA) partners, suppliers and licensees. The business also works on the squad's commercial and charitable interests, and represents a number of sports and pop stars. In addition, in 2007 it set up the England Footballers Foundation (EFF) on behalf of the England squad, which has so far raised £4.5m for good causes.
1966 Entertainment was founded in 2006 by Terry Byrne, a friend and former personal manager of David Beckham, who had previously worked among other things as Chelsea FC's masseur and director of football at Watford.
Through his work, Grewal has built up relationships with a number of players, past and present. 'I'm a massive England fan, more so because I know what the players do. They are a nice bunch of lads – a few egos, but they are all trying to do their best,' he says.
'We see a side of the players that is not often reported. Every year, through the Football Foundation, they choose a charity to support, such as Cancer Research and Help for Heroes, and the players' match fees get spread across these charities.
'Last year they contributed to The Honeypot Children's Charity for young carers and vulnerable children. It didn't get reported much, but the players would go out of their way for nothing and bond with some of the kids in their own time.
'[Chelsea defender] John Terry gets a bad press, but one of the kids he was mentoring passed away and he was in pieces. It goes beyond duty; they want to be involved.'
Grewal's first job – while he was working through his ACCA exams at BPP in London – was with 19 Entertainment, the production company founded by media entrepreneur Simon Fuller. He explains: 'My sister got me the job there, looking after pop stars including S Club Juniors and Will Young. However, it was a very political company and I hated it. So much so, I started to train as a plumber.'
However it all changed when Nick Arney came in as financial controller and gave Grewal the Beckham brand accounts to work on. 'As a United fan, with David in his ascendancy at the time, it reignited my interest in accounts. It was fascinating to see how he makes his money.
'It was brilliant. I used to go to Old Trafford a lot. It was a great insight and it was lovely working for somebody with loads of money, as you don't have any cashflow problems!'
Byrne, as David Beckham's personal manager, worked closely with 19 Entertainment during this time, and Fuller had a 50% stake in 1966 Entertainment. When Byrne bought out Fuller's share in 1966 and moved to an office in London's Marble Arch, he took Grewal with him.
'By that time Beckham had moved to US team LA Galaxy and it was more about underwear endorsements and less about football. I was done with that and happy to move back into football – back to basics. My role was purchase ledger, sales ledger and credit control, all the way to stats, financial statements, dealing with Companies House, HMRC, inspections and so on.'
Grewal gained his ACCA Qualification in 2011 and from then onwards his role and standing in the company began to grow. 'Terry began to trust me more in terms of decision-making and strategy. Numbers are great but if you are not integral to the business, what is the point? He started taking me to meetings and got me involved in investing in startups, buyouts, acquisitions and so on.'
The company was initially a one-product company, focused on managing the England football team's commercial rights, on a four-year contract.
'There are always people who want the England contract. Terry had a strong bond with Beckham and the England squad at the time. He also knew John Terry and Frank Lampard from his Chelsea days and he got to know Steve Gerrard and others. The players didn't even look at other tenders. That was how the first eight years evolved: they only wanted Terry.'
Byrne has an entrepreneurial spirit and wanted to do more. 'He knew he couldn't rely on just this contract – he has always been aware that this could end,' says Grewal.
So they started to invest in other opportunities, including ventures into image consultancy and loyalty schemes, golf and rugby. But there was a real risk that the company was spreading itself too thin. It all came to a head in 2013 in a frank meeting when Grewal decided he needed to impose some financial restraint on his entrepreneurial boss.
'Our turnover was always good, but our expenses were too high. We were overstaffed and investing so much that the monthly PAYE was a cashflow hindrance. So we stripped back to the core business. Today we are in one office and that's how it should always have been. I could say we made some wrong decisions, but I have learned so much.'
Now the business concentrates once again on the England squad, plus management representation. Clients range from former England manager Glenn Hoddle, former international Gareth Southgate and women's footballer Casey Stone through to pop star Boy George and Pippa Middleton, sister of the Duchess of Cambridge.
Meanwhile, the England situation is surprisingly simple: 1966 Entertainment signed a deal earlier this year to extend the contract to represent the players until 2022. Meanwhile, the FA handles deals with licence partners including Lidl, Mars and Carlsberg, and negotiates prices and terms.
'We sit down with the FA and lay out what we consider the players deserve. A lot of the brands want player imagery. And Nike wants 60 player appearances in the strip a year. They are entitled to that as they are paying a significant amount to the FA as shirt manufacturer,' he explains. 'A senior player committee, comprising five or six players, including Wayne Rooney and Joe Hart, represents the rest of the England pool. The pool is not fixed, as you may get a new player picked each time a squad is announced. If you are not in the pool for 12 months, you are removed.
'We have to say these appearances are worth x amount, factor in what all the sponsors want and then agree a figure with the FA.'
The money then flows into a collective fund, made up of all of the player earnings except match fees, which go directly to the EFF, and the total is split between them.
'All the FA income goes into the fund and the players get paid once a year. This is all classified as image rights.
'The players also get paid to make an appearance, according to the time out of their day,' says Grewal. A friendly is worth less than a competitive match. Whether you play or not, as long as you are selected you are part of that pool.
'The FA won't tell us how much it gets paid, so we may only be invoicing 10–20% of what the FA receives from the sponsors, but we have to put a value on it.'
So how does Grewal hope to take forward what he has learned? 'I have invested in some property with my father in Liverpool and set up an LLP. I want to be my own boss. That ambition has come not only from Terry, but also through the ACCA Qualification.
'I am phasing out my work here, but I will continue on a consultancy basis. I would love to do something with the contacts I've made. There is something in the pipeline.'
Alex Miller, journalist
"Numbers are great but 
if you are not integral to the business, what is the point?"