The global take-up of international reporting standards has been a huge success – the next challenge is to build on that, as delegates at a recent ACCA and CA ANZ event found out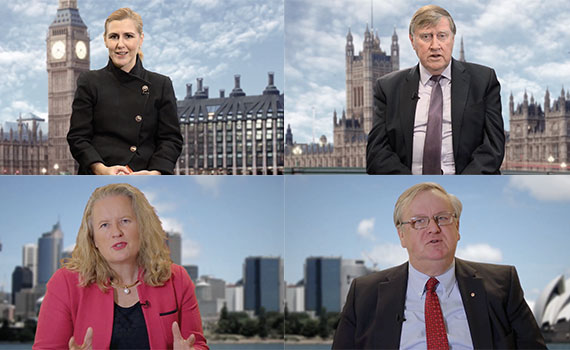 This article was first published in the January 2017 international edition of Accounting and Business magazine.
The global adoption of International Financial Reporting Standards has been one of the success stories of the modern business age. In just 15 years, IFRS has developed from a set of standards that very few jurisdictions even permitted, to the point where 121 countries now require the standards for all or most domestic publicly accountable entities. A further 13 jurisdictions permit the use of IFRS, and one (Thailand) is in the process of adopting the standards in full. China and the US remain the (sizeable) sticking points for IFRS adoption. But by any measure IFRS has been a roaring success.
For the International Accounting Standards Board (IASB), however, the work continues. Speaking at a CA ANZ event 'The future of financial reporting', one of the sessions at ACCA's 'Accounting for the Future' virtual conference in November, former IASB vice-chairman Ian Mackintosh emphasised that adoption of the standards was only part of the story – now that the major IASB projects, such as standards on revenue recognition and lease accounting, are completed or under way, the focus is turning to implementation. 'We're not sure that everyone is adopting IFRS consistently or correctly,' said Mackintosh, 'but that is something the board will be working on very closely on in the next five years.'
Global involvement
Others in the global profession agree that IFRS has been a critical and successful development. Rob Ward, head of leadership and advocacy at CA ANZ, also speaking at the event, said, 'The pulling together of IFRS was a great step forward. We've made a huge leap, but we still have a lot to do.'
Rachel Grimes, deputy president of the International Federation of Accountants (IFAC), said IFRS had been the catalyst in bringing the profession together to discuss not only accounting standards, but also how accountants can best serve global business. 'Accountancy is a truly global profession,' she said. 'We're all adopting the same accounting rules and that gives us a global passport.'
Ward added that one of the benefits of the IFRS development process is that it has brought countries that perhaps felt isolated from the global accounting debate into the professional community. 'No one country dominates IFRS, and it's to everyone's benefit that everyone is involved,' he said. 'If you don't influence the debate you will be left behind. Australia and New Zealand, for example, are geographically remote but have responded to that by travelling and getting involved [in international standard-setting]. In that sense we have punched above our weight. Overall, I'm very optimistic about the financial reporting landscape.'
Sue Lloyd, an IASB member since 2014, and vice-chair since October 2016, stressed that the IASB was one of the most consultative organisations in the world and that the input of constituents from all over the globe – users, preparers, analysts, regulators and auditors – was essential to its success. 'Our output depends on the quality of ideas that enter the debate,' she said. 'And we get very good, well thought-through advice.'
'It's very important that we hear from our constituents,' agreed Mackintosh. 'This is a big world and some countries, such as Australia and New Zealand, can feel like they're a long way away from where the decisions are made. But the world is getting smaller, and it's more important than ever that everyone who can contribute something continues to be involved.'
So where does the profession, and the IASB, go from here? In many ways, developing and implementing IFRS is just the beginning. High on the IASB's agenda in the coming years will be the communication of financial statements. The board's broad-based initiative to explore how disclosures in IFRS financial reporting can be improved is an important element of this and will include standards-level reviews of current disclosure requirements and a research project to identify principles of disclosure.
'This is an exciting time for reporting,' said Lloyd, citing integrated reporting as one of the many developments that will shape the future of financial reports. 'We are beginning to question what financial statements are meant to achieve: are they a compliance exercise or a commercial tool? How companies communicate their activities could change drastically in future – and the profession has to be at the heart of that process.
'A financial report is not just a bunch of numbers,' she added. 'It needs to tell a story. But standard-setters can't do that alone; preparers, regulators, auditors, investors and others all have a role to play. Preparers need to know what to shoot for, and regulators need to focus a little less on box-ticking.'
'It's hard to tell a straightforward story in a set of financial statements,' added Mackintosh. 'Our disclosure initiative is part of that thinking – it should result in more understandable reports.'
The role of technology is of course a major factor. The IASB recently published the results of a consultation on its agenda for 2017 to 2021. Its 'better communication' objective will include more work on refining the IFRS taxonomy, 'while encouraging and supporting the use of electronic reporting'. It will also discuss the impact of changes in technology.
The demand for real-time information, and the development of technology to meet this demand, will shape the future. 'We're accessing more and more information, real time, online,' said Mackintosh. 'But annual reporting is very static. There's a real opportunity in the digital age to report in a very different way – one that's more enquiry-based and easier to look at.'
'Digital transformation is part of life in the corporate world,' agreed Grimes. 'It's up to the profession to make sure that we have the right information flow available.'
Everyone taking part in ACCA and CA ANZ's roundtable discussions recognised that the global profession has made huge strides in recent years, building a spirit of collaboration that will be essential in the rapidly changing landscape. 'We have created a great platform,' said Ward. 'Now we need to build on that.'
Liz Fisher, journalist