For Nuraini Ismail FCCA, vice president of treasury at Petronas, finding the right people at the start of the talent recruitment and management process is the key to success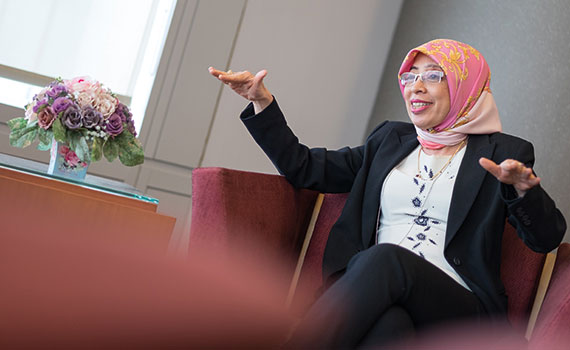 This article was first published in the January 2017 Malaysia edition of Accounting and Business magazine.
Nuraini Ismail, vice president of treasury at Petronas, might not be where she is today if she had followed her father's wishes. 'He was a doctor and wanted me to be a doctor, too. But I wanted to be a successful Bumiputera professional accountant like Tan Sri Azman Hashim [one of Malaysia's richest men]. It took a lot of courage to say no to my father!'
By any measure, Ismail's erstwhile dream has come to fruition. She is recognised today as a successful accountant and finance professional, wife and mother. But she continues to strive for excellence and to set the bar higher. Under Ismail's watch, Petronas's treasury function places tremendous emphasis on achieving quality and competency and delivering strategic value, while upholding integrity and building trust. 'A finance person should be a trusted business adviser and also a strategic business partner, who is of value to the organisation,' she says. 'The challenges are to live up to those expectations, so it's not just about number crunching or producing the accounts.'
Out of her many career wins, Ismail says Group Treasury's growth into a world-class function makes her proudest. She is quick to praise her team and share the glory. 'We have managed to bring up the group treasury function to a certain level of competency and efficiency. I feel that we are at par with the multinational companies.'
The group treasury function manages around 90% of the group's funds centrally. 'We do aspire to do more, and it's an ongoing journey,' Ismail explains. 'We have about 70 staff managing the whole group's funds. Apart from fund management, we carry out commercial and treasury settlement functions, forex management, and provide advisory on banking, interest rates and forex.'
It's challenging work that requires deft risk management. 'We manage many risks, such as interest rate and forex, but I think forex risks are the most unpredictable.' In a volatile climate, cash is still king and provides a buffer for business. 'For Treasury to provide the best advisory on strategy, it is essential to monitor the cash levels of the holding company and its subsidiaries and to get their cashflow forecasts. This enables us to advise on suitable strategies, but this is of course based on certain assumptions and suited to different conditions.'
Investing in technology is crucial to elevate Group Treasury from mundane transactional work to more value-added functions. 'Technology is very important to enable us to do more data analytics,' Ismail says. 'I don't want my people to do a lot of number-crunching or to spend time doing reconciliation or focusing on data integrity issues. We want to free them up and give them enough time to do the real value-added work.'
Commitment to diversity
To ensure quality, Petronas has a structured finance training programme in place to make sure that staff are competent in all areas. The ACCA Qualification is a key component of the company's finance training; Ismail estimates that around 30% of Petronas's finance staff are qualified accountants, with ACCA accounting for 60% to 70% of those; the company is an ACCA Platinum-accredited employer. 'In addition, ACCA has more tuition providers as compared to other accountancy bodies, which is very helpful,' she adds. Petronas is accredited for both the » Professional Development and Trainee Development (Platinum) streams of the ACCA Approved Employer programme.
In addition to being vice president of treasury, Ismail serves as director of various Petronas companies, including the listed Petronas Dagangan, where she is a non-executive and non-independent director, and a member of the board audit committee. While Petronas is committed to diversity programmes and strengthening women's representation in boards and management, Ismail notes that these appointments are based on performance and not affirmative action. 'I definitely don't want to be one of those people who have been nominated just based on a quota,' she says. 'I wouldn't feel good. It has to be merit-based.'
Build trust and integrity
How would Ismail advise other younger accountants who wish to emulate her success? 'Nothing can substitute for hard work and you have to acquire the right kind of work experience,' she says. 'At the end of the day, qualifications are common, so how you differentiate yourself depends on work experience.' This includes her exposure to non-finance work. 'I have been involved in many different projects, and on different boards as a director. On top of working hard, you need to build trust and integrity. And you must upskill yourself all the time, otherwise you will be behind the curve. Keep on learning and be hungry to learn all the time.'
She encourages staff to re-energise and stimulate themselves by getting involved in new projects. 'I like to do something new, or a variation of something that I haven't done before,' she says. 'That excites me. I also play various roles in Petronas to add variety and to be able to give back to the organisation.' This includes mentoring as a skill group adviser.
Other pivotal elements to success are teamwork and people empowerment. 'How you manage your people is very important, because how you come up depends on the support of your people,' she says. 'I have been able to count on the support of my staff as well as the support of my bosses. My corporate finance and group treasury staff and finance personnel in Petronas as a whole have supported me well. I believe that if you manage your people well, they will support you well. If you guide them and coach them so they come up to a certain competency level, they don't need so much hand-holding.'
She has found that staff will go the extra mile for a manager they respect. 'If you handle your people well, they will do a lot more than what you actually ask of them,' she says. 'At the end of the day, you can have the hard assets but I think the soft assets are more important!'
Currently, over 65% of Ismail's staff are from Generation Y and aged under 35. Asked how she adapts her management style to Gen Y, she says: 'Generation Y is quite certain about what they want and they want things fast.' The key to managing well across generations is openness and communication. 'I've always been a very open person,' she says. 'To connect with people, you've got to be able to have a conversation and break down the distance, and know exactly what they feel and what they want. I feel that many people see me as a mother figure and when I'm open with them, they're so much more supportive. They want transparency.'
Ismail stresses the importance of getting the right people at the very start of the talent recruitment and management process. 'Managing people is important, but it starts with having good people. The structured training programmes at Petronas have been put in place to ensure that people come up to certain competency levels. People are motivated to pursue professional accountancy because they can see other professional accountants rising in the ranks. They know that to emulate them, they will need to have the technical skills and also the leadership skills, people skills and management skills.'
Flexibility is pivotal, too, in today's disruptive business climate, where one needs to be adept and adaptable. 'People need to be agile and able to do many things across their career and organisation,' she notes.
Equally important is the skill to balance different roles and responsibilities. 'People always say I don't look stressed, and that I look relaxed,' she says. 'It's all about planning and organisation; if you organise well, you get things done and you don't get stressed out.'
Nazatul Izma Abdullah, journalist
"People need to be agile and able to do many things across their career and organisation"