Accountancy professionals make ideal non-executive directors on boards, providing independent strategic thinking and bringing a balanced view to the C-suite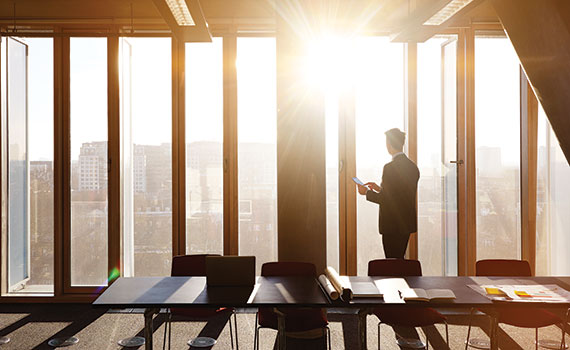 This article was first published in the February 2017 China edition of Accounting and Business magazine.
For the better part of a century, Japanese-founded Olympus Corporation was a respected and innovative brand at the cutting edge of camera production. Its reputation was left in tatters after a US$1.7bn management fraud, hidden for 13 years, came to light in 2011.
Kodak became the world's biggest film company on the back of innovation. Its founder, George Eastman, turned photography on its head by inventing roll film – and the box Brownie – in 1900. But later custodians of the empire he built ignored the digital revolution and eventually filed for bankruptcy in 2012.
Paul W Chan FCCA, president of the Malaysian Alliance of Corporate Directors and Business Transitions Asia, cites these examples of what can go wrong – and too often has done – in companies regardless of whether they be hot-shot start-ups or established blue chips.
They also illustrate the importance of having on every board independent, strategic thinkers who can keep both a steady hand on the corporate tiller and an eye on the business horizon. In the face of constant disruption, that is the increasingly significant role of the independent non-executive director (NED).
NEDs are not involved in the day-to-day operations of an organisation but they do need to be across all aspects of its business. As Kevin Lau FCCA – past chairman of ACCA Hong Kong (2000-01), former ACCA council member (2002-11) and director, Hin Yan Consultants – explains, in this era of more stringent corporate governance, the buck stops with them.
'Being an independent NED, you are personally liable for any wrongdoing of the company,' he says. 'You have to know the company well, and my advice for anyone wanting to be an NED is to do your due diligence before accepting a job.'
The value of independent oversight of private companies was one of the lessons learned from the global financial crisis. Hong Kong joined the ranks of other world cities when it tightened its listing rules – requiring that at least three independent NEDs be on the board of every listed company, including one with an accounting background.
Lau's path to career NED began with his first appointment in 2000, while working as a freelance consultant. Prior to that, he had spent 15 years at EY. He is now an independent NED for six listed companies in Hong Kong, chairman of the audit committee of all six, and is company secretary for a further three listed companies.
His motivation to serve as a NED stemmed from a desire to expand his professional networks and career horizon. Apart from the mandatory requirement of HKEX, Lau believes his accountancy qualification provided the ideal platform. Someone with an accounting background 'can give the company an objective opinion on their financial position – a major task for any company', he says. 'We are familiar with corporate governance requirements as well, which is very important for a listed company.'
To equip himself for the role, Lau leveraged a range of NED-focused resources offered by ACCA Hong Kong. (He still attends the various seminars and training sessions held because 'you never stop learning'.) And the listing rules keep changing, he notes. 'ACCA training keeps up the pace with this change,' he says. In addition, ACCA's connections have led to his being offered more NED roles.
Meanwhile Chan, who currently serves on four public company boards (with a total of eight over the last 12 years) in NED positions, sees the role as bringing a balanced view to the C-suite. 'We are unbiased, objective, often critical – and charged with a high-level duty of care,' he says.
Around the curve
'Our viewpoint should be forward looking, to anticipate what is coming around the curve,' Chan says. 'Lots of things have changed. Every business is challenged by innovative disruptions. A board needs to see how the changing market affects our business, not only immediately but to catch the opportunities ahead.' Investors, after all, are more concerned with future prospects than historical records.
Beyond financial results, an insightful NED looks to the broader area of sustainability – encompassing the environmental impact of the business it conducts, the supply-chain governance and the career development of its people, among others, Chan says. 'The recently adopted sustainability reporting by regulators and the emerging integrated reporting framework trend towards the importance of accountants equipping themselves and embracing a future-oriented outlook with value creation thinking that is aligned to the expectations of the investors,' he says.
As such, Chan believes that strategic considerations should be on the agenda of every board meeting – not only the usual biannual or annual review. He reiterates that a NED should cultivate a habit of 'value creation thinking' and a positive attitude as a lifelong learner. 'To me, the frontier of learning is so vast – there is no end to it. This makes life exciting and our contributions relevant,' he says.
Reservoir of experienced members
As for his views on effective learning strategies, Chan cites the well-researched 70:20:10 model. This holds that individuals obtain 70% of their knowledge from hands-on, job-related experiences; 20% from their interaction with others, such as mentors and coaches; and 10% from formal educational events. The traditional learning and development structure is often in the reverse.
'To that end, ACCA's aptly branded caption "Think Ahead" offers future-oriented on-the-job learning/training resources and opportunities for members aspiring to assume the roles of non-executive directors – a reservoir of experienced members to potentially act as mentors and coaches,' Chan says. 'There are also regular seminars and conference events to prepare members to expand their professional horizons.'
According to Datuk Zaiton Mohd Hassan, ACCA Council member and former president of ACCA Malaysia Advisory Committee, ACCA's commitment to diversity is another avenue that members can leverage in their journey towards a satisfying career as a NED. Having served on 10 boards, in addition to her full-time job as managing director of Capital Intelligence Advisors, is demanding and time-consuming but personally enriching for Datuk Zaiton.
'It makes me able to connect the dots as I see things from different perspectives, and it helps me to be more effective,' she says. Bringing wisdom and vision to the board also earns professional respect, Datuk Zaiton has found.
'You must bring value to the table – to know not only how a business can make money but also how it can lose money,' she says. To be able to contribute, you need to acquire the knowledge – which includes lifelong learning through relevant formal training, as well as engaging with peers at a professional and intellectual level.
As a woman in the C-suite in Malaysia, Datuk Zaiton is in the minority. A Women in the Boardroom global report published by Deloitte in 2015 showed that only 12% of board seats were held by women worldwide. Datuk Zaiton's advice to women with NED aspirations is to 'go in there with your knowledge, act natural and be yourself.'
Peta Tomlinson, journalist