Being given a blank canvas to modernise the finance function has enabled 
Elena Laktionova FCCA, CFO of Redpath Sugar in Toronto, to transform the business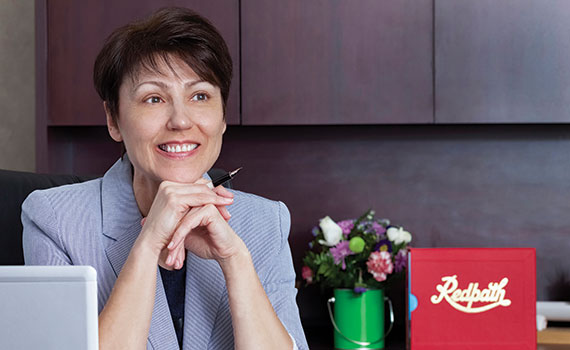 This article was first published in the February 2017 international edition of Accounting and Business magazine.
Some things are bittersweet, says Elena Laktionova FCCA, CFO of Toronto-based Redpath Sugar, and introducing change isn't easy, particularly as the new kid on the block. However, the results are often worth it.
Owned by US-based ASR Group – the world's largest refiner of cane sugar – Redpath Sugar is one of the two largest sugar suppliers in Canada. Originating in Montreal and now operating on the edge of Toronto harbour in Ontario, Redpath has been in business for over 160 years. The company also operates a dry blending and packaging plant in Belleville, Ontario. This location co-manufactures major retail brands and private-label products such as sweetened iced tea, hot chocolate and other sugar-containing products for Canadian and export markets.
When Laktionova joined Redpath as CFO in 2014, the company enjoyed solid revenues, a reliable local market for its product, consistent sources of supply and a dedicated workforce. Nothing would suggest that it needed the type of upheaval she would unleash.
The problem wasn't with the business the company was doing; rather, legacy thinking was preventing the finance function from reaching its potential as a true business partner. 'When I was interviewed by the CEO,' says Laktionova, 'I asked him what sort of CFO he was looking for. He told me he needed a partner who would help him run and grow the business. In my mind, the first thing I needed to do was to rebuild the finance organisation.'
Laktionova knew that turning Redpath's old-school accounting department into a modern financial services organisation that could drive business improvement wouldn't necessarily win her popularity. However, coming to Canada as an immigrant from the former Soviet Union, with virtually no English language skills, Laktionova wasn't afraid of a challenge. 'I was used to change in my life and in my career,' she says, 'so implementing a strategy and process to make change happen wasn't foreign to me.'
Different hats
She also comments that moving from the Soviet system of accounting in Ukraine to the Canadian one was a real eye-opener. 'Obtaining my ACCA Qualification allowed me to wear several different career hats in my new country, from my role as a controller in a small private company, to creating a finance function from scratch in a commodities firm, to conducting 10 major acquisitions in a row for a large service organisation, and now, redesigning the finance function for Redpath Sugar. It has allowed me to be involved in all aspects of business.'
The stability of the sector that Redpath operates in is unique. 'You have to remember that the sugar industry is very steady – no major ups or downs,' she explains. Redpath mainly serves the Canadian market, competing with potential imports on the basis of quality, location and reputation. Raw sugar is imported from South America and input costs are controlled by hedges and lean manufacturing process. As a result, some employees have been with Redpath for 30 to 40 years. However, because of the nature of the industry, Laktionova explains, people had become very set in their ways and were certainly not looking for innovation or disruption.
When Laktionova joined Redpath, the function's role was to take the numbers in the system, put them together and present them to the management. However, 'that didn't particularly gel with my view of the role of finance as a service department,' she says. Finance needed, she says, to help the sales team make better decisions and shift their efforts to more profitable product lines or customers, or to help the production team find ways to improve efficiencies and reduce costs.
Getting buy-in
The first step in the process of transforming the finance function was to get buy-in from the finance staff. 'I needed to explain the strategy, and show how it would not only benefit the business but benefit them as well,' Laktionova explains. Second, she began to build new ties between finance and other parts of the organisation. 'I offered the sales department an analysis to show them where they needed to focus their efforts. They just loved it,' she says.
'Now, whenever they have any questions in terms of financial data or analysis, they come to us. Instead of just showing them the numbers we provide a full analysis and explanation of any variances so they know if they've missed something or where an opportunity might be. Finally, I needed to make myself available and monitor the whole project all the way through to the end.'
The process was made easier thanks to the CEO's hands-off approach, leaving Laktionova to deliver the changes 'to the best of my ability, basically giving me carte blanche to make the transformation'. This included restructuring the function to provide services to sales, operations, financial reporting and taxation, as well as supporting the auditors. In addition, she created an environment of continuous improvement, requiring the CFO 'to fully take on a strong leadership role'.
For Laktionova, the next step on Redpath's road of continuous improvement is the digital transformation of finance – in particular, streamlining and automating financial reporting. This would mean a tremendous reduction in manual reporting. 'We're in the process of transferring to SAP on the cloud,' Laktionova says. 'Right now we're downloading data from SAP into Excel, and then we'll work with it. However, when the new project is implemented, reports will be available directly from SAP. It will be producing the graphical analysis as well and will allow us to drill down if we need to get into the lowest level of details.'
Rebuilding the finance function has, however, also involved implementing a human resource strategy for the future. In the Canadian environment, finding the right financial management talent is a challenge for a number of reasons, including the difficulty of transferring credentials across borders. This, combined with a long and arduous immigration policy, has impeded the flow of much-needed accounting talent into Canada.
Best available talent
Against this backdrop, Laktionova adds, it's very important that you offer the right environment to attract the best available talent to your company. Also, in light of the move to a digital platform, Redpath is gradually evolving the finance function to a younger group of people who are comfortable with emerging technologies, she explains.
'As soon as I see somebody energetic and ready to learn, I am interested,' she says. 'I would rather have somebody who is enthusiastic and will fit in our culture and then train them.' To this end, Redpath runs its own learning centre, providing training right through to management level.
Redpath's stability as a business is very attractive, she explains, and offering an interesting learning platform is key. 'While we might be a commodity-based company, it's not just about making sugar; it's also commodity trading, and understanding hedging strategies. It's a challenging environment.'
Ramona Dzinkowski is a Canadian economist and editor-in-chief of the Sustainable Accounting Review
"Finance needs to help the sales team make better decisions and shift their efforts to more profitable product lines or customers"