As our understanding of the value of accounting for natural capital grows, it's time for finance professionals to seize the opportunity, says ACCA president Brian McEnery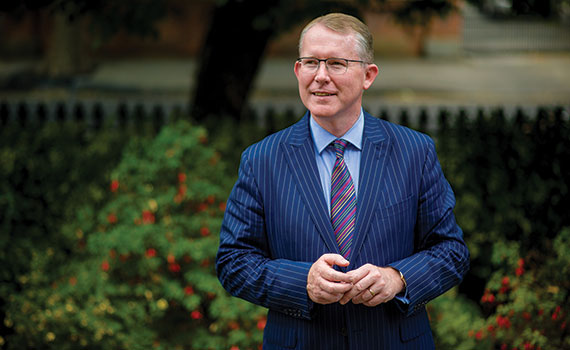 This article was first published in the March 2017 international edition of Accounting and Business magazine.
Last month, I had the pleasure of hosting the biannual President's Debate in Brussels. We had a dynamic and far-reaching discussion on 'accounting for public goods: the social and natural capital imperatives', with speakers from the EU Commission and European Investment Bank, among others.
All businesses, either directly or indirectly, depend on natural capital – the 'stock' of natural resources – yet we are seeing continued and unprecedented erosion of our natural resources.
Environmentalists have made the case for many years against the overuse of fossil fuels, deforestation and loss of biodiversity. Policymakers have been warning for decades that the type of growth we have been pursuing is putting unforeseen and unsustainable pressure on our planet. The warnings have been heard, but we are yet to come up with a cohesive and sustainable global solution.
Part of the answer to addressing our natural capital crisis lies with the accounting profession. Not only can we help develop solutions, but also embed their concrete application: to assume the responsibility of accounting for business's use of natural capital.
Many subgroups are involved in the development of natural capital accounting and reporting initiatives, working with bodies such as the Sustainable Accounting Standards Board and the Natural Capital Coalition to develop a framework for accounting for natural capital and sustainability in financial reporting.
While natural capital has just reached the periphery of traditional financial reporting standards, there will come a time when material impacts on it are considered in mainstream corporate decision-making. Accountants will be required to act then, but many are voluntarily working towards a framework now.
Traditional professional accountancy skills have proved useful in the development of natural capital frameworks and standards: the gathering and analysis of data, the consideration of materiality, the management of risk, the valuation of assets and liabilities, and an understanding of corporate reporting, among many other considerations.
Materiality is more important than ever, and different perspectives need to be considered before we can come to a single conclusion on how we should report on natural capital. A rush to formalise external reporting too soon could jeopardise corporate support for the initiative.
It was great to see many ACCA members and other experts engage with this topic at the Brussels debate. We are facing sustainability issues on a global scale and, while the accountancy profession is already playing an important role in the natural capital accounting arena, there is certainly more to be done.
I encourage you all to continue engaging with this issue, and to offer your accounting expertise in the pursuit of a long-term solution.
Brian McEnery is a partner specialising in corporate restructuring and healthcare consulting at BDO Ireland