While Asia is catching up with the rest of the world – and leaving the US behind – in enabling women to become partners, much depends on both the firm and local culture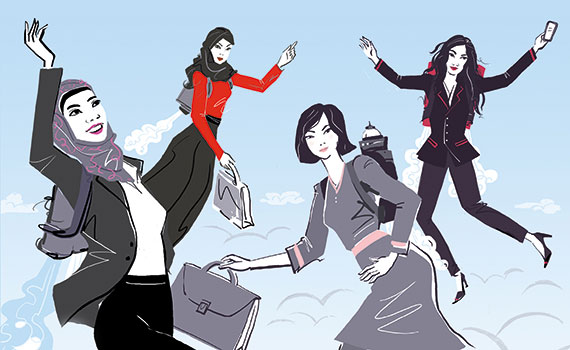 This article was first published in the March 2017 China edition of Accounting and Business magazine.
'The portion of female partners has increased a lot. Equal opportunities have allowed women more exposure to develop themselves. Society is moving towards measures and policies to support female colleagues,' says Natalie Chan, who has been a partner at Deloitte China since 2008.
It is a trend that Chan expects to continue; currently more than 40% of those at senior management level at the firm are women and all have potential to make partnership, she says. This is a considerably rosier picture than in the US, where a recent survey by the American Institute of CPAs found that while 47% of professional staff at firms are women, only 22% make partner.
'In terms of female partnership numbers Asia is really catching up and growing beyond European countries and others. The rapid economic development of Asian environments has made room for more opportunities for women,' says Chan, an ACCA Hong Kong committee member.
It is a similar story across accountancy firms in the region's key financial centres. At another of the Big Four, EY, 43% of the eligible pool of partners in Asia Pacific for the upcoming financial year (which starts on 1 July) are women, compared with 31% in the current financial year.
'We expect a similar percentage to be promoted,' says Teresa Tso, a financial services partner at EY and vice chairman of ACCA Hong Kong. 'This is nothing to do with quotas; it's simply because they are good people with strong business leadership.'
She says the opportunities for women in mainland China are just as good, if not better, than for those based in Hong Kong. This she attributes to a lack of gender bias in the professional field as well as China's fast-growing economy.
'For the past few years there has been double-digit growth,' Tso says. 'In order to cater for the talent needs, you are given a lot of opportunities and as long as you are good and hard working you will be recognised. I've worked with a lot of female partners in China and I didn't see any barriers to them being made partner.'
Nor does she perceive any barriers to women being made partner in Hong Kong; as long as they have the necessary skill set and fit into the model they will be promoted. She has, she adds, noticed an increase in women being made partner since the 2008 global financial crisis. 'After the crisis there was an overall awareness about diversity and that inclusiveness helps,' says Tso, adding that the gender gap is one of a number of topics EY is focused on within a broader goal of inclusiveness.
Mindset has changed
Rosanna Choi, meanwhile, became a partner at CWCC 20 years ago. She says it's comparatively easier to reach partner level today, in large part thanks to a change in how women are perceived in the workplace.
'People are less conservative than before,' she says. 'In the old days people said that women might not be strong enough, but now the mindset has changed. Getting business in is now a part of the role and if you can deliver then that is a major factor in the decision,' says Choi, who is also an ACCA Council member.
But there is one barrier that hasn't shifted: family responsibility. Reaching partnership comes with big responsibilities, particularly during the busy audit season, and this can prove a challenge for women raising a young family.
'It is always a personal choice,' says Alice Yip, an audit partner at KPMG and chairman of ACCA Hong Kong. 'After marriage or having a baby women may consider they need to make a choice between staying at work or staying at home. I struggled with that decision – could I accommodate both desires? – but in the end I decided I could do it.'
Yip was made partner in 2007 when her first child was one and had a second four years later. It hasn't been easy, but she accredits her success to excellent time management. Her alarm goes off at 5am and if she doesn't have pressing emails or work to do she exercises for 45 minutes before going to the office. If her workload is especially heavy, her day starts at 3am.
'After years of doing this I've worked out that my most effective hours for sleeping are from 11pm to 3am. In winter it can be hard to get out of bed, but you've got to have a strong mind,' she says.
She also makes sure that she prepares ahead 'I involve myself heavily in the planning work before audit season so that I can be sure that the team does what I want them to do and delivers the turnout I want,' she says.
Yip is the first to admit that she couldn't do it without the support of her family. Her husband, who is also an accountant, understands the demands of the job, especially during the critical audit season, and her mother has been supportive in providing childcare.
In the 10 years since Yip was made partner she has seen the proportion of female partners at KPMG grow to 35% and says that the expansion of the firm has afforded lots more opportunities for women.
'Women are getting the courage to move up the firm and we are providing much more support' she says. 'There is flexibility if you want to take longer leave after giving birth or work part time for a while. There's an atmosphere that is supportive and not just about work.'
In Malaysia, Sharon Sung, a partner in technical and corporate affairs at Grant Thornton in Kuala Lumpur, credits her understanding bosses for enabling her to juggle her work with three children. 'The reason I can reach partnership is because of the open environment I have with my bosses,' she says. 'They see I am ambitious and can do my work, but also need to take care of my family. We can achieve a balance point for being more flexible in working arrangements and at the same time not forego the work quality and deliverables.'
When her son had difficulties early on she considered quitting but she was instead transferred to the training department for two years to give her flexibility. She has since returned to the audit department and has a strong relationship of trust with her boss.
Sung is keen to stress, however, that this flexibility was earned through trust and is not a given. 'In order to have this flexible work policy success, the employee must be disciplined,' she says. 'You need passion and perseverance to climb to partner level and sustain it. You need to set achievement targets otherwise it won't be easy.'
Like many firms in Kuala Lumpur, Grant Thornton has been affected by the 'brain drain', which sees staff drawn to neighbouring Singapore, as well as to Hong Kong and China, by the promise of better salaries and a favourable exchange rate. In order to try to retain women, Sung says that the firm offers a lot of flexibility for working mothers.
'We are promoting a happy and close working environment,' she says. 'Two years ago we set up a lactation room for women in the office. It might be a small thing for a corporation, but for mothers it means a lot and they can see the firm is supporting them.'
However, when it comes to the perception of women in Malaysia, she says, a traditional mindset still prevails. 'If a man and a woman with similar experience are both going for a position of CEO or CFO, the first thing people will think is that the man is a better candidate because he will have more flexibility when it comes to travel,' she says, adding that he support of her family allows her to travel regularly for work.
Many firms also provide mentorship schemes to support potential senior management – both men and women. Chan, for example, oversees six managers within her department, meeting them regularly to discuss their development and goals. EY goes one step further than mentoring and offers sponsorship.
'When someone is ready to move forward in addition to one-on-one mentoring we connect the candidate to senior leadership who act as a sponsor. They'll build her profile and introduce her to a wider group of people inside and outside of EY,' says Tso.
Choi believes there are more opportunities for women in big firms because the larger organisations are better able to offer more flexibility to meet reporting deadlines and have more jobs of different complexities. 'Smaller practices with just one boss and without many subordinate staff tend to be not as flexible or able to think about introducing new policies. Big firms may also have more resources available,' she says.
Tso is optimistic about the outlook for female partners in the industry and expects even more women to reach the top grade, particularly in China.
'China is a major growing economy and is growing faster than the rest of the world,' she says. 'I see more opportunities for women there as long as they have the potential and desire to be a leader.'
Kate Whitehead, journalist
"Getting business in is now a part of the [partner] role and if you can deliver then that is a major factor in the decision"