Ireland's economic growth spurt is putting pressure on companies to increase pay in order to attract and retain employees and to combat skills shortages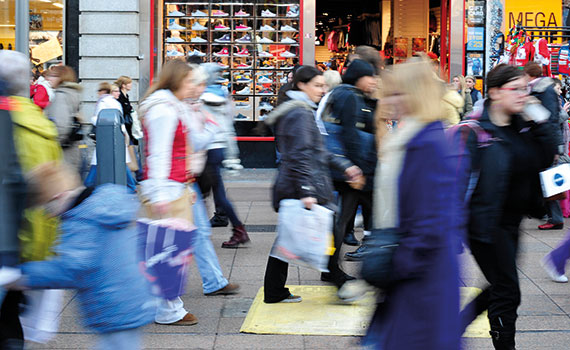 This article was first published in the May 2017 Ireland edition of Accounting and Business magazine.
Ireland's economy is bounding ahead. While the 2015 GDP growth figure of 26% could be dismissed as 'leprechaun economics' – a distortion resulting from Ireland's high levels of foreign direct investment (FDI) – there can be no dismissing the cranes on the skyline of Dublin (and Belfast). Real growth is happening. And demands for pay rises are starting to feed through.
Lots of key statistics are in positive territory (see the panel opposite). Yet pay increases in Ireland have been below those in most of the European Union, averaging 1.1% last year, with wages actually falling by 1.3% in the public sector (excluding semi-state bodies). That compares with hourly labour costs up by 1.6% across the eurozone, by 10% in Lithuania and by more than 12% in Romania.
A possible reason for the disparity is that average pay in Ireland substantially outstrips most of the EU, being the second highest of any country in the bloc, behind Denmark. Ireland, though, also has the third-highest cost of living, behind Denmark and the UK, and 22.5% above the EU average.
Minimum pay rates are also among the highest in the EU. Ireland's is €1,563 per month, with only Luxembourg (€1,999) above this. At the other end of the pay scale, average monthly wages are just €235 in Bulgaria and €275 in Romania.
It is not easy to compare income tax rates between countries because of the vast number of variables (different thresholds and reliefs, for example), but Ireland is neither a high-tax nor a low-tax country by EU standards.
Housing costs are an important factor in setting pay, although workers in Dublin struggling to afford a home may find the official statistics surprising. Ireland has one of the most affordable housing markets, according to the EU's statistical agency Eurostat, with an uncommonly small proportion of residents spending over 40% of their income on housing.
But for most workers it is disposable income that matters most. And this is where Ireland is doing badly. Eurostat's measure, 'actual individual consumption', shows Ireland to have a lower disposable income per person than the EU average – below Italy, and just above Cyprus and Spain. Given the comparative strength of the Irish economy, it is this statistic that might explain much of the growing discontent around pay.
The Irish Congress of Trade Unions has called for pay increases across the economy. Its spokesman explained: 'We are seeking to have [the minimum wage] raised to the level of the living wage (€11.50 per hour) over the duration of the current Low Pay Commission (until 2018). Earlier this year, the Congress Private Sector Committee issued guidelines to all unions, advising them to seek pay rises of up to 4% per annum, or at least €1,000.
'Public service pay is governed by the [2015] Lansdowne Road deal, with new talks on pay restoration expected to open in May,' he added.
Dissatisfaction with pay is especially strong in the public sector. There are signs the government may agree a more generous deal in the summer, with awards linked to reforms and efficiency savings.
Paschal Donohoe, public expenditure minister, told an industrial relations conference recently that his officials are drawing up a new three-year public service reform plan. 'We will be looking to consolidate the good progress made to date and to set out the further steps that need to be taken to realise our goals around ensuring we deliver top-quality public services in a cost-effective way,' he said. 'It will allow government to strike a balance between affordable pay increases for public servants and other social priorities, including improvements in housing and healthcare.'
But he warned that the government's room for manoeuvre was limited by the potential negative impact of Brexit on Irish trade with the UK.
Increased offers
Half of private sector employers intend to increase basic pay this year, according to a survey by the Chartered Institute of Personnel and Development (CIPD) Ireland and Industrial Relations News, with rises expected to average around 2.5%. In nine out of 10 cases, any pay hikes will be subject to performance, profit or reforms. Small and medium-sized enterprises (SMEs) are less likely than large companies to boost pay.
But with half of employers intending to increase staffing levels, and many already reporting skills shortages, pay may need to rise more than planned to attract the right staff. The survey, which looked at HR practices in Ireland, found that a third of employers had to make a counter-offer last year when faced with a valued member of staff who was intending to leave. Around 38% of companies said they were likely to pay more to meet the demands of specific groups or individuals.
The CIPD survey revealed that 78% of 900 respondents in the public and private sectors had suffered skills shortages in the previous 12 months, particularly in operations and IT. The research found an increasing number of companies were responding by doing more to train staff in-house.
Mary Connaughton, director of CIPD Ireland, explained: 'With the growing challenge employers are facing to attract the right skills, it is important that pay does not become the only currency for attracting and retaining talent.
'While pay increases are anticipated this year, for a sustainable remuneration model, companies have to be sure they can pay as promised and link it to performance. Companies that use pay to attract staff and have variable pay need to be sure their policies are equitable for all.
'The extent to which the private sector pay trends will influence public sector pay negotiations has yet to be determined.'
Both the CIPD and Ibec, the employers' association, are anxious about Brexit and how this may limit employers' capacity to increase pay.
Ibec is also concerned about the strength of the recovery. It pointed out that while GDP grew by 5.2% last year, and by 7.2% in the final quarter, consumer spending growth slowed to 3%, down from 4.5%. Export growth also slowed. 'The economy is now facing some major external threats, not least from Brexit,' said Danny McCoy, Ibec's chief executive.
Skilled workforce
In attracting FDI, Ireland has benefited strongly from having a skilled workforce – and that is likely to be even more important post-Brexit. But this also risks stimulating pay inflation.
Ireland outranks most other countries for the percentage of young adults with university qualifications. In a worldwide OECD analysis of 25 to 34-year-olds with degrees, Ireland was listed as fifth best, behind South Korea, Japan, Canada and Lithuania.
Recruitment agencies confirm the demand for skilled staff. Trayc Keevans, associate director for new business acquisition at Morgan McKinley, said: 'Overall we have seen a lot of positives in the market, driven mainly by an uplift in activity across the SME sector at senior level and also across key commercial roles. Some of the positives this year have included new hiring requirements for start-up businesses and an opportunity-driven market, resulting in candidates having confidence to change roles. Some of the negative influences that have affected growth are the impact of Brexit and US elections, and the lack of funding in the SME sector to facilitate senior hiring decisions and possible expansion.
'From a candidate point of view, there has been a steady flow of experienced transactional candidates and newly qualified accountants to the market. However, there has been a shortage of talent in specific areas, such as commercially focused finance professionals and qualified accountants with European languages.
'There has been upward inflationary pressure of up to 10% over the past 18 months on salaries for newly qualified accountants. This is due to growth in demand from professional services firms that are expanding in Dublin and opening up operations regionally, and record years for FDI companies hiring across Ireland. We are seeing an excess in demand over supply for private equity and real estate fund professionals, which is commanding a premium on the market currently.'
While there are clouds on the horizon, it appears that employers will have to recognise the need to raise pay to respond to what is both a positive and a challenging economic environment.
Paul Gosling, journalist
"For most workers it is disposable income that matters. And this is where Ireland is doing badly, with a level below the average for the EU"