In four short years, the Singapore regulator ACRA has made the quality of financial reporting and audit in the city-state among the best in the world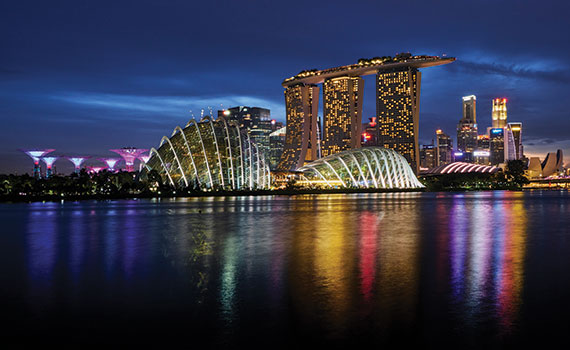 This article was first published in the May 2017 Singapore edition of Accounting and Business magazine.
After four years at the helm of Singapore's Accounting and Corporate Regulatory Authority (ACRA), Kenneth Yap stepped down on 1 April to return to the Singapore Legal Service. Under his leadership the country's regulatory framework and corporate governance landscape has been strengthened, further enhancing Singapore's reputation as a transparent business hub.
'Kenneth has made great strides in transforming ACRA into an authority that combines the highest standards in business conduct and accountability with the goal of facilitating ease of and efficiency in doing business in Singapore,' says Max Loh, ASEAN and Singapore managing partner at EY.
'Under his stewardship, ACRA was instrumental in raising the industry to a new standard of quality of financial reporting and audit in Singapore,' adds Sim Hwee Cher, assurance leader, PwC Singapore.
During Yap's tenure, ACRA introduced an enhanced regulatory framework for corporate service providers that helped boost Singapore's efforts in combating financial crime such as money laundering and terrorism financing, and also successfully implemented more than 200 amendments to the Companies Act and Business Names Registration Act. Important new changes that came into effect included new criteria for private companies to benefit from audit exemptions, aligning Singapore's practices with countries such as the UK and Australia, along with changes to the conditions for resignation of auditors of non-public interest companies before their term of office ends.
Shariq Barmaky, regional managing partner for assurance and advisory services at Deloitte Southeast Asia, says: 'At least 25,000 small companies which did not qualify for audit exemption previously are expected to benefit from the small companies audit exemption effective for financial years beginning on or after 1 July 2015. This will provide much welcome relief from some compliance costs and also create a more conducive business environment for smaller companies.'
Christopher Wong, head of assurance at EY, believes one of the most influential policies ACRA introduced under Yap's leadership has been the audit quality indicators. They are, he says, 'essentially a report card for accountancy firms, which is reviewed by the audit committee when considering auditor appointment'.
Barmaky agrees. 'The audit quality indicators disclosure framework brought about greater transparency among the accounting entities,' he says, adding that with more than 600 accounting entities (as at March 2016), management and audit committees have more relevant information in selecting their auditors. 'With the introduction of the audit quality indicators, ACRA has essentially provided the audit committees with a set of commonly defined and comparable indicators to aid them in their discussions with and their evaluation of auditors. Through their effective use, audit committees are better equipped to discharge their duties.'
Throughout Yap's term, ACRA worked closely with stakeholders in various areas. 'His collaborative approach in launching joint initiatives was refreshing,' recalls David Gerald, president and CEO of SIAS – the Securities Investors Association (Singapore). He describes Yap as 'instrumental in improving the quality of financial information of companies, which has enormously benefited investors'. He also says that ACRA and SIAS are currently working with the Institute of Singapore Chartered Accountants (ISCA) to develop a guide to the enhanced auditor reporting standards for investors.
New rules for audit reports, which came into effect this year, aim to bring more transparency and insight to the audit process. Auditors must now provide comments on the company's financial statements beyond the previous 'pass/fail' view. They must also communicate the key audit matters (KAMs) encountered in their audit, such as significant risk areas of the financial statements susceptible to misstatements or any extensive auditing efforts needed on a company's major transactions. Under the enhanced standards, there is now an added responsibility on the auditors to ensure the company has made adequate disclosures in its financial statements on management's judgment and an assessment of going concern. Previously such information was provided only to audit committees and not automatically made available to shareholders.
Wong says: 'With increased regulation being the norm today as regulators globally raise the bar on audit quality, independence and governance, these new policies have certainly helped to enhance the quality of audit in Singapore.' He also points out that the enhanced financial reporting surveillance unit, which is intended to raise the quality of financial reporting by listed companies, was put in place during the past four years.
ACRA has won praise for implementing a new approach through education, enforcement and eradication to push more errant companies towards compliance. A directors training programme in lieu of prosecution was initiated for first-time offenders to raise awareness and understanding of their basic statutory duties – such as holding annual general meetings and filing annual reports on time.
'Under his leadership, ACRA has actively engaged with businesses, adopting a consultative approach where it recognises the ground issues that companies and accounting professionals face, and introducing initiatives to improve the regulatory ecosystem accordingly,' Loh says.
During Yap's tenure, ACRA participated actively in global audit and corporate regulatory discussions and policymaking to ensure that Singapore's regulatory framework remains up to date and aligned with international standards. It also spearheaded the formation of the new Asean Corporate Registers grouping to facilitate business across borders.
'ACRA's active participation with regulators globally has allowed Singapore to have a voice at the table and enabled us to share our perspectives and align our regulatory framework with those of advanced economies, where relevant. This is particularly salient given that Singapore is a business hub and our strength lies in the stability, reliability and trust that we provide to global companies that are doing business here,' Loh says.
Sonia Kolesnikov-Jessop, journalist
"ACRA's active participation with regulators globally has allowed Singapore to have a voice at the table"