There are profits to be made in failed and fragile states – for those companies willing to operate amid political and economic instability, and even the threat of violence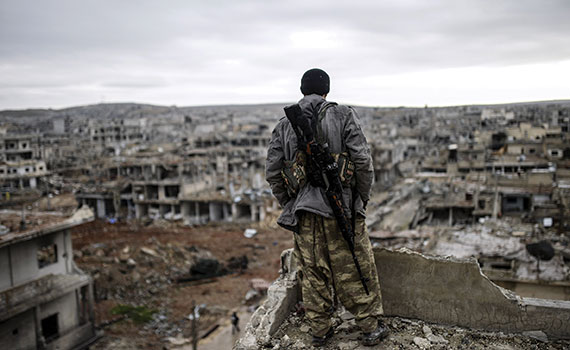 This article was first published in the May 2017 international edition of Accounting and Business magazine.
The ancient Celts had a saying: 'To the brave belong all things', and in business, this remains true. Those prepared to take big risks can reap big spoils. But they can also stumble into disaster. Such calculations are always made when foreign companies consider trading or investing in 'failed states' or states at risk of failure.
Essentially such countries are unpredictable as business jurisdictions. They may be mired in conflict or war, as Syria or Yemen are; or unstable, like Iraq and Afghanistan; or they may have a very weak state, as Somalia does. Foreign businesses still operate in these places – but their representatives are in danger.
States do not have to suffer from endemic violence to be regarded as 'fragile', an assessment that includes failed states. In the view of Seth Kaplan, lecturer at the School of Advanced International Studies at Johns Hopkins University, Washington DC, and author of Fixing Fragile States, fragility should be seen as a continuum. 'Conflict is one side of the spectrum, and at the other end is cross-border regions that are fragile,' he says. 'To me, war can change things, but the characteristics do not [change]. About 50 to 60 countries are fragile; only a few are violent.'
Common characteristics of fragile states, according to Kaplan, are high levels of institutional corruption; government institutions, such as the judiciary, not being independent; and social fragmentation.
At the more dangerous end of the spectrum, topping the Fragile States Index 2016 drawn up by the think-tank Fund for Peace, are countries at war or with violent insurgencies. Somalia, South Sudan, Yemen and Syria are in the Very High Alert category; Afghanistan, Iraq, Nigeria and Pakistan are classed as High Alert.
When a conflict starts, it typically takes time for businesses not in immediate war zones to be affected. Syria is a case in point. The conflict started in 2011, but for one IT component manufacturer, based near Damascus, it was not until 2013 that the business was forced to stop operations, and then only for a matter of months – it is now operating again. Electricity shortages were overcome using private generators, but retaining staff was a major challenge. Another issue was the multilateral sanctions imposed on Syria from 2011. These affected the company's ability to import raw materials, as well as make payments through the international financial system. As the conflict continued, the Syrian pound depreciated significantly, further impeding business.
With US-dollar and euro trades forbidden by law, businesses in Syria have to be imaginative to create the pricing stability they need to stay afloat. They make verbal contracts, but as these are not legal, trades are paid in Syrian pounds, agreed on the day's exchange rate. 'When you work with clients you don't trust, you add 5-10% as a risk dividend factor,' says the Syrian-based executive, adding that the greasing of palms has become standard operating procedure. 'Everyone is part of the war economy.'
In Afghanistan, it is a similar story. 'You either pay with money or with time,' says Sanzar Kakar, chairman of the Kabul-based Afghanistan Holding Group, which provides taxation, accounting, auditing, procurement, training and legal services. 'If you don't pay a bribe, clearing taxes can take six months.' For many market participants, he explains, it is a cost of doing business.
Security is an additional expense, costing up to US$1,000 per person per day in Afghanistan for mobile patrols. But unpredictability at the government level can be a greater operational obstacle, and is often the reason, in addition to the corruption, why companies quit unstable countries. For instance, two telecommunications companies, Roshan and Etisalat, are trying to exit Afghanistan after their bank accounts were frozen in a tax dispute. 'Investors are already worried about security, but when the finance ministry says you are late on tax forms by one day, issues an arrest warrant and puts you on a no-flight list, people decide they just can't do business here,' Kakar says.
In Somalia, business is a gamble, and not for the faint-hearted, says Mogadishu-based professional accountant and business consultant Mohamed Noor. 'Those who are lucky and can manoeuvre through the rough and hostile business terrain here can walk away with jackpots from their investments. But those who are unlucky can lose all their investment in a day.'
Political instability, frequent clashes between clans, and terrorist attacks, coupled with weak law enforcement and a feeble judicial system, mean that traders must arrange private security, with locals on board. A responsible manager should supervise security operations round the clock.
'You need to have multiple supply chains in case one route is shut down,' Noor says. In many locations, it is also essential to enter into a deal with a local 'godfather' to prevent attacks.
Clearly, the model can work. Somali business exists, but the successful businesses are unlikely to welcome competition and have the contacts to make life very difficult for newcomers. As Noor says: 'Those shrewd businessmen who thrive in fragile markets will frustrate any efforts towards stability that might threaten or bring competition to their enterprises.'
Paul Cochrane in Beirut, Ramadhan Rajab in Nairobi, Andrew Green in Berlin, Ceaser Mhukahuru in Harare and Samuel Okocha in Lagos, journalists
"When you work with clients you don't trust, you add 5-10% as a risk dividend factor. Everyone is part of the war economy"