Financial services minister Eoghan Murphy plans to make the best of an unwelcome Brexit by seizing the opportunity to build up Ireland's financial sector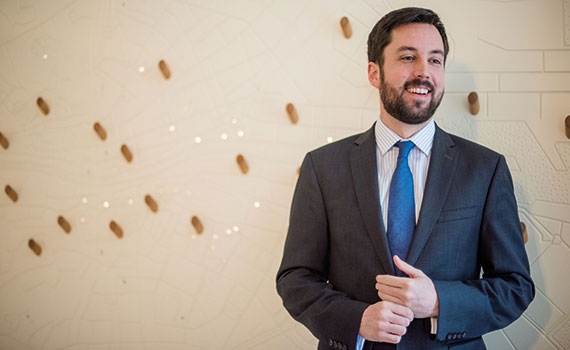 This article was first published in the May 2017 Ireland edition of Accounting and Business magazine.
Ireland has become one of Europe's most important financial centres, and with Brexit looming in next-door Britain, this key element of the Irish economy is favourably placed to develop that position, as Fine Gael politician Eoghan Murphy is well aware.
Appointed minister of state for financial services, e-government and public procurement in May 2016, and still only 34 years old, Murphy is one of the ministers central to Ireland's Brexit response. He is confident that Brexit may in fact help him exceed his department's signature goal – the creation of 10,000 new jobs net by the end of 2019 under the Irish government's strategy for international financial services (IFS 2020).
Location, location, location
Murphy wants to position Ireland as the natural location of choice for companies that may have previously chosen London as their base and entry point for the EU single market. 'The IFS 2020 strategy has been in place for two years and we are ahead of the game in terms of having a coordinated cross-governmental approach to the development of our international financial services industry,' he explains. 'We want to make Ireland the recognised global location of choice for specialist international financial services. We are building on our strengths in talent, technology and innovation, and excellent client service.'
As chair of the IFS 2020 high-level implementation committee, Murphy is the government's point man for financial services businesses looking for an EU base post-Brexit. So what has IFS 2020 achieved so far? 'To date, we have seen a net 5,000 new jobs in international financial services created in Ireland since the strategy was launched. That means the number employed in the sector has risen from 35,000 in 2015 to 40,000 today.'
Murphy feels that one of his strengths is listening to and phoning industry executives for advice: what he calls 'diving back' to industry to keep his department informed of what is motivating companies. 'For instance, on a visit to London I heard something, so I brought in the auditing houses [he refuses to elaborate on what the issue was]. They were able to give me some really good advice before I submitted a Brexit contingency planning paper to the cabinet. I keep a very open line of communications.'
Executives from the accountancy sector, banks and Ireland's giant funds industry all sit with Murphy in IFS 2020 high-level implementation committee meetings. Training concerns have emerged as important to the executives and Murphy has listened. One of his priorities for IFS 2020 this year is a training scheme to get young accountants and other specialists into companies in Ireland.
In November 2015, an accountancy consortium group was formed by Murphy's department to oversee the development of accounting apprenticeships. Murphy wants to offer similar apprenticeship schemes for data analytics, financial technology (fintech) and insurance in the future.
Future plans
Dublin's thriving tech scene has combined with the presence of multinational financial services companies in Dublin's international financial services sector to make Ireland 'perfectly positioned' to ride a 'massive global investment in fintech', says Murphy. Keen to respond, he intends to push the development in Irish universities of a higher diploma and master's degree in fintech. He will also consult companies about the establishment of fintech and payments advisers in key markets.
Maybe unsurprisingly for someone who illustrates his Twitter page with an image of an interview with him by a Japanese newspaper, Murphy plans to spend a lot of time this year on the road in Asia promoting Dublin as an EU base for Asian funds (Chinese, in particular). It's something that he feels will create plenty of finance jobs in Dublin. 'Location will be a crucial advantage for Dublin in the post-Brexit world. We position ourselves as a gateway for Asia. We have the same common-law legal system as the UK, we have the ease of movement from the UK, we have similar labour laws, and the same language.
'Asian financial institutions currently do a lot of business through the UK. This is something we see continuing post-Brexit, but with an additional EU office to service the single market. If that happens, Dublin will win. Our location means they can access the EU through Ireland and fly to London and back in a day. Dublin, after all, is the second busiest air route in Europe.'
Murphy has a further reason to be optimistic about Asia: he sees as a key success for Ireland the announcement in 2016 by the Chinese central bank that it would grant Ireland a CNY50bn (€6.7bn) portfolio in the renminbi qualified foreign institutional investor quota used by Beijing to increase the usage of the Chinese currency in international markets. The quota means Irish-domiciled financial institutions can invest in China's domestic bond and equity markets using China's own currency. The way Murphy sees it is that the quota 'significantly improves Ireland's financial services ecosystem and increases our attractiveness for further foreign direct investment'.
What Murphy sees happening in finance is a post-Brexit mirror of how Ireland has become the EU gateway for US pharma companies and even further afield. To stress his intent, he's happy to report progress on establishing a direct flight between Dublin and China: 'There'll be an announcement this year on that,' he reveals.
Murphy welcomes how the locating of European Financial Forum meetings in Dublin, held this year on 24 January right after the World Economic Forum in Davos to allow attendees to fly over from Switzerland, has enabled the Irish government to tap into international finance expertise. The aim is to make the forum the European equivalent of the Asian Financial Forum in Hong Kong.
This year's Dublin forum had 700 attendees. Murphy recalls: 'Everyone kept pointing to the cranes and saying, "Well, we heard about the office space issue, but we can see it's being addressed, the offices are being built." So it's been a great way to showcase Dublin. If the speakers are good, people will see it's the place to be. And it's a good line-up – we can send lots of the finance ministry staff along as a learning opportunity.'
Political awakening
Clearly something of a fast learner himself, Murphy is not a graduate in any finance discipline. While he took economics for his Leaving Certificate (and got an A), his arts degree at University College Dublin focused on English with philosophy. Economics as a social science is 'very good on analysis but poor on prediction', he says.
He sees his political priorities as developing the high-tech sector and assisting young entrepreneurs and startups. He also backs political reform and nuclear weapons disarmament.
He became interested in nuclear proliferation while doing a master's in international relations. After two years working in Vienna for the Comprehensive Nuclear Test Ban Treaty Organisation he had to choose between staying on, going to work in New York or getting involved in politics in Dublin. The move to politics was triggered from watching decision-makers coming to Vienna: Murphy wanted to become a decision-maker himself. 'Plus, the Irish economy was in freefall and I wasn't confident that the people in power were up to the task.'
Party time
Murphy had no background in party politics, but a friend of his brother's was a member of Fine Gael. Murphy went from a thinly attended branch meeting in 2009 to being on the party ticket for local elections – he got four months' leave from Vienna – and then won a nomination for national elections 18 months later.
He has done plenty of learning on the job since at a time when, as he puts it, 'everyone in Ireland was upskilling themselves in finance after the crash, to try to understand what was happening'.
Murphy also learned a lot from weekends in London visiting his friends working in the City. But he says the real learning began when as a TD he was appointed to serve on the Irish parliament's public accounts committee: 'It was great learning how a departmental balance sheet works,' he says.
He learnt even more as a member of the Dáil's joint committee of inquiry into the banking crisis, describing the 18 months of that experience as like taking a distance learning degree in finance. He got to question various bankers and former finance ministers, as well as Ireland's ex-taoiseach Bertie Ahern, about the derailment of the Irish economy.
The ministerial ladder
When Fine Gael was returned to power in 2016, the new taoiseach Enda Kenny appointed Murphy to the government as a minister for financial services, e-government and public procurement, and deputy to finance minister Michael Noonan. 'It just felt like a fit because of my time on the public accounts committee,' Murphy says.
Seven years on from the dark days of the bailout, Murphy feels that the Irish banking crisis has changed government in Ireland – for the better. 'Parliament is now more effective in scrutinising government,' he says. 'There are several new committees such as the budget scrutiny one. It may move more slowly but we can make better legislation even if it is more difficult for government to make decisions.'
Mark Godfrey, journalist
"Ireland is perfectly positioned to ride a massive global investment in fintech"