Small and medium-sized practitioners should take heart that the Big Four appear to be underservicing their SME clients – small and agile could win this particular race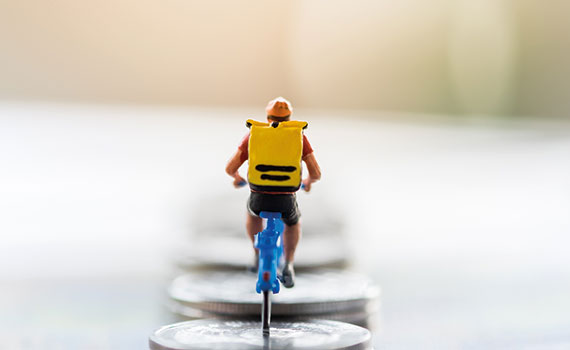 This article was first published in the May 2017 UK edition of Accounting and Business magazine.
Last summer when John Connolly, a former chief executive of Deloitte in the UK, set out on a private equity-backed acquisition spree, speculation quickly mounted over whether he was setting up to challenge his ex-employers and the rest of the Big Four.
If that were indeed the case, what then would the direction of travel be?
Private equity firm HgCapital has built a reputation developing mid-market groups in the services sector. Its strategy of backing Connolly's CogitalGroup in acquiring the British firms of Blick Rothenberg and Baldwins and the business process outsourcing arm of Norwegian firm Visma, appeared to focus the new business on the expanding small and medium-sized enterprise (SME) market. It was, then, a mid-market play, because a full-frontal challenge to the Big Four would surely be overambitious?
Mid bid
The targeting of the mid-market was indeed confirmed by Connolly in HgCapital's press release in October 2016 announcing the purchase of the three firms (which will maintain their existing brands) as the basis for Cogital. 'We are extremely excited about our future and strongly believe that there is a place in the market for a firm focused on entrepreneurial businesses and high net worth individuals, delivering a personal service whilst harnessing the value-enhancing role of technology,' declared the press release.
A target market segment of 'entrepreneurial businesses' makes sense – more sense anyway than mounting a challenge to the entirety of a Big Four network would do. 'The Big Four are very good at having deep sector specialists in market segments: multinationals, FTSE 100 companies, plcs all the way down to the midcaps,' says Alastair Barlow FCCA, who in February 2017 founded SME-focused accountancy and management information firm Flinder. 'And I think they do that very well.'
There aren't many firms that can challenge the Big Four for revenue in these market segments, though it's not impossible. For example, Genpact in business process outsourcing and Accenture in technology consulting can leverage already deep relationships with and understanding of Big Four multinational clients to start winning away high-value advisory work.
'These firms aren't interested in big-ticket audit – the margins aren't as high and there's so much risk around it,' says Barlow. 'Why would anyone want to try? It's not about being able to challenge the Big Four in their entirety, but challenging them for a market segment or sector, offering that deep specialism and doing something better.
'That's where I think the Big Four will have competition: not in the entirety of a firm displacing them or to be a number five; it's about who's going to steal a business unit and revenue, and that's where individual stakeholders and partners in a Big Four firm are more at risk than the firm itself.'
Breaking down the monoliths
With the Big Four being such complex monoliths, breaking them down into service lines exposes opportunities for rivals to win away revenue. And this is perhaps why Connolly and CogitalGroup see value in the SME segment. The Big Four have been struggling in this space, whereas smaller practices aren't.
Barlow says that when he worked for a Big Four firm, responses from the UK SME community to an approach could be counted in thirds: 'A third of people had never heard of us; a third of people were really flattered we wanted to speak to them; and a third thought we would be way too expensive.
'The Big Four brand was actually working against us. To have a tower in the centre of London was off-putting to a number of small businesses. They would be thinking: one, I can't pay for this; two, this might not be in my fees right now, but what are the odds it is going to be?; and three, this isn't how I do business, in a big shiny office – we're lean and mean and watch the pennies.'
While Barlow accepts that business owners appreciate being affiliated with a big brand, for Rudy Chen FCCA, founder of Yes Accountants, that is not always enough. 'We've spoken to many businesses where they have bought into the name of a particular Big Four practice and have come out feeling disappointed with the actual services provided – ie there is little engagement and no real time spent on the individual client.'
This seems to be a common experience. Smaller practices are enjoying new business because the Big Four have been underserving SME clients. 'Normally, smaller business owners tend not to get the close relationship with a Big Four, they're just a number,' says Alex Falcon Huerta FCCA, founder of Soaring Falcon Accountancy. 'To a small practice, all clients are key to growth, so we perhaps go the extra mile. Some clients have come to me from larger firms and feel they get a better, more efficient service. They feel more looked after.'
'We often find we have startups who get really frustrated because they're not getting that instant advice,' says Wesley Rashid FCCA, founder of The Accountancy Cloud, which targets tech startups and supports their rapid upscaling ambitions. 'We're living in a millennial age, where a lot of money is being put into entrepreneurship, particularly in our industry, where you have technology growing faster than the UK economy, and these guys need to move fast.
'The Big Four can't supply that, not within their framework, with their infrastructure and hierarchy, when they're dealing with companies who may be three or four-man bands, but who might need to scale up to 150-strong teams within a short period.'
These inefficiencies of scale are a further strong point for smaller practices. 'It will take larger firms a lot longer to move their archaic systems over to the cloud, whereas I started from scratch using the cloud, so I've had built-in efficiencies from the start,' says Huerta. 'Equally if a tool doesn't fit, I can quickly change it, with hardly any impact – I'm definitely more agile.'
Deeper understanding
Yet it's not just the ability to offer clients quicker responses, or to be able to onboard systems quickly, or be more personable that sets smaller firms apart from their larger counterparts in the SME space. There is the opportunity to relate to small clients and provide them with a high level of service and integration, and to genuinely understand and therefore support their growth.
'The stereotypical view of an accountant is that they'll do the numbers, the nuts and bolts – profit and loss, tax, stats – so most businesses don't know there's more an accountant could and should be doing for them. In a way we have to educate people in the art of the possible: what an accountant should be and could be delivering,' says Barlow.
He continues: 'We'll do all the compliance for you, of course, but what excites us is getting into data, systems, the whole business, bringing everything together, aggregating what's going on in the business, and delivering very rich management information. We don't just want to save pennies on tax for your bottom line, we want to help your top line or margin really grow, and help you on that journey to grow your business.
'I absolutely think that we're out to challenge the Big Four in terms of quality and dominance in the SME marketplace. That might be quite a bold statement for just two guys who've set up within a month, but we know exactly what goes on, how many clients, what the margins are, the growing pains, problems, processes, technology – we know everything.'
Not so fast…
It all sounds very impressive, but don't count the Big Four out just yet. An obvious approach to securing revenues here, should the Big Four's organic strategies prove insufficient, would be for them to acquire their way into the SME marketplace. And if these smaller newcomer firms succeed in their ambitions to deliver quality, value and depth of service, that marketplace may be awash with decent targets soon enough.
Neil Johnson, journalist
"We have to educate people in the art of the possible: what an accountant should be and could be delivering"