As Oman reforms its tax system and looks to reposition its economy, Omar Al Sharif FCCA, country senior partner at PwC Oman, describes the challenges that lie ahead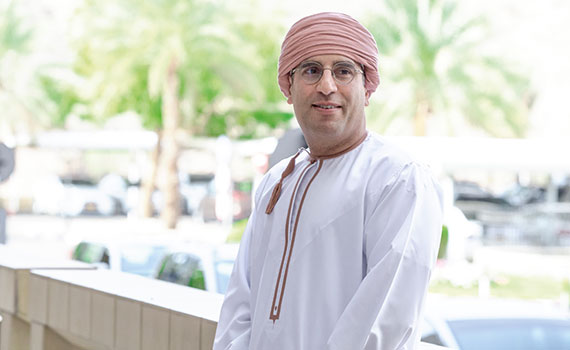 This article was first published in the June2017 international edition of Accounting and Business magazine.
Omani accountant Omar Al Sharif FCCA figured out the path to success in his profession early in life, when he joined Coopers & Lybrand as an ambitious 23-year-old recruit in its London office in 1997. Over the next two decades, Al Sharif's career developed dramatically. Now 43, he is the first Omani partner at a major accountancy firm, PwC, where he is country senior partner for Oman and leads the consultancy and deals services.
But he did not see that coming. 'When I first qualified, I realised there were a lot of opportunities in the firm for someone willing to put in the time and effort to achieve a lot. But to be a partner, that was definitely not something I was considering until later in my career,' he says.
After passing his last ACCA paper in 1997, he left Oman for London, where he completed his work experience to obtain the full ACCA Qualification, mainly looking after SMEs. In 2002, he moved back to Oman and rejoined PwC Oman. It was there he shifted his main focus to the oil and gas and telecom sectors (hydrocarbons account for nearly half of Oman's economy) as well as government-owned entities.
The main foundations of his achievements are his work experience overseas, dedication and a supportive wife – he has always worked long hours, often away from home, especially during the busy season from November to April while he was still in the audit division.
Growing talent
Asked about the major challenges facing the accounting sector in Oman, Al Sharif says that the need for talent is a 'continuous challenge for any accountancy firm'.
Speaking at his Muscat office, he explains that, in this emerging market (the World Bank projects that Oman will have 2017 GDP growth of 2.9%), 'there is a lot of room for growth of local talent'. But it can be hard for firms to hang on to these professionals, given the opportunities and potential job offers in the Middle East and beyond.
'To address this we invest heavily in our graduates' development and provide opportunities for growth, including things like international secondments, and on-the-job and high-quality classroom training through our education arm, PwC's Academy,' he says. 'Alongside this is a clear career plan linked to meaningful reward schemes.'
Oman (population 3.6 million) is 'a smaller market as compared to some of its neighbours, with quite a large number of accountancy firms', he adds. 'The competition is tough and being able to differentiate yourself and maintain your market position is always going to be a challenge.'
Another challenge is inconsistent quality across the sector. A range of factors have contributed to this, including the lack of an independent regulatory body for audit firms. However, the capital market authority and others are trying to address this issue by introducing tougher regulations around independence and taking a stricter stance with audit firms that don't meet standards.
Big opportunities
An opportunity, but also a challenge, for firms is to scale up and invest to respond to a fast-changing landscape. There is a new tax law and VAT is expected to be introduced in 2018. 'International firms have a lot of experience in VAT globally, so we can help our clients in getting ready for VAT,' Al Sharif says.
The country is also going through a transformation, accelerated by lower oil prices. Last year saw the introduction of the 'tanfeedh' programme to increase economic diversification through the creation of non-fossil fuel businesses and employment. Al Sharif says: 'There is an opportunity for accountancy firms to help the country develop from a regulatory and policy perspective, as well as help their clients remain robust and advance through the economic changes that are already happening.'
Amid such comprehensive reform, it may be no surprise that Al Sharif believes training is the 'whole foundation of accountancy firms' and is a keen supporter of on-the-job training. 'One of the reasons to join the sector is to obtain qualifications,' he says. 'These require work experience, and accountancy firms are the best places to gain this.'
PwC in Oman has its own graduate programme, with on-the-job training for Omani graduates. 'In addition,' says Al Sharif, 'they get the opportunity to train across the region.' After qualification, PwC offers these graduates a chance to work in its UK and US offices for up to two years through its global mobility programme.
'Most of our graduates come from a finance and accounting background,' he continues, but adds: 'A degree is not as important as the way one thinks, attitude and critical thinking.'
Al Sharif encourages young Omanis to go abroad to get exposure to different cultures, so when they return home, it will 'allow them to be more competitive as they bring back experiences that add value to the local market'.
Internationally competitive
Asked about the importance of having ACCA certification in such a competitive field, he says: 'We live in a global environment, and to be able to compete globally you need to match international standards. In other words we need to be internationally competitive to be able to attract the best talent as well as foreign investment. ACCA brings those standards to countries like Oman, and I think it is important that more Omanis focus on such highly respected qualifications. Companies in the private sector always look for such people.'
The accounting profession in Oman has long had high standards, with the country having adopted International Accounting Standards (IAS) since 1998. Al Sharif says: 'Oman was very early in adopting IFRS [International Financial Reporting Standards], allowing for a very transparent framework, which is easily understood and gives investors measurable and comparable figures.'
He also believes it is important to give back to his country. For the past three years he has been a committee member of Oman's Public Authority for the Development of Small and Medium Enterprises (Riyada), which helps young entrepreneurs set up businesses by finding them the right mentor.
Hasan Shaban Al Lawati, journalist in Muscat