Martin Štefík FCCA, CFO for Microsoft Czech Republic and Slovakia, believes that passion, continuous learning and risk-taking are key to success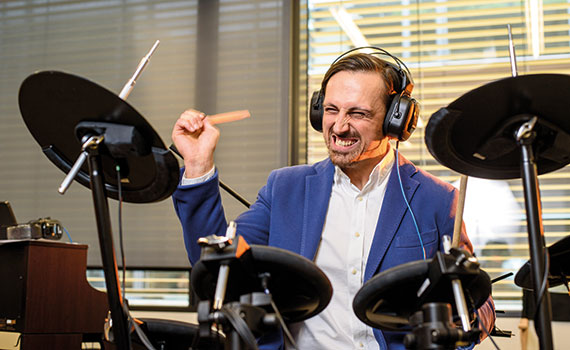 This article was first published in the July/August 2017 international edition of Accounting and Business magazine.
Martin Štefík FCCA always knew that a career in finance lay ahead of him. Specialising in mathematics at high school, he took a keen interest in figures. The practicality of finance and its relevance to everyday life strongly appealed to him. 'I consider finance unique because it is behind everything we do, in our personal and work lives. If you understand how finance operates, it helps you figure out how the world works,' he says.
Now 12 years into his career and chief finance officer for Microsoft Czech Republic and Slovakia, Štefík believes that he chose wisely, given the flexibility of a finance officer position. He explains that a finance director can be a business person or company CEO but rarely the other way around. 'Together with a certain business sense, the major advantage of a finance role is that it underpins everything we do. Working with data is becoming increasingly strategic. And this is where finance as a profession can play a key role,' adds Štefík.
After graduating from university in Slovakia in 2005, he followed the common route of joining a Big Four accounting firm, PwC, as an audit assistant in Bratislava. Štefík progressed rapidly through the company, soon becoming an audit manager. 'That was a great start,' he recalls, noting that in a small country like Slovakia, auditors do not usually focus on a particular line of business but gain experience across sectors. 'I was auditing insurance companies, manufacturing firms, energy companies and others, all of which helped me understand a range of business models.'
In November 2010, Štefík moved to another global firm, Microsoft, becoming a business controller for its Slovak branch. When the company approached him, he was not looking elsewhere but decided that the move could present an excellent opportunity. Besides switching to a very different line of business, he carried out new work tasks. 'Before Microsoft, I had never been involved in business controlling, especially for an IT company, so it was partly a step into the unknown. But I believe that if a new position looks attractive, you should just go for it, even if some aspects are new,' Štefík argues, explaining that a willingness to keep learning has proved crucial throughout his whole career. 'It is also a crucial element of Microsoft's culture to give people opportunities to develop and grow, limited only by their willingness to risk and learn.'
Virtual challenge
Such a philosophy became even more important less than four years later, when he took on a regional role, with responsibility for managing the financial aspects of Microsoft's retail business across Central and Eastern Europe. The diversity of the area, from the Czech Republic to Kazakhstan, provided much direct exposure to diverse cultures, market maturities, and business styles. The new job also tested his limits in working with others virtually by email or Skype. 'Only with that experience did I realise how hard it is to produce written communication that is clear enough to attract people's interest and convince them to follow my lead on a virtual basis.'
Looking back, he believes such leadership experience was one of the biggest factors contributing to his current role as CFO for the Czech Republic and Slovakia. Štefík directly manages a team of 15 and is a member of subsidiary top management and regional finance management. He is also responsible for two international projects that are guiding finance towards the future across Microsoft. When he looks back at the past 12 years, he notes that one underlying motivation has kept him moving forward and developing his view of the world and of business – curiosity. 'Always search for underlying principles. Look beneath the surface of an issue or challenge to understand how it works, to make the best decisions possible,' he advises. Štefík promotes a risk-taking culture among staff and a willingness to challenge the status quo, so that they learn from situations and are better equipped for the future.
Štefík bases this philosophy on thinking big, which enables him to step back from any small or local challenges and focus on the future. He adds that the audit training at PwC shaped his approach and proved invaluable at Microsoft: 'My previous work helped me understand what particular sectors need in terms of technology and introducing business innovation.'
Such innovations are the focus of much discussion currently, as the digital revolution sweeps through businesses worldwide. 'Digital technology, and its availability and capacity, is completely changing how we innovate. We can see many good examples already – look at Facebook or Airbnb – and we will see many more going forward. Companies must learn how to interact with technology to make progress and scale everything they do, from core business through HR to finance,' he reasons. ACCA's recent report, Professional accountants – the future: Drivers of change and future skills, cites digital technologies as one of four key factors impacting the accounting profession in the future. 'There is no doubt about that, and as one of the market leaders in technology, we are already seeing some signs of this in everyday life. We predict cashflow and identify sales opportunities using machine learning, connecting and visualising the data through PowerBI, cooperating and communicating using Skype or Teams. This means that technology already significantly influences our daily schedule. I am sure this is just the start,' Štefík adds.
He takes a slightly different perspective on digital transformation, given his CFO hat and that his company's software plays a key part in filtering the material we gather, then organising it, understanding the insights, defining the actions, presenting it and helping to apply to drive impact. The insight-to-action aspect poses the biggest challenge for finance professionals, empowering them much more under the company strategy and leadership.'
Under Satya Nadella, its current CEO, Microsoft worldwide is itself shaping the digital revolution. Štefík explains that the focus will be towards a greater role for CFOs in the future, and that they will apply digital technology to increase the influence of finance departments: 'All CFOs must be able to reconsider how they interact with data, automating the transactional aspects of work on one side to be able to invest time into joining the dots through analysis of internal and market data on the other. So using technology within finance is, I think, currently the biggest challenge but also opportunity. And I believe that the industry is ready to tackle it.'
Besides involvement in digital transformation, Štefík's managerial career has included managing the merger between the Microsoft companies in the Czech Republic and Slovakia, months after his move to Prague. He regards it as a career highlight: 'We had a great project, involving many people. The availability of information and full communication made people feel that they had ownership.' He believes these factors contributed to the project's overall success.
Such experience proved invaluable later for the ongoing human resources aspect of his work. Štefík actively participates in training and development and works with the HR department to help mentor colleagues. He relishes the role. 'My work is very people-oriented, and my colleagues know that I am passionate about others and coaching them. I am also working on a strategy for managing our staff and getting the best out of them,' he says, adding that his senior manager position also entails providing leadership and setting standards.
In addition to these responsibilities, his remit also includes promoting a culture of communication and ongoing learning, and encouraging staff to be open-minded and to join the dots when analysing.
Štefík sees the emphasis on communication and collaboration as vital for business development: 'In our local leadership, I manage the different ways we convey our value proposition to different types of business development manager. Historically, this was usually limited just to communication with CEO, CIO, or procurement from the customer side, and that was all. Now, more players are involved and increasingly we will need to share our vision with non-traditional business development managers, creating solutions for HR, finance, or lawyers, powered by our technology. This is where finance can come into play again.'
He notes that increasingly he or his team communicate with customer CFOs and other financial managers to demonstrate how to harness technology to transform the way they operate or even upgrade the business models generating sales. 'CFOs are approaching us and learning from our best practices how to apply technology to get results.'
Ultimately, he believes that the fact that finance intertwines with everyday life is key: 'The philosophy of our company is focused on results rather than hours worked, which strongly resonates with me. I believe in prioritising to ensure I use my time wisely and to contribute to an overall life balance. In the end, balance is a must for long-term sustainability.'
David Creighton, journalist based in Prague
"Treat the company you work for 
as if it were your own business. 
In that way, you 
will aspire to do 
the best for 
the firm"