Personal success is not enough for Taiwo Oyedele FCCA, PwC's West Africa market leader for tax - he is also determined to tackle Nigeria's social and economic problems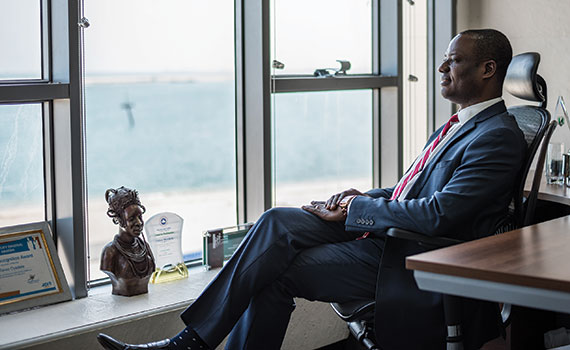 This article was first published in the July/August 2017 Africa edition of Accounting and Business magazine.
ACCA Council member Taiwo Oyedele FCCA likes solving problems. 'When I get emails from clients saying "good job" or when I get staff saying to me "you inspire us" I feel very fulfilled,' he says. That's the part of the job he likes the most. And the part he likes least? 'Ticking boxes.'
In an ever-changing, complex world, there is a need for professionals to pay close attention to areas such as risk management and money laundering. Checking out a company – and the people behind it – is boring, says Oyedele: 'But it's necessary. I appreciate we have to do it.'
The good news for Oyedele is that as a PwC partner in Nigeria and the firm's West Africa market leader for tax, these days he is more involved in leadership than box-ticking. He says that his view of leadership has changed over the years. 'When I was an associate I thought that when I became a leader then life would become easy, that you don't work too hard you just go to meetings, play golf, take coffee, read newspapers.'
It hasn't quite turned out like that. 'Leadership is not just about you, it is bigger than you. It's about other people and the organisation and that is what makes it critical. For the accountancy profession it is about public interest and the reputation of organisations like ACCA and PwC.'
As a leader he is also conscious that professionals have to balance work and personal relationships. He recognises that he has changed and grown into this role. 'People should not wait until they become a leader to find out about leadership. But whether you have a big or a small role or you are young or old, leadership is something you do every day.'
Oyedele's steep journey to such a senior position is remarkable. And he hasn't finished. 'I still have some way to go. I am very, very ambitious. I want to be one of the best leaders in the world.' Such ambition has always been part of his make-up. 'I like to think big and I like to do things differently' – which is where his love of problem solving comes in.
Part of the big thinking is reflecting on Nigeria. And as he notes: 'I'm not even the president of Nigeria.' Well not yet anyway… but even without being in the Aso Villa, Oyedele is concerned about the country's problems. Nigeria is in recession and struggling, partly because of the decline in the price of oil and partly, says Oyedele with his tax partner hat on, because tax revenues are 'embarrassingly low'. 'There is wholesale tax evasion. It is almost as if people are hiding in plain sight, they are just not paying taxes.' The tax collected in Nigeria is 6% of GDP; in other African countries the figure is between 20% and 30%. Not a good position for Africa's largest economy, but Oyedele is driving change.
New tax code
The minister of finance invited Oyedele to join the committee revamping Nigeria's tax policy. The new code was approved by the Federal Executive Council in February 2017. Oyedele says he is happy and proud about his contribution to the work. Even at the early stage of the implementation, results are coming through – though they may be small in terms of the final goal of achieving the 20% mark.
Despite Oyedele's high-profile role in the country's tax policy, he says that professional services are merely scratching the surface because of barriers such as bureaucracy and corruption. 'Businesses – local and multinational – only come to PwC when they are willing to do the right thing. However, for most businesses, doing the right thing – paying the right amount of tax – does not make commercial sense. But the attitude of not paying any tax is beginning to change and that means the professional services space is beginning to open up.' He is confident that as markets open up and transparency increases in West Africa, professional services will expand even faster. A key factor will be the entrenching of democracy, signalled by recent elections in Nigeria and Ghana when the parties in power accepted defeat at the ballot box.
Increasing opportunities
Oyedele's big thinking led him to create the Impact Africa Foundation in 2015, which was born out of a desire to help others as well as a reflection of the opportunities he has seized in life (see box opposite). The foundation has three main areas of focus: improving educational opportunities for underprivileged children in Nigeria; providing financial support, mentoring and emotional support; and advocacy.
As president of the foundation, Oyedele is looking to address inequality of opportunities as well as policies that blight lives. 'So many things that are wrong with Africa are self-inflicted. The privileged few who get the advantages are mostly politicians and their friends. Society discriminates on the basis of gender – being a woman is a big disadvantage – as well as on class, tribe and religion.' The foundation's advocacy plan wants to look at how to make opportunities available to everyone based on merit. Oyedele started this work on a personal basis and then, as he wanted to scale up the activities, he pushed ahead with setting up the charity.
He is clear about his desire to develop his personal brand and reputation. He wants the funds raised to go to the frontline work rather than be swallowed up in administration or overheads. So far the charity is sponsoring 60 children with scholarships and support and has found 70 volunteers to help with mentoring, which allows the foundation to track progress to ensure it is making an impact. So far so good, says Oyedele. But there is much more to do: the idea is to spread the work across Africa.
Another element in that personal brand is his work for ACCA. Since becoming an ACCA member, Oyedele has looked to contribute to the profession. 'I thought I could give back in a big way at the highest level.' He joined ACCA's International Assembly in 2010 and Council a year later. 'I want to help lead ACCA into greater things as well as shape the future of the accountancy profession.' He describes Council as fascinating and fantastic, partly because he is impressed by his fellow members and their willingness to serve and partly because they have taught him further leadership lessons that he can apply in his other roles.
And other roles there are aplenty. He is a prolific speaker and is currently writing two books, 'on life in general', with one aimed at motivating people. His own motivation comes not only from loving his work but also from helping others and making a difference. Oyedele says he is optimistic by nature but also a realist who does not think things will happen by magic: 'While thinking big you have to take practical steps to work towards your goal.' His own goal is to retire early from PwC – by the time he is 50 (he has about a decade to go) – to focus on the foundation, and government at some point. He would also like to be president of ACCA, speaking particularly to its values around diversity and inclusion. Finally, spending more time with his wife and two children is also a priority, as is travelling less. His eldest child, a daughter, is a reminder of how long he has been on the ACCA Council; there was a miscalculation over due dates and he was at his first Council meeting in London while his wife was giving birth, with no way to get back in time.
If he had the chance to give advice to his younger self he would say: 'Success in life is not only about having a good plan. It's about how you respond to events that you did not plan for. This is true for individuals anywhere in the world, and for businesses.' He points to businesses now struggling to survive because they were disrupted by market or technology changes to which they reacted slowly or not at all. He warns that society's usual measures of success – money, cars, houses, watches – are not what matters. Most importantly he urges youngsters to find their purpose. 'You should wake up every single day knowing why you are working beyond getting paid at the end of the month. You need to work hard and be a better version of yourself every day. Work hard and dream big. And there must be a purpose.' Oyedele certainly seems to have found his.
Peter Williams, journalist
"So many things that are wrong with Africa are self-inflicted. The privileged few are mostly politicians and their friends"