Public officials need to be accountable for public money, and institutions must start challenging irregular expenditure, says South Africa's auditor-general Kimi Makwetu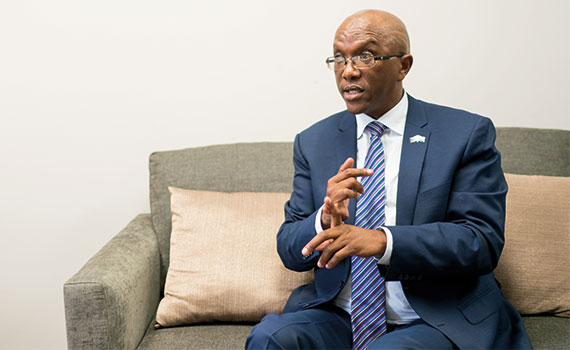 This article was first published in the September 2017 Africa edition of Accounting and Business magazine.
South African auditor-general Thembekile Kimi Makwetu does not pull his punches. With half of his seven-year term left to consolidate the restored reputation of his country's state institutions as trusted bodies that accept responsibilities and whose leaders understand and fulfil their duties, he makes a point of speaking plainly.
'Change in the public sector will only happen with a change of tone among the top structures that no longer absolves people from breaking the law,' he says. 'Leaders institute policies and applications, and must react against deviances.'
He cites the case of a municipality (which he did not name) with a 700-strong workforce that functioned only with the help of supplementary consultants for whom management had not budgeted. To meet the cost of the consultants' fees, the town stopped paying its electricity bill, with predictable consequences – its electricity supply and security suffered.
By contrast, in well-run public bodies, 'good leadership demands action when things go wrong. Leaders drive the programmes and projects that improve people's lives,' he says.
Urbane, elegant and softly spoken, before entering public service Makwetu worked for South African financial services institutions such as Deloitte (where he completed his articles), Standard Bank, insurance giants Liberty Life and Metropolitan Life, and South African packaging company Nampak.
Born and raised in Cape Town, he qualified as a chartered accountant with the South African Institute of Chartered Accountants (SAICA) in 1997, and moved to the Gauteng region – South Africa's economic heart and home to the administrative capital Pretoria – when working for Liberty Life. In 2007, however, his career took a new direction. Terence Nombembe, the first black African to be appointed South Africa's auditor-general in the 95-year history of the office, asked Makwetu to become his deputy.
Makwetu saw that a shift to the public sector would provide a significant opportunity for personal growth and development, as well as the chance to serve the country he loves.
He likens his role during that six-year tenure to that of a CEO, with Nombembe 'the main leader'. 'I spent time in the kitchen while Terence was in the dining room,' he quips. He says, though, that he always focused on 'telling the facts as they are, even though people do not want that viewpoint put forward'.
Appointed to the top job in 2013, Makwetu now oversees a 3,500-strong team across South Africa's nine provinces. Many hold professional qualifications from ACCA or SAICA.
AGSA
As a state institution, the Office of the Auditor-General of South Africa (AGSA) has its autonomy recognised in the constitution. Makwetu himself is accountable to the National Assembly – the lower house of the South African parliament – and reports direct to ministers. He sees maximising the opportunities to promote the work of AGSA as a key part of his role. In pursuit of this goal he invests time with national, provincial and local government representatives, universities, the media and the accountancy profession. In February, he was the keynote speaker at ACCA's seventh global public sector conference in Johannesburg, which provided another platform for promoting his office.
However, he also acknowledges that many organisations and professionals touched by AGSA's work have 'different agendas' to that of his office – and as a man known for speaking his mind, he has not been afraid to say so. Releasing three performance audit reports dealing with pharmaceuticals, water infrastructure and urban renewal projects in November last year, Makwetu stated bluntly that the government's failure to plan and monitor projects was affecting service delivery. The office had audited 109 health institutions and 10 medical depots, water infrastructure projects in seven district municipalities, and four urban renewal projects in Gauteng. The picture revealed by the audits, he says, was not a pretty one.
'The planning processes were largely deficient to the extent that many plans were developed but not sufficiently to respond to the needs,' he explains. He has called on the government to prioritise leadership, oversight and project management.
Makwetu cites water infrastructure initiatives as prime examples of projects in need of better governance, monitoring and planning. The construction of bulk infrastructure for water delivery is funded by national ministries. However, AGSA has shown how departments failed to communicate with a municipality the town's responsibility for connecting and operating the new system. When a local authority has not budgeted for such infrastructure, service delivery fails, raising justifiable ire among residents, Makwetu stresses. Such lack of leadership often sparks community unrest, as projects overrun budgets and citizens' expectations are left unmet.
Makwetu has three main concerns: the accuracy of financial information in the public sector, the speed with which supply chain disruptions can occur within government entities, and the lack of government accountability for such mistakes.
South Africa has legislative requirements for transparency, and reporting mechanisms in the public sector are sound, but the country suffers when institutions are unwilling to stand up and respond to issues such as irregular expenditure, Makwetu says. Too many accounting officers in municipalities and state institutions, he says, fail to follow South Africa's Public Finance Management Act – the legislation that guides the spending of public funds.
He has also publicly decried the lack of consequences for senior officials responsible for unauthorised, irregular and wasteful expenditure – and stresses that in the absence of consequences the misuse of funds will continue unabated. Last November he revealed that irregular government expenditure had rocketed to ZAR46.36bn (US$3.6bn) in the year to March 2016 – an 80% hike on the preceding 12 months. Makwetu laid the blame firmly with continued non-compliance with South African supply chain management legislation. Six entities accounted for more than half the irregularities, the most significant being the ZAR13.9bn (US$1.1bn) racked up by the Passenger Rail Agency of South Africa (Prasa).
Where the buck stops
Makwetu believes that public bodies have been too inactive in calling out instances of fraud, as well as irregular expenditure that breaches the law without amounting to outright graft. He says the buck stops with a public body's accounting officer, and that action must be taken against officials when 'there is enough evidence indicating fraudulent behaviour'. He adds: 'Too few municipalities follow through with those actions, specifically holding the accounting officer accountable.'
The country's Standing Committee on Public Accounts (Scopa) has invited law enforcement agencies to play a meaningful role in clamping down on irregular expenditure and the unwillingness of entities to censure those accountable. Makwetu sees this as a hopeful sign that anyone allowing irregular expenditure to continue will face sanctions.
In December Makwetu addressed parliament again, this time red-flagging the tendency of some government departments to resort to legal action to contest audit findings. He is especially concerned about challenges to reported irregularities in the procurement of goods and services.
While accepting it is normal for entities to contest audit findings, he warned that the number doing so was rising 'beyond reasonable levels'. He added: 'Involving lawyers, or going to court, strains relations between state audit teams and those whose accounts are being scrutinised, and racks up costs for both sides.'
Sharper teeth
He acknowledges that the unwillingness of entities in the public sector to address the issues raised in reports and implement the recommendations is one of AGSA's greatest challenges. 'We need to sharpen our teeth,' he admits.
To do this, AGSA needs to retain its talent. While it attracts qualified professionals, staff often leave after completing their training but ahead of their board examinations.
Makwetu believes AGSA needs to ensure it meets individuals' career goals. It employs more than 1,000 apprentices, so achieving that objective could significantly boost service delivery and accountability. Working for AGSA enables accountants to bring their skills to bear on grassroots business and public spending issues. 'The benefit is knowing you have a broader perspective than merely looking at the figures and accounts,' he says. 'You are at the coalface of the country's business and economy.'
Nicola Jenvey, journalist in Pretoria
"Involving lawyers, or going to court, strains relations between state audit teams and those whose accounts are being scrutinised, and racks up costs for both sides"