The ACCA Shell Club is helping Shell Business Operations Kuala Lumpur to become a high performing global business services centre, says general manager Nyon Kam Yew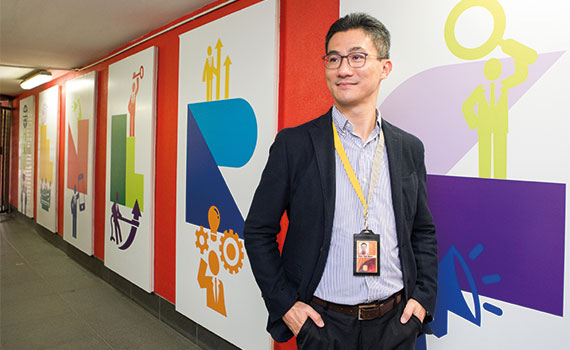 This article was first published in the October 2017 Malaysia edition of Accounting and Business magazine.
In the last couple of years, Shell Business Operations (SBO) Kuala Lumpur has refined many of its existing talent management strategies as well as introducing new approaches to attracting and retaining talent to set itself apart from other employers in the global business services industry. For SBO KL, these are necessary steps to move up the value chain and continue to be a high-performing centre. 'We are staying away from the business service centre mindset,' says SBO KL general manager Nyon Kam Yew. 'Shell Business Operations reflects a greater business partnering with the larger Shell group. We are an integral part of the business operations offering high-value business services.'
The addition of two new business activities (to the existing six) – brands in early 2016 and legal services in April 2017 – is a reflection of SBO KL's move up the value chain, he explains. 'Our legal business operation is global, having moved the role from the UK, US and the Netherlands, and our brands centre of excellence is for the Asia-Pacific region but it will soon be expanding its geographical coverage,' he says, adding that existing activities such as finance operations and contracting and procurement are global roles.
Securing the right talent at the right place, at the right time and at the right cost is paramount, he says, pointing out that SBO KL has to look at the availability of talent to meet its current as well as future needs. 'In the past two years the talent game has become more intense and important,' he says.
One of the approaches the organisation has taken is to work with professional bodies – including ACCA. 'When we consider talent management strategies, we look at ways in which we can collaborate and build partnerships with government, institutions of higher learning and professional bodies such as ACCA,' says Nyon.
The establishment of the ACCA Shell Club – the first of its kind in the world – in April 2013 has been a plus, especially in the drive to enhance the skills of its finance population, which at 600 make up a third of SBO KL's total staff. One of the club's goals is to help staff to obtain the ACCA Qualification. 'We want our population to have such niche skills,' says Nyon, adding that apart from exam tips from the club members, SBO KL provides educational assistance and leave for staff to prepare for the exams. Since its inception, more than 30 staff have obtained the Qualification.
The club also hosts industrial visits for higher education institutions such as INTI International College, TAR University College and Sunway University College. 'Through these visits we show students that the career path in finance and accounting is not limited to working in an accounting firm,' Nyon explains. 'There are more than 400 companies in the global business services industry in Malaysia so there are opportunities.'
Three-pronged approach
Nyon's priority when it comes to talent management is to drive a strong performance culture within the organisation, and this is achieved through a three-pronged approach covering recruitment, performance management and talent mobility.
SBO KL's recruitment activities also leverage on the Shell brand. 'By working for SBO, you have a chance to collaborate, work in a vibrant environment and have the chance to grow through different assignments and leadership opportunities,' says Nyon. The organisation has also fine-tuned the channels from which it sources its talent, collaborating with a few targeted institutions of higher learning that have a proven track record of producing quality graduates.
In addition, the organisation places a priority on ranking its talent based on goals, targets and if they have 'done anything above and beyond', Nyon explains. Those who underperform are managed via a performance improvement plan. 'Usually the line manager and HR will initiate the plan to set specific targets on how the performance can be improved over a period of time. We are doing this more aggressively now because we want to ensure that we keep the right talent.'
Nyon believes that differentiating talent is important. 'In the past line managers tended to clump people in the middle because they may have wanted to avoid having difficult conversations or making difficult choices,' he says. 'But in the end you have an organisation that may not have top performers or underperformers. In the long and medium term this is not good because you don't know who is your talent and as a result succession planning and morale are impacted.'
By ranking and differentiating the talent, the organisation also has better insights on its attrition rates, which were on par with the industry at 12%-12.5% at the end of 2016. 'In the past we looked at the attrition rate as one figure,' Nyon explains. 'Today, we look at the source of the attrition. Is it from the right place and group? If the attrition is coming from the right place, then it's the right move. We want to focus our resources on retaining the right talent by rewarding them with higher increment, better recognition, broadening their roles and giving them more stretched assignments.'
New opportunities
Talent mobility is another key area of SBO KL's talent management endeavours, in particular to retain talent. At the SBO KL Talent Forum the organisation's business leaders meet every quarter to discuss the talent agenda – looking at the talent composition, requirements and mobility. 'We look at new opportunities and consider our options in terms of talent mobility,' Nyon says. 'Do we bring in someone within SBO KL or from other companies or businesses in Shell Malaysia? We try very hard to break the silos of keeping the talent within a specific skill. So if you are in finance operations, you can move to a career in contracting and procurement.'
This approach appears to have paid off. Nyon reports that three of the leaders of its eight businesses within SBO KL are talent mobilised from within the organisation. 'We show the employees that if you have the talent, you can be given assignments to lead,' he says.
In addition, with the ongoing migration of SBO KL's IT activities to Bangalore, India, the organisation was able to mobilise more than 70 of its IT talent to non-IT roles within SBO KL and to companies in Shell Malaysia, including sales operations and marketing. 'This shows that talent mobility is successful,' Nyon says. 'It's also a strong testimony that in Shell you will have access to all kinds of career advancement opportunities as we are shifting our focus to higher-value-adding activities.'
The organisation also places an emphasis on linking pay to performance. 'That's why differentiating performance is key,' Nyan adds.
Another initiative in SBO KL's talent mobility strategy is the short-term international assignment, which sends selected candidates on an overseas posting for six to 18 months. 'These are normally assignments within the same skill pool but in a different role and country,' Nyon explains. 'The candidates know that they are being recognised and are given opportunities to develop and grow, and when they return they will likely be given a more challenging or leadership role.'
These short-term assignments, he adds, are especially suitable for millennial talent, conceding that activities are skewed towards this group, given that the average age in the organisation is 32. What's more, two-thirds of its people are women. 'We have learnt that millennials want something that they can continuously develop themselves; they want to get involved in something innovative so we are very mindful of that,' he says. 'We allow them to work in teams and collaborate not only with their peers here but across the business activities and countries.'
Managing the managers
Nyon is also aware of the importance of line managers and business leaders. 'They are the catalyst for change and most of them not only do their jobs but also help others manage their own issues, including personal ones such as work-life balance.' He notes that, because supervisors are also getting younger, 'the change can be a "hard landing"; one day you are an individual performer and the next you are a team leader.' This has led to the development of initiatives to address supervisor skills, 'supervisor circles' to enable the sharing of experiences, and a team leaders' programme to develop soft skills.
Going forward, Nyon says, female talent management will continue to be one of the organisation's top priorities. The Shell Women Action Network, which focuses on the mentoring of female talent, and the recent introduction of 16 weeks of maternity leave, are among the female talent-friendly initiatives. High on the agenda is the creation of a conducive environment for female talent to perform and to move more women into leadership roles, Nyon says.
SBO KL is also keen to inculcate greater courage, confidence, positivity and resilience among staff. Through a workshop series that began in the second half of 2016 called Best of Me, there is an effort to help staff to present themselves confidently, speak with greater courage, position themselves for success, stay more positive and be prepared to navigate changes to the business and company landscape. 'We want to provide our staff with not only a very dynamic environment but also one that is vibrant, safe and productive for them to work and thrive,' Nyon says.
Undoubtedly, he says, SBO KL's talent management activities are tied to its goal of becoming a high-performing centre. To offer value-adding activities within this competitive landscape, coupled with the fast-changing pace of technology, it's apparent that talent is the organisation's competitive advantage. 'It is the talent that will deliver the performance and the value.'
Sreereema Banoo, journalist
"We show the employees that if you have the talent, you can be given assignments to lead"