AECOM Asia's executive vice president, Wong Chi Chung, explains how the Fortune 500 company is partnering with Chinese SOEs on the Belt and Road initiative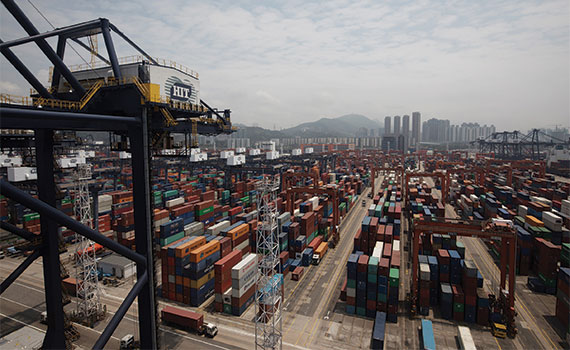 This article was first published in the February 2018 China edition of Accounting and Business magazine.
Trains, planes, ships and trucks are grounded without the infrastructure to move them. Growing populations need new towns, and the means to fund them. Multiply those needs, and their peripherals, by 65 – the number of countries in Chinese President Xi Jinping's Belt and Road initiative (BRI) – and you get some idea of the sheer scale of the initiative.
As projects in a planned multidimensional infrastructure network begin to roll out, private companies with experience in overseeing megaprojects are encouraged to help China join the dots. One such partner is AECOM, a Fortune 500 company that designs, builds, finances and operates infrastructure assets in more than 150 countries. As Wong Chi Chung, executive vice president, AECOM Asia, explains, the company is already working with large Chinese state-owned enterprises (SOEs) on major projects in the region, and BRI holds the promise of more opportunities to come.
'Our collaboration model with SOEs is quite diversified,' Wong explains. 'Sometimes we're the SOE's sub-contractor as designer and/or project manager, sometimes we're the owner's consultant while SOEs are contractors. Increasingly, we work with SOEs in the very early stages to identify and create new project opportunities together. And, through AECOM Capital, we have also started exploring co-investing with SOEs.'
Under the auspices of BRI, AECOM is collaborating on railway, port and marine, airport, industrial parks, buildings and urban development projects, principally in Hong Kong, Malaysia, Singapore, Sri Lanka and the Philippines. The company is also involved in projects in Europe (most notably in the UK), the Middle East and Africa.
Doing business with China may not be straightforward for first-time foreign entrants. At the same time, SOEs are also entering new territory.
'Before, SOEs have mainly invested in developing countries in Africa,' Wong explains. 'Under BRI they're going into more developed countries, like Malaysia, where SOEs are involved in a number of mega projects such as the East Coast Rail Link and Kuala Lumpur-Singapore high-speed rail network, plus a number of new town developments. In executing these projects, Chinese SOEs rely on partners who both understand their business culture and have local knowledge. Without this collaboration, such projects could be beset with many problems.'
Going-global agenda
The resources accessible to a fully integrated international company also benefit Chinese SOEs still finding their feet in the global market place. AECOM itself began as a design consultancy and has evolved into a comprehensive corporation that also works on investment and delivery of infrastructure projects – a journey not unlike the one that the SOEs are now on, Wong observes, as are Chinese private enterprises with a broader 'going-global' agenda.
Another consideration is that Chinese SOEs 'have their own reasons' for investing in a country or project, which may not match the profit maximisation strategy most established commercial operations would adopt.
'For example, the property market in Singapore has been softening over the past three years, but there are still SOEs that wish to invest there,' Wong says. 'As a listed company, we have to be alert as we can only partner with SOEs after careful evaluation and justification.'
There's also the question of operational compliance. Some countries are reluctant to grant licences to foreign firms for projects such as construction: in China, for instance, AECOM is 'pretty limited', Wong concedes. 'As a foreign business we cannot be a contractor, not even when we use our Hong Kong entity,' he says.
He does see a way to resolve that. 'If there is consensus between countries under the BRI, allowing the source-of-fund country to put the strongest teams in play even without a local licence, then there will surely be more opportunities for us,' Wong says.
To move the initiative forward, Wong believes that BRI projects 'cannot wait' for investment from the Asian Infrastructure Investment Bank (AIIB), which to date has raised just a small proportion of the US$100bn in capital it originally proposed and, up to December 2017, had invested in 24 projects in 12 countries totalling US$4.2bn, mainly partnering with the Asian Development Bank and the World Bank.
Lack of clarity around BRI projects themselves is another issue, he says, giving the example of Malaysia's East Coast Rail Link. 'Is it a project born out of BRI? Yes, it is. But there is no such registration system to formalise that,' Wong says.
Not that this is insurmountable. Wong points out that in Europe, for instance, a project does not need to be designated under the European Union (EU) in order for it to be carried out. 'Similarly, as with the EU experience, when there are enough projects ongoing, and with a relatively clear source of funding, the impact of BRI will gradually form and grow.'
In the mid to long term, Wong sees the opportunities under BRI as 'undeniably positive'. It will also, via the internationalisation of the RMB, help China to establish itself as a strong global economy, he believes.
'The best economic development is investing money somewhere and letting it grow from there – not just getting money back to China,' he says. 'Belt and Road is a broad series of different initiatives, currently focusing on South-East Asia, Central Europe and some Middle East countries, but it will expand again in the future.
'The US is the world's largest economy, but it doesn't have much money to invest. China certainly does have money to invest. So China has high potential to use its investments to become influential like the US; it's purely a matter of timing.'
Wong also believes that major economies such as the US and UK may be more open to accommodating Chinese SOEs, who go in as an investor, rather than merely a contractor.
Create local opportunities
'This is perhaps especially relevant in the Donald Trump administration, which seems to be more in favour of protectionism,' he says. 'If you just bring money and your own people there, how can you help create local job opportunities?'
As a financial centre Hong Kong has advantages, particularly as an RMB settlement centre, Wong says. 'With large-scale international projects, even if backed by the AIIB or the World Bank, financial support is needed for an extended period of time,' he explains.
'This is different from doing a project in China, where the money is already there, so there is no real financing model. But when you are doing it overseas, you may need public-private partnerships (PPP) or other financial funding models. As such, being a mature capital market, Hong Kong can play a role in managing big sums of RMB efficiently into different projects, using different financing models, and bringing the best funding to each project.'
Hong Kong can also leverage its position to attract different funds and set up a fund platform to invest in BRI projects, Wong adds, noting that the Hong Kong Monetary Authority set up the Infrastructure Financing Facilitation Office in 2016 with this in mind.
In terms of the finance function, Wong sees potential for collaboration, with a local team delivering the project and payment in the local or other designated currency. He qualifies that what needs to be managed is the currency risk, especially in developing countries where currencies are constantly fluctuating.
The success of AECOM's BRI-related collaborations rests on a number of factors, Wong says: 'Ultimately it depends on how the currency risk is protected and how transparent the financial and legal systems of these countries will become – especially in South-East Asia.'
Peta Tomlinson, journalist
"The best economic development is investing money somewhere and letting it grow from there – not just getting money back to China"