Economic growth, greater taxation and easier access to other sources of funding mean that the continent is gradually reducing its reliance on overseas assistance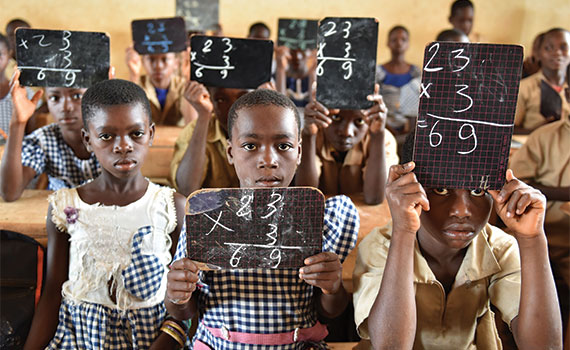 This article was first published in the March 2018 Africa edition of Accounting and Business magazine.
Africa is inching towards a long-cherished goal: curbing the continent's reliance on foreign aid. Since the turn of the century, the share of national income derived from aid has fallen by close to 20% for sub-Saharan Africa, based on World Bank data. Overseas assistance is no longer a significant source of funding for many of the major nations.
'We are seeing a historical move in Africa towards greater financial independence,' says John Ashbourne, an Africa analyst at Capital Economics. 'While this will be a long process, and some nations will continue to benefit from outside help for some time to come, we can see a positive trend under way.'
As recently as the 1990s, countries such as Kenya and Ghana received a meaningful share of government revenue from foreign aid. This is no longer the case, and poorer countries have been reducing their reliance too. 'There is a transformation taking place in Africa,' says Nadine Gbossa, a division head at the Development Co-operation Directorate of the Organisation for Economic Co-operation and Development in Paris. Domestically generated sources of financing are now 10 times larger than foreign aid for Africa, she says. Aid remains a lifeline in fragile states such as South Sudan and Eritrea, and the overall volume of global aid has risen around 11% over the past five years; however, it has been declining as a share of income for most countries in Africa.
This is a welcome trend. 'Part of the concern is that foreign aid can be withdrawn at any time, leaving you high and dry,' says Wendwesson Shewarega, a business lawyer in Addis Ababa, Ethiopia, focusing on trade, investment and taxation. This danger was underlined by US President Donald Trump's first budget proposals in 2017, which envisaged cutting funding for the main US aid agency by almost a third.
Aid often comes with strings attached too. 'Aid played a crucial role in helping to revive Rwanda after the conflict of the 1990s, including funding infrastructure, healthcare and education,' says Innocent Bulindi, chief executive officer of the Business Development Fund, which is based in Kigali, Rwanda. 'However, in many parts of the continent, aid has been linked to the priorities of donors and so has been less beneficial.'
The flow of aid has often been poorly coordinated as well. 'Instead of being beholden to one donor, recipient countries have had to deal with 20 or more,' says Ashbourne. 'In addition, the priorities of these donors were often shifting, depending on the political sentiment back home. One year it could be women's rights and the next, ecological sustainability.'
Finally, foreign aid increases reliance and reduces the need to invest in other aspects of the economy or to raise taxes. A 2016 paper by the International Monetary Fund, Foreign Aid and Revenue: Still a Crowding Out Effect?, found that average tax revenue in relation to GDP declined slightly in periods when foreign aid as a share of GDP was increasing.
So why has aid reliance been declining? At the heart of the issue is economic growth. 'The GDP of Africa is more than three times larger than it was at the turn of the century,' says Ashbourne. This is partly due to a boom in the price of commodities such as oil and gold. It has been far from uniform across the continent but some countries have done a good job of fostering entrepreneurship, boosting economic growth further and broadening the potential tax base.
Rwanda is one such country, according to Bulindi. 'The government in Rwanda has focused on making it easy to set up firms,' he says. 'As a result we have grown local sources of revenue.' His claim is backed up by the nation's strong showing in the World Bank's Doing Business 2018 survey, which ranks it 41st out of 190 nations, way above the region's average. In terms of how long it takes to register a property, Rwanda ranks second in the world, and sixth in terms of ease of getting credit. 'Rwanda has been the poster child for these kinds of business-friendly policies,' says Ashbourne. 'It is an example that other African nations could learn from.'
Shewarega believes more can be done to increase confidence among investors, spur growth and broaden the tax base. 'Many African governments have been prone to shifting the rules too swiftly and with too little consultation, and that makes investors feel insecure,' he says.
African nations also have easier access to other sources of funding. Increasingly, governments have been able to tap global capital markets, and investors have become more willing to buy this debt. Since 2010, at least a dozen sub-Saharan African countries have issued sovereign bonds, raising commercial debt in excess of US$19.5bn.
The African diaspora – individuals who have set up residence abroad – has also proved an invaluable source of funding. Globally, some 250 million people live outside their country of origin, according to data from the World Bank. Remittances – money sent home by expats – accounted for US$429bn in 2016, more than three times official development aid. For example, diaspora remittances to Kenya hit a record high of US$185m for October 2017, a rise of 30% year on year.
Governments have become more creative at accessing the savings of their diaspora. For example, Ethiopia raised US$6.5m to fund the Grand Renaissance Dam, issuing bonds in denominations of US$5 to US$10,000. While there was some controversy over regulatory compliance, and the deal ran into problems, this source of non-aid funding has promise.
Finally, tax collection has improved in many countries. Historically, it has been hard to tax subsistence farmers but economies have been diversifying and urban populations are growing. The population of Nairobi, for example, has risen from around 2.9 million in 2005 to 4.3 million in 2015. African nations have been improving the efficiency of their revenue-gathering systems, often with the assistance of development institutions such as the World Bank. Tax collection as a share of GDP has risen across the board in Africa since 2000, with the biggest rises in Tunisia, from 10.2% to 16%, and South Africa, from 22.4% to 27.8%.
In 2011, former British prime minister Tony Blair told the Overseas Development Institute that Africa could effectively eliminate its reliance on foreign aid within a generation. It is an ambitious goal, but recent progress suggests it is one that many African governments can shoot for.
Christopher Fitzgerald and Dijana Suljovic, journalists
Aid by region
| Region | US$ |
| --- | --- |
| South of Sahara | 25,200 (22.8%) |
| South of Central Asia | 13,073 (11.8%) |
| Other Asia and Oceania | 10,575 (9.6%) |
| Middle East and North Africa | 11,511 (10.4%) |
| Latin America and Caribbean | 8,099 (7.3%) |
| Europe | 3,615 (3.3%) |
| Unspecified | 38,451 (34.8%) |