Faizatul Akmar Abu Bakar FCCA, general manager, finance and administration, at the Land Public Transport Commission, enjoys helping to keep Malaysia on the move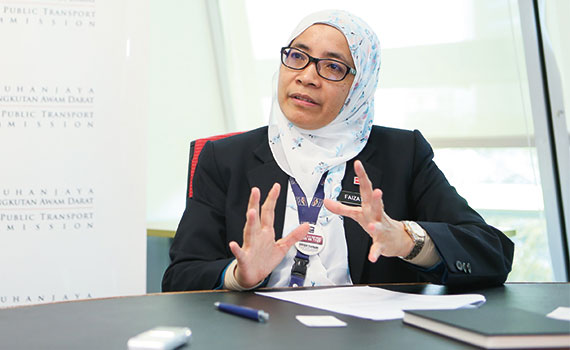 This article was first published in the March 2018 Malaysia edition of Accounting and Business magazine.
Two decades into a successful accounting and finance career in the corporate sector, in 2012 Faizatul Akmar Abu Bakar made a switch, joining the newly formed Land Public Transport Commission (Suruhanjaya Pengangkutan Awam Darat or SPAD). As general manager for finance and administration, Faizatul says that she is not only contributing to the country but is also fulfilling a long-harboured desire to work with a regulator.
The commission, which comes under the purview of the prime minister, was established in 2010 and is tasked with planning, regulating and enforcing all matters relating to land public transport.
'I see my role in SPAD as a contribution to the country, that I am giving back because I was fortunate to have been given many opportunities early on in life,' she says. 'There is also satisfaction in knowing that SPAD has an impact on current and future generations of Malaysians.'
Faizatul's aspiration to work with a regulatory body was seeded when she was with the telecommunications group, TIME dotCom. In that instance the regulator was the Malaysian Communications and Multimedia Commission, and she was impressed by the impact it was making. 'It ensured that the telecommunications infrastructure was put in place so that everyone, including those in rural areas, were connected,' she explains. 'It served as an agent of change. That was my perception of a regulator's role and I wanted to play a part as well.'
When the chance came in 2012, Faizatul did not hesitate. Leading a team of 30 in the finance and administration department, her responsibilities include financial reporting; management reporting, including budgetary process; treasury, including the sourcing of funds; taxation; financial risk management; staff management and development; and project management.
'The department provides support to the organisation by ensuring that resources and funds are sufficient to undertake identified projects,' she says, adding that her team also closely monitors the utilisation of these resources and funds to ensure the projects' success. In addition, the department has a seat on project steering committees and is also called upon to evaluate the commission's procurement of goods and services.
'A lot of what we do includes prioritising how the funds are used, monitoring the costs and capitalising on the savings. We ensure excess funds are invested to give high returns, and provide finance report projections to internal and external stakeholders,' she says. Stakeholders include the Prime Minister's Department, the Economic Planning Unit and the Ministry of Finance.
'As a government agency we must also ensure that we comply with their policies and procedures,' Faizatul says.
'At all times we strive to exhibit SPAD values which are encapsulated by the word 'spirit' – service excellence, passion, integrity, respect, innovation and teamwork.'
Supporting role
SPAD's projects include, at the planning stage, the southern and northern regional land public transport master plans, Stage Bus Service Transformation, and the Integrated Common Payment System. The commission is also involved in a number of high-profile projects including the Mass Rapid Transit, the Malaysia-Singapore High Speed Rail, the expansion of the Light Rail Transit network, and the Rapid Transit System link between Johor Bahru and Singapore. In addition, the commission is in the midst of introducing reforms to make the taxi industry more competitive and consumer friendly, which includes the regulation of e-hailing services.
Through the National Land Public Transport Master Plan, SPAD has set out to increase the modal share of public transport to 40% in urban areas by 2030. 'Currently it's close to 20%; when SPAD was set up in 2010 it was 11%,' Faizatul says. The daily ridership on buses and rail in the Greater KL area is currently almost 1.2 million passengers. But as the master planner, SPAD is not only working to enhance the infrastructure but also changing the mindset of the people.'
Faizatul adds that this means making public transport the favoured option for the population. 'Ensuring that public transport is punctual, the launch of a journey planner app, and having a single ticketing system for rail and bus services are some of the ways that people will be encouraged to use public transport,' she says.
Eager for knowledge
Ipoh-born Faizatul began her accounting and finance career at the Federal Land Development Authority (FELDA) after completing her final ACCA exams. 'Having a professional qualification, especially ACCA, opened up career opportunities for me,' she says. 'It gave me a good basic foundation, not just in terms of numbers; I also learned about IT, self-development and leadership.'
These attributes were to prove useful when she was called to head up the finance department at a FELDA subsidiary at just 25. 'It helped to make me eager for knowledge,' she says, adding that the task was also made less daunting thanks to advice from senior staff. 'I learned to listen, take feedback and evaluate the options.'
After two years at FELDA, she moved on to TIME dotCom in 1995, starting as a senior executive in the group's IT arm. She was involved in the project management office, monitoring and tracking multibillion projects including the telco billing, customer management and network management systems, before moving to the payphone, wireless and the fixed-line unit and finally the corporate office. She was also part of the team involved in the group's Section 176 Scheme of Arrangements and Reconstruction that led to its listing in 2001. By the time she left in 2010 she had become CFO.
From TIME dotcom, she joined the pharmaceutical group Pharmaniaga as the CFO, where she was involved in the acquisition of a subsidiary. It was a short stint because of the opportunity to work at SPAD.
While Faizatul is clearly enjoying her time at SPAD, the job is not without its share of challenges, she says. 'We do rely partially on government grants for day-to-day operations and also for our land public transport needs,' she explains. 'There is more that we'd like to do but there are limitations, especially in terms of funding.' The commission is looking to become self-sustaining; this is where Faizatul finds her experience and ACCA training useful.
'One of the key lessons I learned from previous jobs is being creative in finding solutions while at the same time upholding your integrity,' she says. She adds that engagement and communication with stakeholders are also important. 'With an ACCA Qualification you're already one notch up because you have the respect of your peers, staff and external stakeholders.'
Giving back
Looking back, Faizatul says she is fortunate to have been given many opportunities early in life, beginning with a scholarship from MARA to attend a MARA Junior Science College for her secondary school education. 'MARA then offered me a scholarship to further my studies in the UK to pursue architecture,' she says. But in her second year of A levels, she realised that architecture was not her calling – opting instead to switch to accountancy studies, given her aptitude in maths.
Students in the science stream, she says, inevitably think that their career paths lie in the science fields. 'You think that your career choice will be skewed towards medicine or engineering but there are other opportunities especially in accountancy and finance,' she says. Faizatul, who was a finalist in the 2017 ACCA Malaysia Advocate of the Year awards, would like to see more professionally qualified accountants in the country. Through career talks she undertakes with a group of her college alumni, she shares her experiences and describes how the ACCA Qualification has helped her.
'We started the programme in 2012, and to date we have been invited to 12 MARA Junior Science Colleges. It's something we enjoy because we realise that the students need exposure on the various types of careers available as well as what it takes to achieve their ambitions.' She adds that ACCA, the Malaysian Institute of Accountants and Yayasan Peneraju have supported the programme by providing her with materials to share with the students.
'I enjoy these talks,' she says. 'It's a chance for me to share my personal experiences and also to give back.'
Sreerema Banoo, journalist
"One of the key lessons I learned from previous jobs is being creative in finding solutions while at the same time upholding your integrity"
"With an ACCA Qualification you're already one notch up because you have the respect of your peers, staff and external stakeholders"