A games company has promoted a 'non-non-GAAP' measure to present earnings and sidestep SEC guidance. Could this lead to a change in the rules?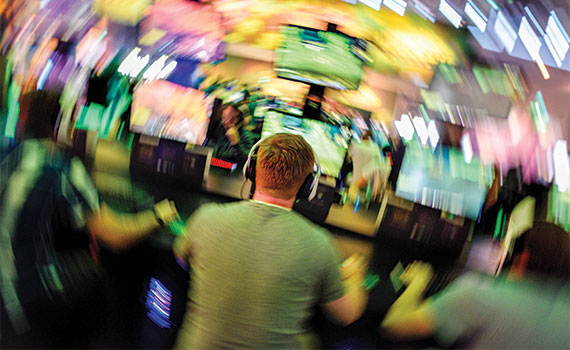 This article was first published in the April 2018 International edition of Accounting and Business magazine.
For those who already thought non-GAAP measures were being stretched to the limit of their underlying economics, brace yourselves, because this year, one company might be having its own 'alternative facts' moment – one that might have serious implications for regulators, not to mention the profession.
In 2016, the Securities and Exchange Commission (SEC) in the US wrote a letter to gaming company Activision Blizzard, home of Candy Crush and Medal of Honor, among others. The SEC instructed Activision Blizzard, per its May 2016 guidance, to stop using what it deemed an inappropriate non-GAAP measure to book as earned revenue what had only been received. The company eventually agreed, and released a new figure it called 'non-GAAP redefined EPS'. So far, so compliant.
But then, Activision Blizzard proceeded to do something unusual. With its Q2 results in May 2017 came an email to journalists saying that if they wanted to report the number that was (in Activision Blizzard's own estimation) closer to analysts' consensus, then they could take the number it described as 'reflecting the impact of GAAP deferrals' and subtract it from the now-compliant non-GAAP number. This advice could also be seen on its website and on the earnings call, where company representatives repeatedly tutored those present on how to reach 'the old' number.
Putting aside the unusual tactic itself, is the metric they so badly want to share really that useful? That depends: Activision Blizzard seems to think the market thinks so. Which is subtly different from the market actually thinking so.
According to games-makers themselves, they prefer to book the full value of game sales upfront because it more directly tallies with the large sums they have to spend on designing and developing games. So, for Activision Blizzard, it's both true and fair. But the SEC sees it as more of a 'tomorrow's jam, today' approach to accounting.
And there's been so much of tomorrow's jam lately, they might be right to be wary. Also, in the SEC's defence, it may be better to play safe; after all, it's hard to imagine analysts scrabbling for the panic button because a company has reported a compliant number 11-cents-per-share lower than the old one. In any event, when Activision Blizzard did report the redefined earnings per share, its share price dropped US$1.86 – but soon rebounded. Much ado. It is a US$44bn company; to flog that Shakespeare metaphor, it can suffer a few slings and arrows – the fortune is outrageous enough already.
But what if other companies start doing the same thing? Even if companies en masse begin to brief journalists on how to hit the numbers, does it matter, if The Measure that Must Not be Named is kept out of the official filings?
'It's the SEC's job to prevent companies from giving more prominence to tailor-made measures – and they're doing that,' says Richard Martin, ACCA head of corporate reporting. 'As long as everyone has access to the GAAP numbers, and the non-GAAP, whatever else the company deems important should also be allowed.'
So, failing to arm yourself with either a calculator or sufficient scepticism is not really the problem of either Activision Blizzard or the SEC. Despite the cris de coeur, it's hardly as if Activision Blizzard has said that regulators and accountants don't matter.
Too broad-brush
In fact, whisper it quietly: Activision Blizzard may be on to something – albeit clumsily so. Accounting rules can be too broad-brush to appropriately reflect the underlying economics of every company's activities. The key will be striking the balance between comparability and reliable specificity – must there always be a trade-off?
Perhaps not. Activision Blizzard could have requested assurance over the 'non-non-GAAP measure'. It should follow that those companies that are happy to promote a left-field number should also be happy to bear that number being scrutinised using recognisably mainstream techniques, wielded by reputable providers.
And with that in mind, the provision of assurance over those non-non-GAAP numbers could have positive effects for the profession too. Standard-setters are well aware that they need to continue their modernisation of the rules to fit the character and direction of today's businesses. Industry-driven innovation in this regard can only be a good thing.
But Hilary Eastman, head of global investor engagement at PwC, says: 'Non-GAAP reporting isn't going away, but the notion of an assurance framework is tricky. Without a framework for reporting non-GAAP information, any level of assurance on it would be subjective – which could just mean more cherry-picking.'
In the end, it's the investors' needs that companies, accountants and the SEC are supposed to meet. If growing companies with 'unusual' business models require moderately different accounting treatments to make their value properly understood, then that's momentum enough for market-driven change. Rightly, the result should be kept out of official filings.
But high-quality assurance over measures outside that means that regulators don't need to begin the tedious and expensive task of equipping themselves to censure 'back-door' tactics. Required assurance over 'non-non-GAAP' measures might level the playing field and let investors decide whether the company has a storied past of unrestrained optimism or whether they typically share what (honestly) moves the market.
Felicity Hawksley, journalist
"Standard-setters are well aware that they need to continue modernising the rules to fit the character of today's businesses"