A partnership with Trinity College Dublin gives ACCA members an opportunity to enhance their executive expertise with digital skills to meet evolving business demands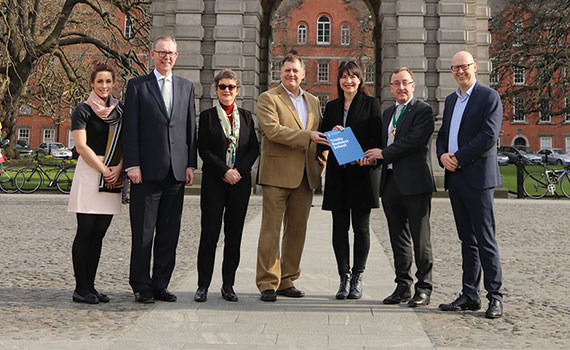 This article was first published in the April 2018 Ireland edition of Accounting and Business magazine.
ACCA and Trinity College Dublin (TCD) have announced a partnership to equip accountants with the skills to thrive in a rapidly changing professional environment. The partnership will offer ACCA members cutting-edge executive programmes to enhance their technology expertise for business leadership.
ACCA and TCD will work together on three projects: the creation of a unique MBA entry pathway for ACCA members; a bursary scheme for all ACCA members who are accepted onto the MBA programme; and an executive education programme to expand technology knowledge. Designed to support senior executives, the partnership will amplify skills across a range of areas including business analytics, big data, strategy, innovation and emerging technologies.
The partnership follows global research by ACCA that defined key drivers of change and demands within the accountancy profession, and outlined the skills needed to meet those changes.
According to John Gaynor, chair of ACCA Ireland, the memorandum of understanding will ensure that these essential accountancy skills of the future are developed, sustained and met.
Gaynor says: 'The opportunities secured under this partnership with Trinity College are hugely important for senior members to enhance their capacities in dealing effectively with technological transformation, and to gain the broader business focus of a TCD MBA. The ACCA and TCD partnership reflects our shared values of integrity, professionalism and excellence, and commitment to grasping the opportunities and dealing with the challenges of ever-changing technology in business.
'We are delighted to introduce two short courses on analytics and big data, and strategy, innovation and emerging technologies. These, along with the unique MBA pathway and bursary scheme, are exciting developments for ACCA members, providing potential to add tangible value to their companies and CVs.'
This partnership was conceived and developed by ACCA Ireland's technology group to expand opportunities for members to enhance their skills to operate and lead effectively in a world increasingly dominated by technology.