Ho Duc Phoc, auditor general of the State Audit Office of Vietnam, is enhancing efficiency and effectiveness in the management and use of public resources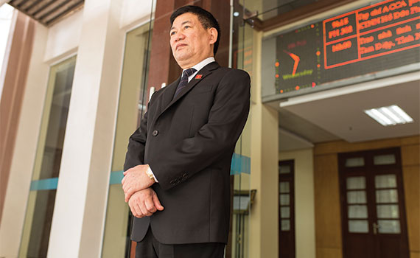 This article was first published in the April 2018 International edition of Accounting and Business magazine.
When Ho Duc Phoc, auditor general of the State Audit Office of Vietnam (SAV), first studied finance in the 1980s, Vietnam was on the cusp of an economic sea change as the country began to abandon central planning.
Today, with the challenge of improving Vietnam's socioeconomic growth, especially strengthening the management of public finance, Phoc is assigned to direct the implementation of audit tasks on management and use of public finance and assets.
In an exclusive interview, he describes the challenges of his role in one of the world's fastest-growing economies.
Q When you took up this position in 2016, what was the state of public sector auditing systems and oversight?
A Vietnam is a developing country which enjoys a high economic growth rate. Its GDP is at a rate of 6.7% to 7% per annum; its investment environment has been improved; economic scope and potential have been enhanced; the efficiency in budget management has been strengthened; and positive development in culture and society has been realised. Vietnam will continuously develop, with a harmonious implementation of medium- and long-term strategies, plans, and solutions for socioeconomic development such as strengthening administrative reform and improving the business environment; and restructuring the economy in association with growth model innovation, enhancement of productivity, efficiency and competitiveness.
The SAV is a public financial auditing agency, and our function is to make assessments, confirmations, conclusions and recommendations to functional agencies to help improve the quality of public finance. We also aim to use our resources efficiently and economically.
We particularly make recommendations to the National Assembly and other agencies about programmes and projects of national importance so we can improve the national system of finance and accounting. We also detect and warn about violations and wrongdoings in the field of finance, then refer these cases for settlement by competent authorities.
We provide opinions on addressing financial irregularities and on retrieving waste and losses in terms of the country's finances. We make recommendations on dealing with financial wrongdoing, completing the legal framework and other policies so we can mitigate loopholes to prevent losses and waste.
Q What are the SAV's core values?
A Independence, objectivity and integrity can be considered as the core values which the SAV and its auditors must strictly follow to ensure the faithfulness and appropriateness of audit conclusions and recommendations. The SAV's independence is stipulated in our 2013 Constitution: 'The State Audit Office of Vietnam is a specialised agency established by the National Assembly, performing its duties independently and subject only to laws, and auditing the management and use of public finance and assets.' In addition, independence, objectivity and integrity in audit activities are stipulated in each stage of the audit process. Specifically, in the audit planning stage, it shall not be influenced by the audited entities; in audit fieldwork, state auditors shall strictly comply with laws and implement audit standards, processes and methods as well as other regulations of the SAV; audit conclusions shall not be influenced by outside factors which may make audit results incorrect.
Therefore, in order to have high-quality staff, the SAV shall ensure the independence, objectivity and integrity of all state auditors. This is very important because the SAV must not be influenced by the audited entities or outside factors. Integrity will help state auditors be brave enough to overcome any material or non-material benefits, so they can retain their objectivity when making any recommendations or conclusions of any audit. This is the prerequisite for the quality of any state audit, and this is a requirement for any state auditor.
Q What are the challenges and how do you propose to overcome them?
A There are always difficulties, challenges and opportunities. Being the auditor general is an opportunity for me to contribute my strength and intelligence to my new position; to become a good leader who may help the SAV quickly become a prestigious, accountable, professional and modern agency specialising in the examination of public finance and assets, and become a useful tool for the party and the state. To do so, there are some challenges to overcome.
The first is legal barriers. The SAV was referred to for the first time by the 2013 Constitution; we also have our State Audit Law 2015, which took effect in January 2016. However, we still have to raise awareness of being an objective entity. This is particularly the case as awareness of State Audit Law is still limited and some contents are not stipulated in detail in legal regulations.
For example, the audit report of the SAV is of a legally binding nature. This means that all audited entities must implement the recommendations in the audit reports. However, in fact a lot of audited entities do not follow our recommendations, and so I think what we have to do is to create a system of legal documents and to build up a system of penalties to apply to these audited entities.
The second barrier is that of our auditing standards. Our auditing tools and procedures have to change in the context of a changing environment.
The third barrier relates to resources. The SAV wants to be a prestigious and accountable agency so we have to focus on human resources. There is a shortage in the number of auditors and the quality of staff has been an enduring problem to us. Auditors are not only required to have very high professional skills but they should also pay attention to ethical issues. I think we have to focus on staff training and the integrity of state auditors. Capability, ethics and firmness of auditors are vital qualities of the SAV.
Q What are some of the SAV's recent auditing successes?
A In 2016, the SAV's audit results revealed misstated finance of VND38.78 trillion (US$1.7bn), the highest figure recorded in its 22 years of operation and twice as high as in 2015. The preliminary results of 2017 audits revealed a misstated finance value of VND43.66 trillion (US$1.9bn), an increase of 12.5% compared with 2016. In 2017, the SAV audited 21 build-transfer (BT) projects and 49 build-operate-transfer (BOT) projects and suggested a decrease in toll collection time and payback period of 173 years and six months. Besides this, the SAV audited the 'equitisation' (privatisation) of six enterprises, recommending an increase in the state budget of VND8.69 trillion (US$381.62m).
In addition, the SAV has also proposed the amendment, supplement and cancellation of many legal documents, including 150 documents in 2016 and 96 in 2017, in order to avoid any possible losses and waste from regimes and policies. It has also recommended disciplinary action on some individuals and groups of individuals to ensure discipline in the management and use of public finance and assets.
Q What goals do you have for capacity building in public sector auditing?
A The SAV has a strategic development plan to 2020. We are developing a project that has been approved by the Standing Committee of the National Assembly on our development for the next phase to 2030. In that project, human resources are prioritised and we have conducted many training courses for our state auditors. First and foremost, we provide training to our auditors through the audits they conduct. After the audits are complete we have an evaluation meeting so that auditors can improve their work in the future. Our training institute provides various types of training – from knowledge and skills to technical tools – for state auditors. We also send our auditors to other supreme audit institutions (SAIs) within the International Organization of Supreme Audit Institutions (INTOSAI) and the Asian Organization of Supreme Audit Institutions (ASOSAI), so that they are trained and learn about new methods.
Q In what ways do you work with professional organisations?
A The SAV has been a member of INTOSAI since 1996 and of ASOSAI since 1997. We have contributed and also received various kinds of support from these two organisations. We also cooperate with auditing firms such as Deloitte and EY, and we have signed 19 bilateral cooperation agreements with SAIs and professional organisations/associations around the world, and I can say SAV has successfully accomplished its tasks as a member of INTOSAI and ASOSAI.
We have also received in-depth support from experts in auditing in fields that are new to us such as IT, environment and performance. In addition, we have done some cooperative audits with foreign SAIs; for example, we did a parallel audit with SAI Pakistan in 2017, and a gas and oil audit with SAI Russian Federation in 2016.
In 2009 we signed a memorandum of understanding with ACCA. We send auditors to study for ACCA qualifications, and ACCA shares knowledge, experience and documents with the SAV. We have also held many joint workshops. In this way we help each other, and I think in the future cooperation between the two organisations could be further strengthened.
Q How did you get to your current role, and what skills do you need to be an effective auditor general?
A I was born when the country was at war and grew up in the period of post-war national reconstruction. At that time finance played an important role in any activity in the economy, so I thought that if I studied the field of finance, I could contribute more to the rebuilding of the country. And so I chose to study at the University of Finance and Accounting.
The task of auditor general brings great responsibility; I'm very honoured. To succeed as an auditor general, apart from gaining qualifications and leadership skills, one should have independence, objectivity and determination along with vision, spirit and the desire to make contributions to auditors and other staff to enable them to fulfil their duties.
Q How has auditing contributed to Vietnam's growth?
A I think the SAV has greatly contributed to the national economy of Vietnam. It has tightened financial discipline, and helped other agencies use state resources and natural resources in an economic and efficient manner.
Q What message do you have for young people interested in audit?
A Young people have a strong desire to make a contribution to the country as auditing and accounting are professions that make a significant contribution to society. Young people should strive to become experts in their chosen fields so that they can contribute to the prosperity of the country and human development.
Interview by Bennett Murray, journalist
"The SAV has greatly contributed to the national economy of Vietnam"
"Auditing and accounting are professions that make a significant contribution to society"