As Hong Kong starts to get wise to the opportunities provided by the mobile payment revolution, the accountancy profession is learning to adapt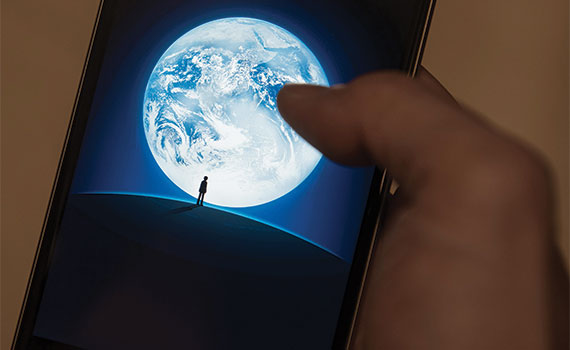 This article was first published in the May 2018 China edition of Accounting and Business magazine.
A little more than a decade ago, it was difficult to find a business in mainland China that would accept a credit card. Today, it is almost harder to find a business that will take cash than one that relies on one of the enormously popular mobile payment applications.
The digital revolution that has fundamentally changed the way business is done in China has spread, allowing consumers and entire markets throughout Asia to make a technological leapfrog. Some of the more developed markets, most notably Hong Kong, are now finding ways to adopt new technologies and forcing the accounting profession to adapt.
The changes may be most visible in mainland China, where popular applications such as Alipay and WeChat Pay have more than 502 million users. In Hong Kong, meanwhile, a Smart City Blueprint aims to position the Special Administrative Region to best leverage the ongoing change while improving the quality of life and the city's attractiveness to global business.
'The Smart City initiative will attract more foreign and Chinese investment, which in turn will create more business opportunities, more advisory work and more audit work for the accounting firms,' says Gary Ng, a partner in PwC Hong Kong's risk assurance practice.
More business opportunities
The forward momentum is visible in a plan by the Hong Kong Monetary Authority's (HKMA) 'Smart Economy' development plan, which introduced seven measures to bolster fintech development. The HKMA wants to introduce virtual banking, a common QR code standard and an open application programming interface (API) framework for the banking industry. The HKMA also wants to introduce, this September, a faster payment system (FPS) to support the use of mobile phone numbers or email addresses for payments in Hong Kong dollars or Chinese yuan. In 2016, the HKMA granted 13 stored value facility (SVF) licences to digital payment providers – each using a different platform.
The aim of the FPS is to offer a cross-boundary platform. 'The FPS allows real-time, immediate transactions, hence benefiting the economy in general as it releases idle funds in the system,' Ng says. 'The first benefit is there will be more channels to receive payment, which will simplify the process and cut manpower.'
However, the spread of mobile payment raises concerns about regulation, liquidity management and cybersecurity. All these hurdles create opportunities, which Ng sees as the second benefit of the growth of mobile payments. 'Accounting firms will receive more requests from clients regarding regulatory compliance, assessments, security, liquidly risk management, licensing and advisory service,' he says. 'Unlike conventional payment methods, such as cheques that take two business days to bank, the FPS allows transactions to be done 24x7. The money at the bank can be transferred any time, and this creates challenges in liquid risk management for banks and other institutions.'
Meanwhile, the promotion of virtual banking, another HKMA measure, makes it easier for both financial and non-financial firms to set up virtual banks in Hong Kong. Some Chinese companies have already shown interest, such as Tencent's WeBank and Ping An Technology (the technology arm of the Ping An insurance group), and they will need advice from accountancy firms.
Industry remains cautious
Even as it welcomes forward progress, the industry remains cautious about new payment technologies.
'Mobile payment targets consumers and is used more in retail businesses. It's not yet widely adopted in the customer service industry,' Ng says.
Dr Paul Sin, Deloitte China consulting partner and Asia Pacific Blockchain Lab leader, agrees. 'Professional services are B2B transactions, which usually exceed the limit of mobile wallets,' he says.
But accountants at Crowe Horwath, a mid-sized accountancy firm, think otherwise. 'Mobile payments, in the long run, will be more acceptable for accounting firms. Nowadays, accounting firms in Hong Kong serve many clients from China who are used to mobile payments. Accounting firms may consider providing safer and more effective payment alternatives for them,' the firm says in an email to AB.
Clement Chan, managing director of assurance at BDO, another mid-sized international firm with a large Hong Kong presence, also seems more positive on mobile payments being accepted by accountancy firms as settlement means.
Despite the many benefits, the adoption of new technology can create challenges for the profession in areas such as 'tracing the payment records, identification of payees and exploring the reasons for payment and checking the validity of payments', notes Crowe Horwath.
'When more payments are made through mobile, there may be changes to the accounting service providers to adapt to the market change. New systems may be developed to address the tracing of records and validity issues. Other techniques may be adapted to identify payees and allow payers to report the reasons of payment in the future.'
Chan agrees. 'Mobile payment will bring a whole new list of considerations that accountants need to look at closely to determine the right accounting treatment and estimates.'
Work to do
Still, despite its status as a leading international financial hub, Hong Kong has been slower than other jurisdictions to fully embrace mobile payments.Many, including Ng, argue that mobile payments are just an addition to existing digital payment methods that have long been in use in the city. For small transactions, the omnipresent Octopus cards, debit cards and credit cards are widely available and more reliable. Hong Kongers may already be used to a cashless lifestyle. Almost anything, with the possible exception of taxis and purchases at some street markets, can be had without paper cash changing hands.
According to the HKMA, Hong Kong has a well-developed electronic payment ecosystem. In 2015, each Hong Kong citizen had on average 2.6 credit cards, compared with 0.3 credit cards per person in mainland China, noting that there are now 1.7 million credit card transactions that add up to around HK$1.7bn every day.
In a report last August that covered seven markets in Asia, including Hong Kong, Singapore and mainland China, global payment processor PayPal noted that contactless credit cards are most frequently used in two of Asia's key financial hubs: Singapore (49% of respondents) and Hong Kong (19%).
'Hong Kong never sees a lack of digital payment options. There is just no immediate need for mobile payments,' Ng says. The saturation of the digital payment market simply opens little space for mobile payments.
He adds that there is no incentive to promote mobile payments since the operating costs are high in Hong Kong – a rather small market incapable of accommodating too many players.
'The widely adopted Octopus is not only there because of first mover advantage or change resistance of the population but because of its transaction speed and the support of point-of-sales (POS) devices, since its first adoption in transportation. It is also more secure than QRC scanning,' Sin points out.
'In a society where speed is everything and long queues are seen everywhere, Octopus will not go away unless NFC or other contactless channels can process a payment faster than it and have a wider POS adoption.'
'Mobile payment links personal bank account information to mobile phone,' Crowe Horwath adds. 'It involves more security and privacy levels. Due to the security concerns of mobile payments, it is less popular in Hong Kong as we already have other safe and convenient payment methods.'
Elise Mak, journalist
"The spread of mobile payment raises concerns about regulation, liquidity management and cybersecurity"