With a pedigree in connecting companies, Ricky Li FCCA, CFO of mainland China conglomerate Guangdong Holdings, is making his presence known internationally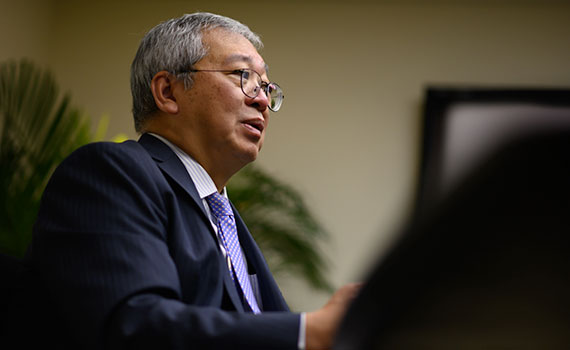 This article was first published in the September 2019 China edition of Accounting and Business magazine.
Two decades ago Ricky Li reformed a Chinese state-owned enterprise and connected it to the world. Today, he is linking Hong Kong with other southern Chinese cities to form the Greater Bay Area (GBA), which will give the region a greater presence on the global stage.
For 19 years, Li has been the CFO of Guangdong Holdings (GDH), the largest state-owned enterprise in Southern China, operating businesses spanning a range of sectors from public utilities and manufacturing to real estate and hospitality. His responsibilities include mergers and acquisitions, capital management and accounting matters across four Hong Kong-listed companies and subsidiaries in mainland China.
But Li is best known for his efforts to steer the US$5.59bn restructuring plan of the debt-ridden conglomerate previously known as Guangdong Enterprises (Holdings) in 2000 – the first and biggest challenge he faced in the role.
'It was one of the three largest debt restructurings in the history of the world,' Li recalls. 'It was also the most complex one, as it involved regulatory regimes from the US, the UK, Hong Kong and China.'
The window company of the Guangdong Provincial Government, the group was badly affected by the 1997 Asian financial crisis: its debt obligations amounted to almost US$6bn and involved around 200 bank creditors. To stay alive, the conglomerate had to go through debt, business and management restructuring – a challenging task for any financial chief.
The first Hong Konger ever appointed to this position in any Chinese state-owned enterprise, Li made use of his international experience and professional training to help the conglomerate restructure and get back on a healthy track to help it grow.
'When I took over, I had to overhaul the entire system and undertake a few personnel reshuffles,' Li says. 'I had to make sure the group could pay off the debt according to plan and schedule.'
Transformational approach
Many changes took place under Li's leadership: the introduction of a centralised financial management to enhance accessibility to and transparency of information; a tighter grip on personnel management through the appointment of additional financial chiefs; a rotation system to strengthen accountability and better allocate human resources; and the establishment of special committees for different tasks.
'A well-established system and strict adherence to the rules are the keys to effective management and, eventually, success,' Li says, adding that the restructuring of GDH now serves as a blueprint for the handling of other government-backed insolvent enterprises.
The second task Li undertook was to make GDH more international in order to thrive. To achieve this, he drew on his ACCA background to introduce international practices.
'I'm a Hong Konger who has received a Western education my whole life,' he explains. 'I had to integrate both the international and mainland systems. It took some time.'
Working in a Chinese state-owned enterprise was not an easy task, he recalls. A Hong Kong native with previous experience of local companies only, he had to adapt to an unfamiliar work culture and financial system: for example, the capital control involved in mainland investment.
'Accounting training is not just about interpreting numbers. It also involves business management that requires business acumen,' Li explains. 'As a CFO, you don't just focus on bookkeeping. To help the company grow, you have to be versatile, skilful and knowledgeable to oversee tasks in various areas such as tax planning, mergers and acquisitions, treasury management and so forth,' he continues. 'You are in the management level and have to take part in decision-making, management, investment and planning to decide where and how the business will go.'
Today, Li has successfully turned the almost dying conglomerate into one with a solid financial position, as reflected by its healthy cashflow and a valuation that exceeds HK$110bn. 'GDH is one of the best-managed conglomerates in southern China today,' Li says proudly.
Connecting Hong Kong with China
Besides leading a mainland conglomerate on a global journey, Li also strives to improve links between his home city and China by taking up positions in different bodies to facilitate exchange, especially for when the GBA plan is in full swing. Consisting of Shenzhen, Guangzhou, Foshan, Dongguan, Zhuhai, Zhongshan, Huizhou, Zhaoqing, Jiangmen, Hong Kong and Macau, the area generates a GDP of US$1.64 trillion – 12% of China's economy. Li believes the GBA has what it takes to be a world-class bay area that can even outperform international competitors New York, San Francisco and Tokyo.
'With 11 cities that cover a wide breadth of expertise, the GBA has all the functions combined, while the other three bay areas only focus on finance, technology and manufacturing respectively,' Li explains. He highlights GDH's involvement in the Xijiang River Water Diversion Project, which will supply water to Shenzhen, Dongguan and Guangzhou. Li expects to see more investors getting onboard. GDH has also set up an industrial park in the GBA to foster innovation as the region spearheads 5G development, and has issued green bonds for its projects.
Challenges ahead
The challenge of having three different systems in one area has, understandably, raised eyebrows. However, Li is confident that policies will be formulated at central leadership level to erase barriers, just like the new tax rules that exempt Hong Kongers from being subject to mainland tax.
Developing new policies also requires a great deal of lobbying work, and to this end Li serves as a member of the political legislative advisory body in Guangdong province to raise concerns from Hong Kong. One of the measures suggested by the group is allowing Hong Kongers to open mainland bank accounts.
Another role that Li has taken on is with the ACCA GBA Advisory Board, which aims to act as a bridge between Hong Kong and mainland China.
'We will conduct research and bring voices from different stakeholders to mainland and Hong Kong authorities to help develop the GBA. We can spread messages via different channels,' he explains.
'We will also encourage young accounting professionals to visit China more to understand the country better. In order to make constructive and objective suggestions, you need to see how things are in China first-hand.'
The GBA is taking shape, with infrastructure projects such as a new high-speed railway and bridges in place to facilitate accessibility, as well as the creation of many crossborder projects that require talent from both the mainland and Hong Kong. Co-operation is, Li says, the key to success.
'For a project to run in mainland China, we need local talent who understand the regulatory framework to win approval and have interpersonal networks,' he explains. 'And to do financing in Hong Kong, we need professionals who can follow the rules by the local authorities and perform valuation and due diligence.'
This is already happening. GDH has drawn talent from both places and as the CFO of a mainland conglomerate with a Hong Kong footing, Li himself is a frequent commuter between Hong Kong and mainland China.
Over the past two decades, there has been huge growth in the region. At the same time, there has also been an enormous shift in the overall commercial status quo, from more traditional manufacturing towards the cutting edge of science and technology. All of this has been achieved by the integration of the whole bay area: Macau, Hong Kong and the mainland have had communications, finance and transport systems woven between them, creating a whole greater than the sum of its parts.
'The GBA is one big body and Hong Kong cannot be on its own,' Li says. 'Connectivity within the area will only get stronger.'
Elise Mak, journalist
"It was one of the three largest debt restructurings in the history of the world. It was also the most complex"