As businesses in Canada grapple with how to return to 'normal' following the Covid-19  pandemic, technology will play a critical part, say practitioners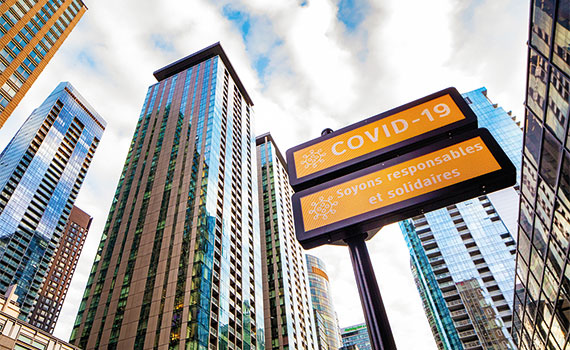 This article was first published in the July/August 2020 International edition of Accounting and Business magazine.
By many measures, Canada has not been hit as hard by Covid-19 as its immediate neighbour south of the border. Nevertheless, it has not escaped a devastating impact, both on its health and social care systems and on its economy, with the provinces of Quebec – the city of Montreal in particular – and Ontario the hardest hit. With spending to alleviate the effects on citizens and businesses still rising, the federal deficit is now expected to reach close to C$1 trillion (US$734bn) for the year, compared with C$26.6bn (US$19.5bn) in 2019.
Businesses were able to access the Canada Emergency Wage Subsidy, which paid 75% of an employee's wages, up to C$847 (US$622) per week. The government also guaranteed 80% of certain loans and put in place targeted measures for individual sectors such as agriculture and energy, as well as measures aimed specifically at indigenous people.
At an individual level, initiatives such as the Canada Emergency Response Benefit – a taxable benefit of C$2,000 (US$1,469) every four weeks for up to 16 weeks to eligible workers who had lost income or stopped working – and a C$3bn (US$2.2bn) temporary wage top-up programme for low-income essential workers, alongside mortgage payment deferrals, child benefit increases and a delay to tax form filing, helped ease the personal financial impact.
Now businesses face the daunting prospect of returning to some form of normality.
'Despite the uncertainties, practitioners are encouraging clients to stay positive, focus on the health and safety of staff, implement a crisis leadership plan and take full advantage of government subsidies,' says Marlon Blake FCCA, CEO of Optimal Growth Consulting.
'Businesses are encouraged to keep sales up by continuing with online stores, to maintain adequate liquidity and to find innovative ways to operate. As each province permits reopening in a careful, phased approach, businesses are adjusting to the new norms,' Blake says, adding that this will see a limited number of staff return to offices while some continue to work from home.

Forward planning
'The actions you have taken during the crisis, and how you have behaved with all your stakeholders, are going to be your platform for exiting the crisis,' says Toronto-based Lisa MacLean FCCA, a principal at The CFO Centre, an organisation that allows entrepreneurial businesses to access the skills of a finance director on a part-time basis. 'All businesses should have carried out cashflow management; they all should have done their scenario planning and changed the way they communicate. This is a human crisis, not just an economic crisis.'
Working with entrepreneurs, MacLean has observed that this human aspect is front of mind. 'One of the things I've seen my clients do is learn who they are and what their culture is,' she says. 'This has either endorsed who they think they are or shown how they can shift their core values and culture.'
Being able to access good data will be key to a business's survival, whether that is consumer data that can show how markets have shifted, or financial data that can tell the business its position in real time. 'Daily and weekly financial dashboards will be increasingly important,' MacLean says. 'Technology is going to be critical – it is the way to run the business efficiently and it lets you keep a finger on its pulse.'
Blake agrees. 'Artificial intelligence-based data analytics and predictive modelling are enabling companies to better understand data,' he says. 'More accurate forecasting is being achieved so that businesses can quickly identify trends and make decisions.'
Toronto's government is working with start-up Ritual to enable restaurants, grocery stores and other food service businesses to accept digital orders. Meanwhile, new technology ShopHERE is enabling businesses to create online stores. 'The technology is critical for businesses facing reduced sales during Covid-19,' says Blake. 'It offers clients the ability to quickly set up and launch online stores and enables training in digital marketing.'
Technology has, of course, been at the centre of remote working. Sarmad Ali Khan ACCA, a manager at DMCL Chartered Professional Accountants in Vancouver, British Columbia, has been working from home since mid-March. As the province was not as badly affected as Ontario and Quebec (where the cities of Toronto and Montreal are located), the provincial government began a back-to-work policy in mid-May.
'The idea is not to have the full staff back to work at once but to assess their ability to get back to work,' Khan says. 'Technology and the ability of the leadership to engage employees remotely will continue to be integral aspects of the new normal working environment.'
He notes that although his own profession is very much a people business where interaction is key, there will still be a demand for flexibility. MacLean agrees, saying that many employees will have enjoyed the flexibility in the hours and the ways they have worked. 'We should anticipate employees will want to continue with this and see this as an opportunity to shift the employment proposition,' she says.

Worse to come?
However, Khan warns that Canada may not have seen the full economic impact of the crisis yet, noting that despite government intervention, millions of people have either lost their jobs or been required to work reduced hours. 'Recovery could be even harder to predict than the virus,' he says, adding that the oil and gas industry has a very strong presence in and around Vancouver. Already hit by the oil price war between Russia and Saudi Arabia, the industry was not in a good position even before the crisis hit.
'The combination of the Covid-19 pandemic and severe oil price reductions are steering the economy into a recession,' says Blake. 'Forecasters are not able to accurately assess the full extent of the economic decline, but some are predicting a second or third Covid-19 wave, which will worsen the impact.'
Khan agrees. 'On the ground, there is a lot of anxiety about the future,' he says. 'In the long term, the economy will pick up. Old industries may die but new ones will grow.'

Philip Smith, journalist
"All businesses should have changed the way they communicate. This is a human crisis, not just an economic crisis"