With major reforms taking place next year in how civil litigation cases are handled, accountants will be well placed to benefit from dispute resolution work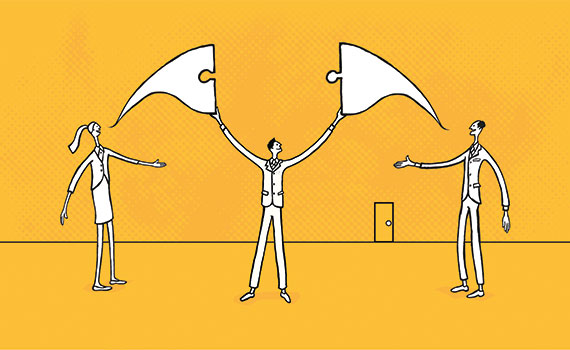 This article was first published in the April 2019 UK edition of Accounting and Business magazine.
Put simply, ADR is the resolution of a dispute with the assistance of a neutral third party. It aims to help conflicting parties reach agreement without having to go to court. Several different dispute resolution methods fall under the umbrella of ADR, including arbitration and mediation, and the approach has grown in popularity over the past two decades. According to the Centre for Effective Dispute Resolution (CEDR), around 12,000 mediation cases now take place in England and Wales every year.
ADR can be used to resolve a wide range of disputes. At one end of the scale, a consumer might claim that a trader has mis-sold goods and services. At the other end, two blue-chip companies might be wrangling over a multimillion-pound commercial contract. The role of the ADR professional is to help the disputing parties arrive at a mutually agreed solution.
Many of the people who work in ADR are lawyers, but it also attracts accountants, chartered surveyors, psychologists and those from other professional backgrounds. At present, ADR is unregulated, although many training providers offer would-be mediators the opportunity to participate in their accreditation schemes.
ADR does not feature prominently on the accountancy profession's radar at present, which is hardly surprising given it suffers from a lack of awareness generally. 'One of the biggest problems with ADR is that people just don't know it exists,' says Alexander Dunlop a senior investigation officer within ACCA's Conciliation Service. 'People are all too quick to go to court rather than look at other ways of resolving issues.'
That's all likely to change next year, however, when a huge shift is set to occur in how civil litigation takes place in the UK. This shift follows the publication of the Briggs Report in 2016, which made recommendations to improve the civil court structures and judicial processes in England and Wales. One of the recommendations in the report was that parties involved in a dispute where the claim is below a certain value should be compelled to try to resolve the dispute between themselves through an ADR process before the case comes to court. The recommendation will affect the vast majority of civil court cases, and the government is targeting 2020 for the new process to be in place.
'The ADR industry is about to get a lot larger due to this reform,' says Dunlop. He believes more widespread use of ADR is a good commercial opportunity for ACCA members. This is because accountants' skillsets are transferable to the handling of commercial and consumer disputes that involve businesses. 'Because ACCA members are instructed in a business advisory capacity, they may become aware of any difficulties in a business,' he says. 'They may even be the first to become aware outside of the business itself.'
Referral network
While conflict-of-interest issues may prevent ACCA members from being able to resolve their own clients' disputes, they could operate a referral network where they pass disputes involving their clients on to ACCA peers. ACCA will therefore provide support and CPD for members interested in ADR, and it could partner with an external organisation to offer its own accreditation.
'ACCA looks at new and developing areas of practice for its members,' explains Glenn Collins, head of technical advisory at ACCA, 'and this area seems to fit the skillset of our membership. As we look to explore the potential opportunities provided by ADR work, it would be useful to hear from any members who have an interest in it.'
Yogesh Patel FCCA, a tax director with accountancy firm Godley & Co, currently prepares expert witness reports for law firms handling asset splits in divorce cases. 'We help the lawyers work out who owns what, what the value is and what the tax implications are according to the potential asset split,' he says. His experience of doing expert witness work has also led to him having an interest in handling mediation cases. 'Accountants know more about the company or the client's affairs than most people would, so it's a natural progression.'
Requisite qualities
So what are the skills and personal qualities that make a great ADR professional? 'The ability to listen effectively,' suggests Dunlop. 'Communication skills are key and it also helps to have a level head. A calm voice can go a long way.'
'The personalities involved can sometimes prevent people from finding a solution,' says Terry Renouf, founder of Renouf Mediation. 'Often disputes are a bit like a Venn diagram. Each party sees their own circle and doesn't necessarily see the potential to overlap. You as the mediator can see where the two circles overlap and the solution that lies somewhere in the middle.'
To begin with, ACCA members who take on ADR cases will probably want to combine these with existing practice work while they build up their reputation in their new specialism. However, being an ADR professional is potentially a sensible strategic decision and a lucrative option in the long run, especially in light of the legal reforms.
The evolving technological landscape also presents an argument for diversification. 'As technology drives the way that the day-to-day job of accountants is done, accountants need to consider other revenue streams to help facilitate revenue growth and offsets the potential loss of revenue through automation,' says Patel.
Junior-level ADR professionals handling minor disputes are likely to start out by charging around £50 to £100 per hour. In contrast, an extremely experienced commercial mediator handling a multimillion-pound dispute might be able to command up to £5,000 per day. Fees can be charged on a fixed-fee basis or pinned to the sum involved in the dispute. Where fees are charged on a daily basis, they do not include any additional fixed fee that may be based on the value of the dispute.
Renouf's advice for ACCA members who are interested in doing ADR work is this: 'Select a training course and start early. It's not the sort of thing you can embark on next week. Senior mediators have often been doing it for many years. It's very competitive, so you need to be committed to the long haul.'
Sally Percy, journalist
"Often disputes are a bit like a Venn diagram. Each party sees their own circle and doesn't necessarily see the potential to overlap"