Accountancy and ACCA play a major role in the household of Sim Lian Hing and his wife Teo Siok Kee. Long-time ACCA members, they can count eight accountants in their family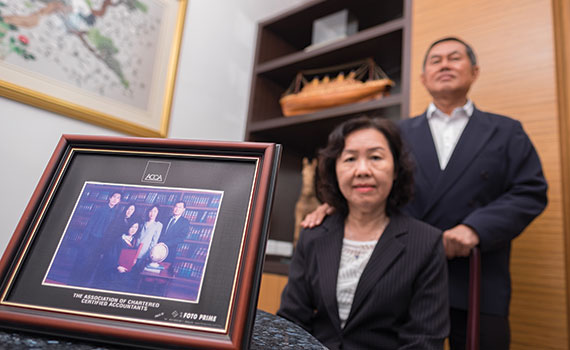 This article was first published in the February 2017 China edition of Accounting and Business magazine.
Sim Lian Hing and Teo Siok Kee are partners in more ways than one. As well as being husband and wife, they are partners in their own accounting practice Sim & Teo in Melaka. And as if that didn't add up to enough accountants in the family, their three children – two daughters and a son – are also ACCA members, and all their spouses are accountants working in practice and the corporate sector as well.
Having so many accountants in the family means mealtimes during family gatherings are often focused, to say the least.
'In a family of eight accountants, we inevitably end up being very good at calculations. So this means when we eat fish balls, each person will automatically know their share based on the number of pieces ordered to make it 'balanced'.
And the organised approach doesn't just extend to fair shares. 'Whenever we buy any consumable or household products, as far as possible we tend to buy an extra one as a provision for when we have urgent needs,' Sim jokes.
Accounting is in the family's blood. The couple's son Sim Siew Han and his wife Trina Tay Pei Fong are audit managers in Sim & Teo PLT. Tay, who graduated with a bachelor of accounting from the Multimedia University, is a member of the Malaysian Institute of Accountants.
Daughter Siew Shan, meanwhile, is head of finance with KLCC Group, while her husband, Eddie Chew Chun Liang, a CPA Australia member, is a partner in a private equity firm in Kuala Lumpur.
The couple's other daughter, Siew Huay, is based in the UK, working as a senior technical manager with Deloitte in London. Her spouse Tim Ma Ting Hin, a member of the Institute of Chartered Accountants in England and Wales, is a finance manager with Inmarsat in London.
So how did this unusually consistent family focus come about? Teo says that's an easy question to answer. 'We did encourage them to become accountants and I am proud to say all of my children are ACCA qualified.'
Life-long partnership
That said, when Sim and Teo tied the knot back in 1979, they had no idea that their household would eventually be filled with accountants.
Nor did the couple have any qualms about bringing their partnership in life into the business world. They started their own practice in 1980 and have worked together as partners ever since.
Before joining forces, Sim was working at the Inland Revenue Department in Melaka while Teo was employed by an audit firm in Kuala Lumpur.
'We were keen to spend more time together and set up our family so we decided to choose Melaka as our base. With my background training in taxation and my wife's auditing experience, I feel we complement each other in our practice perfectly,' he says.
The firm specialises in auditing (led by Teo), tax (led by Sim), plus secretarial and accounting services to cater for clients of all sizes.
After 36 years running the business together, Sim is convinced there are more advantages than disadvantages in running a practice with one's spouse. 'An obvious advantage is that I have someone who truly understands me.
'In addition, we have different strengths so, for example, Teo handles office administration more efficiently than me and the firm's finances and cash flows are therefore well taken care of,' says Sim, adding that his wife still takes charge of the office accounts, including the submission of the Goods and Services Tax 03 Returns.
But being partners in life and at work is not always plain sailing. There can be 'drawbacks', Sim admits.
'Our conversations at home can be very work orientated, making it hard to switch off. All our office payments, including my salary, have to be approved by Teo,' he says, wondering aloud, tongue in cheek, whether this is perhaps actually a disadvantage.
On the tricky question of who really heads the firm, Teo gives a ready answer. 'We are both equal partners and head up different fields,' she says.
For Sim, the question of who is in charge is not an issue of contention. He stresses that having worked together for so long, it is generally 'very easy' to make decisions.
'For more complicated matters, we will normally act by mutual consensus, but in certain situations, one of us may be better placed to make the decision. For example, we have agreed that in the area of auditing, my wife will make the key decisions and vice versa for taxation,' he explains.
Sim and Teo are proud that their firm is now one of the more established practices in Melaka but both admit it was not always easy.
'To establish our firm, we worked extremely hard in the early years – so this meant never taking a day off and probably overworking ourselves. At the same time, we were raising our children, making it even more challenging to maintain a work-life balance. I am happy to say that we have a much better balance now,' says Sim.
Their main challenge is to pass the firm on to the next generation and ensure the succession of the brand.
The right qualification
A family where both the parents and all the children are ACCA qualified is rare. Teo has no doubt that ACCA was the right choice not only for her and her husband, but for their children as well.
'The ACCA syllabus covers a wide range of areas which help to prepare accountants for working life. It also makes our recruitment process easier as we know any candidates with the qualification will have a minimum skillset.
'In addition, we have clients asking us a variety of questions and the ACCA Qualification helps to provide a good starting point,' she adds.
Sim says he took up the ACCA Qualification because he was 'determined to be a successful accountant' and so wanted to obtain a recognised accountancy qualification.
'I found that not only is ACCA recognised in Malaysia, but worldwide too. So I commuted daily to a college an hour away, as they offered the ACCA Qualification through afternoon and evening classes.
Prior to his ACCA studies, Sim worked part-time as a teacher in a Chinese independent school. 'Whilst I enjoyed this immensely, I wanted to utilise my free time to learn a new skill which would allow me to support myself financially. I found that accountancy offered a strong career path and reasonable course costs'.
Teo had her heart set on an accountancy career from the outset – though it was not such a popular career option back then.
'I had already decided that accountancy was my career of choice and I wanted to excel at it. ACCA was the most attractive option as it is recognised worldwide,' she adds.
In fact, life could have been very different for Teo if she had not opted for ACCA. 'I did a year as an apprentice to a quantity surveyor and was responsible for surveying the Seremban-KL highway.
Wise choice
'However, as the weather is so hot in Malaysia, I decided to change profession! Family members recommended accountancy as a good career choice as well as one with affordable course fees,' she adds.
For Sim and Teo, the choice has paid off and they haven't looked back.
MK Lee, journalist
"With my background in taxation and my wife's auditing experience, I feel we complement each other in our practice perfectly"