Businesses and employees need to consider a range of factors and options when it comes to closing the gender pay gap, as Alan Hickey outlines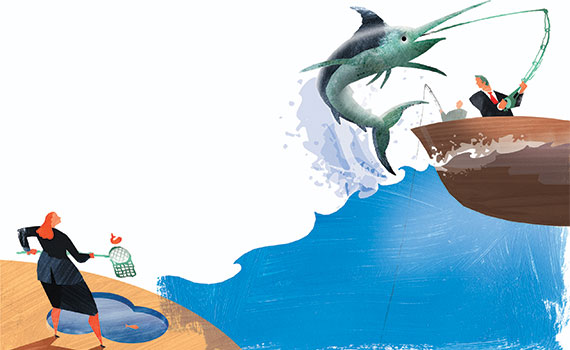 This article was first published in the March 2018 Ireland edition of Accounting and Business magazine.
Earlier this year the Department of Justice organised a national conference to identify measures to address Ireland's gender pay gap following a recent consultation.
At the conference, it was stressed by a number of speakers from a variety of backgrounds that the gender pay gap should not be confused with an 'equal pay for equal work' issue.
This is an important point for the public and for the media to be aware of because sometimes the existence of a gender pay gap in an organisation is not necessarily evidence of discrimination. Indeed, one employer could have the most robustly fair policies in terms of gender equality and wage transparency but still have a large gender pay gap.
Equal pay for equal work is just one of many factors which can contribute to the gap and understanding all the contributing factors is vitally important.
As a result of the consultation, it is likely that new measures will be introduced in the short to medium term.
Wage transparency
It is likely that some form of gender pay gap reporting will be introduced whereby employers will be required to disclose the pay gap in their own organisation. The Gender Pay Gap Information Bill was put forward by Senator Ivana Bacik in 2017 and proposes that employers with 50 or more employees would be required to publish certain data in respect of the difference in the hourly rates of pay received by men and women and the differences in bonuses paid to men and women.
Affordable childcare
Almost half (47%) the submissions outlined 'women and caring responsibilities' and 18% outlined 'childcare' as primary causes of the gender pay gap. This is on the basis that childcare services in Ireland on average equate to over 50% of the average weekly wage. As a result, it is often more economically viable for one parent to either stop working, or to work part-time hours, and care for their children themselves. The statistics show that generally, this responsibility falls to the mother, which in turn contributes to the gender pay gap.
Employees can expect some developments in terms of affordable childcare schemes to make it more economically viable for both parents to continue working and to do so on a full-time basis.
Shared parental leave
In Ireland, a mother is entitled to up to 42 weeks of maternity leave upon the birth of her child. Whilst mothers have a considerable degree of flexibility as to how much leave they want to take, all mothers would be required to take two weeks leave before and four weeks leave after the birth. This can be contrasted with fathers, who are entitled to two weeks of paternity leave. Statistics show that only one-third of fathers actually take this leave entitlement.
The net effect of this is that women spend more time out of employment on statutory leave caring for children than men do. This in turn can lead to a conscious or unconscious bias in terms of hiring women for particular roles, such as managerial positions, and can be considered an advantage for men (and women who do not have children) as they will spend more time in work gaining experience and skills, which in turn can lead to better career and financial opportunities.
At the symposium, Minister for Business, Enterprise, and Innovation Heather Humphreys outlined her intention to introduce legislation whereby family-related leave is more evenly divided between men and women. Similar legislation is in place in Scandinavian countries, for example, and may closely mirror the shared parental leave system in place in the UK.
Occupational segregation
A consistent point raised at the conference was that there is a lot of occupational segregation whereby some roles/sectors are considered to be male, whereas others are often considered to be female. The problem here is that many of the 'male roles' are ones that attract a higher rate of pay, such as construction, engineering, mechanics and science, whereas the roles identified as female often carry a lower rate of pay, such as childcare, residential care and education.
This was the second highest contributing factor, making it likely that measures will be introduced to improve the percentage of women seeking employment and education in areas dominated by men. The best way to tackle this is likely to be at secondary school level through career guidance and promotion, and the running of STEM subjects in girls' schools.
More women in senior roles
A Eurostat news release in March 2017 highlighted the fact that 'only one manager out of three in the EU is a woman'. Clearly, if men occupy the majority of senior positions then men on average will earn more than women. This is a significant factor in the gender pay gap.
It is therefore quite likely that a national campaign on improving the percentage of women in senior positions will take place. This may involve employers voluntarily signing up to achieve certain quotas or, alternatively, a legally required quota. It is suggested that the former is the more likely course of action in the short to medium term.
Alan Hickey is head of services at consultancy firm Peninsula Ireland
Primary causes of the gender pay gap
| | | |
| --- | --- | --- |
| Submissions to the consultation identified a range of issues as being major contributory factors to the gender pay gap. | | |
|   | Number |     % |
| Women and caring responsibilities | 18 | 47% |
| Occupational/sectoral gender segregation | 14 | 37% |
| More women in lower paid employment | 13 | 34% |
| Discrimination in the workplace | 9 | 24% |
| Lack of women in senior positions | 9 | 24% |
| Unconscious bias | 9 | 24% |
| More women in part-time employment | 8 | 21% |
| Women and unpaid work/domestic responsibilities | 8 | 21% |
| Childcare | 7 | 18% |
| Undervaluation of women's work | 7 | 18% |
| Lack of flexible working practices | 6 | 16% |
| Non-transparency of pay structures | 5 | 13% |
| Women and initial/unequal salary negotiations | 4 | 10% |
| Precarious work/zero-hour contracts | 1 | 3% |
"Measures are likely to be introduced to improve the percentage of women seeking employment in areas that tend to be male-dominated"