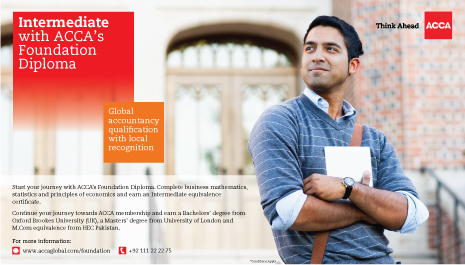 The news that it has become the first international professional accountancy body to have its entry level qualification officially recognised as being equivalent to a Higher Secondary School certificate has been welcomed by ACCA (the Association of Chartered Certified Accountants).
In a notification issued on 24 February 2015, Inter Board Committee of Chairmen (IBCC) has announced that ACCA's Foundation Diploma in Accountancy is now equivalent to Higher Secondary School Certificate (HSSC) Commerce group of Pakistan.
Following this announcement, the graduates of the ACCA Foundation Diploma, passed out of 2014 and onwards, will only be required to pass three additional examinations of Business Mathematics, Statistics and Principles of Economics from Board of Technical Education and concerned Board of Intermediate and Secondary Education (in case of Baluchistan), after which they will become eligible to claim the intermediate equivalence certificate from IBCC.
ACCA works hard to ensure that its qualifications meet the needs of employers and that its students are ready for the world of work and the fact that it has passed IBCC's rigorous assessment means that young people who pursue the course can be assured they will have a valuable and recognised qualification to their name."