When Zann Kwan FCCA, CEO and co-founder of Bitcoin Exchange, saw the potential of cryptocurrency, she made it her mission to bring the technology to the masses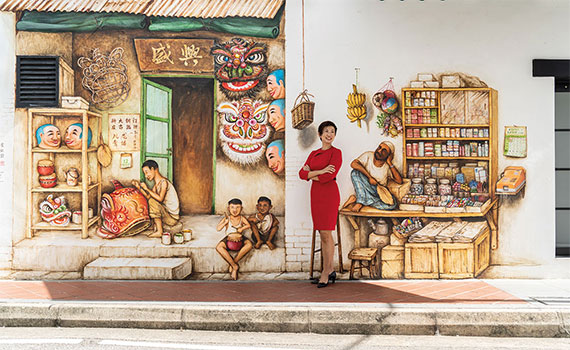 This article was first published in the September 2019 edition Singapore of Accounting and Business magazine.
From an early age, Zann Kwan, CEO and co-founder of Bitcoin Exchange, has always had a mind for business. While still a student in junior college, she started her first venture selling pop star posters that she had acquired from a wholesaler in China. So when it came to choosing her university major, Kwan naturally wanted to pick business administration. A mentor, however, suggested choosing accountancy because of its value as a professional degree.
It was a hard decision but, today, Kwan is glad she decided to follow that advice, having seen first-hand how her grounding in accountancy has helped her to succeed across a variety of environments. 'My degree in accountancy helped me to understand business, rather than just how to do business,' she says.
The first time Kwan experienced the benefits of her accounting qualification was in 2001, when she was seconded to Arthur Andersen's New York office, three years into her first job. What should have been an exciting time, however, soon turned into distress as she watched the accounting giant slowly collapse before her eyes.
Instead of having to turn around and go home, however, Kwan found herself being presented with an opportunity to move into real estate development when one of her audit clients offered her a job. Impressed by how she approached the property investment business, they felt that she would make a welcome addition to the team.
Kwan says that moving to real estate was especially sweet because of the fact that she was not hired as an accountant. Rather, because of her strength in numbers, she was able to move laterally to become an investment manager. 'True to what my mentor had said many years ago, my background in accounting and strength in numbers was something that I could easily transfer to other industries,' she says.
What began as serendipitous encounters in New York eventually turned out to be a fulfilling career in real estate investment. By 2012, Kwan had established a credible reputation in the industry. She had an impressive resume that included serving as vice president in two real estate investment companies in New York, as well as being vice president for real estate at GIC – a sovereign wealth fund established by the Singapore government to manage its foreign reserves.

Changing perceptions
It therefore came as a surprise to friends and associates when Kwan launched a company that dealt with cryptocurrency in 2013. At that point, she says, many people held unfavourable opinions about the industry, associating cryptocurrencies with drugs and other vices. 'A friend of mine who was a senior executive in the IT industry pulled me aside and told me to stop, warning me that my professional reputation was at stake,' says Kwan. 'I was really quite shocked to learn about how negative the perception of bitcoin – and other cryptocurrencies – was for so many people.'
For Kwan, however, setting up Bitcoin Exchange, which introduced Singapore's first public bitcoin ATM in 2014, was hardly a spur-of-the-moment decision but the culmination of her earliest desires to go into business, as well as her growing interest in cryptocurrency. On top of this, during her time in the real estate business, Kwan had observed how tech companies tended to make good property clients.
'The first time I read about bitcoin was in 2012 and I was struck by its potential as an avenue for value transfer, and how it could be used to provide financial services for the unbanked,' she says. 'This was also when I first thought about buying bitcoin. However, I wasn't quite sure how to do so as many of the websites did not appear to be trustworthy.'
Just a year later, she dramatically took the next step. As she was about to give birth to her first baby, an old friend in New York called to tell her that he had bought a bitcoin ATM and asked if she would be interested in bringing it to Singapore.
'I told him, "Give me a month. Let me look into it after I give birth." Soon after my baby was born, I started looking around and discovered that hardly anybody knew about bitcoin ATMs,' Kwan recalls. 'This experience, combined with my own difficulties of trying to purchase bitcoin, convinced me that it was a feasible business to bring cryptocurrency to the masses.'

Numerous challenges
Like many entrepreneurs, Kwan soon discovered that she would have to overcome numerous challenges in order to reach her objective. The first was finding a landlord who would be willing to house her ATM machine. 'I had to do quite a bit of convincing and explain what this new technology was all about,' she says. 'It took a lot of presentations to many different landlords before I was able to find a suitable home.'
Then there were the regular rigours of running a start-up business, from administration to operations and everything in between. 'If you've never personally experienced working in a start-up, it may be hard to fully comprehend what it means to have to do everything,' Kwan says.
However, she found that her background in accounting gave her a leg-up in certain areas such as cashflow. 'I knew, for example, that one of the biggest liabilities for companies were rental costs. Hence, when we were looking for a space to set up Bitcoin Exchange, we decided to get a bigger unit so that we could share our office space with other companies and freelancers,' she says. 'Besides reducing our operating costs, we were even able to make a profit.'
Another thing that Kwan brought to the table was her understanding of how to implement proper business controls. She shares that in the early days of bitcoin, there were hardly any finance professionals or accountants in the business. Pointing to the infamous collapse of Mt Gox, a Japanese cryptocurrency exchange, she says, 'That was a result of internal control failure rather than a fault with the technology. This is why I keep stressing how important strong controls are in a start-up. It doesn't have to be very complicated. But you need a paper-and-process trail minimally so that you are able to scale.'
By 2015, Kwan realised that in order for her business to be successful, she would also need to do something to change public perceptions of cryptocurrencies, and help create a more robust and connected ecosystem between stakeholders and the government. To achieve this, she partnered with other industry pioneers to set up ACCESS – one of the first associations in the region dedicated to the advocacy of cryptocurrencies.
Singapore's potential
'We strongly believed that Singapore has tremendous potential as a crypto hub,' Kwan says. 'Unfortunately, the industry was still very negatively viewed by the banks, who associated it with money laundering and terrorist financing. That negative image was not unsimilar to that of the internet and mobile phone industries in their nascent years. We knew that we needed to speak as one voice, to get more support from the government and industry leaders.'
From giving university lectures to speaking at events such as ACCA's 2018 Ethics Film Festival, Kwan and ACCESS have worked hard to improve the industry's profile. Kwan's drive and passion has also seen her work with a host of other government and private sector initiatives. These included working with the Monetary Authority of Singapore through ACCESS to come up with a code of practice for crypto and blockchain companies, and, most recently, taking on the role of director of digital services with accounting firm Crowe.
Kwan furthermore played an instrumental role in spurring the recent revamp of Singapore's GST policies regarding virtual currencies. Through a series of talks, panel discussions, and advisory and engagement with the Inland Revenue Authority of Singapore, she brought clarity and attention to the severe implications of the previous regulations, while offering practical suggestions which were eventually adopted. Her combined expertise in accounting, taxation and virtual currencies proved to be indispensable, and offered a holistic perspective. This change in tax policy cements Singapore's standing as a pioneer among the key financial hubs in establishing friendly and well-defined GST regulations for the sblockchain ecosystem.
Throughout Kwan's career, developing a global perspective has been crucial – with ACCA playing a central role. Kwan achieved the ACCA Qualification early on in her career and believes that even though she already had a degree in accounting, ACCA gave her an added global mindset to excel in jobs servicing global conglomerates and handling global portfolios. 'It was definitely tough pursuing ACCA while juggling a 100-hour work week at Arthur Andersen, but I'm glad that I persevered,' she says. 'It has provided me with an international perspective that has proven useful time and time again.'
Beyond enhancing her technical knowledge of global financial practices, Kwan says that ACCA also aided her by providing her with a valuable international network. Recalling the time when she was based in New York, she shared that the tight-knit group of ACCA members would often gather to exchange job and business opportunities, and update one another on industry changes.
'Because the profiles of ACCA members were so diverse and international, it really helped me to build roots in a new country,' she says, adding that many remain lifelong friends.
Kwan also advises finance professionals to define their career objectives and take digestible steps to achieve them. 'Think big but do small,' she says. 'For me, one of the big challenges I faced in starting Bitcoin Exchange was having to pick up new skills in IT and coding. Instead of letting myself become overwhelmed, I decided to start with just 15 minutes of reading a day, which soon turned into 30 minutes and eventually an hour.'
Finally, she believes in the importance of maintaining a positive mindset even in the midst of failures. This can, she says, be especially difficult for accountants who are particularly afraid of making mistakes.
'You need to learn to focus on the effort and worry less about the results. Because, ultimately what you can control is the effort, but not the result', Kwan says. 'One of the things we can do to stay positive is to be encouraged by small wins, while keeping the big picture in mind, which could be your career objectives or your life goals.'

Rufus Tan, journalist
"A friend in the IT industry pulled me aside and told me to stop, warning me that my professional reputation was at stake"