The principles of gamification – applying game design elements and principles in training and marketing – can be a powerful tool in motivating staff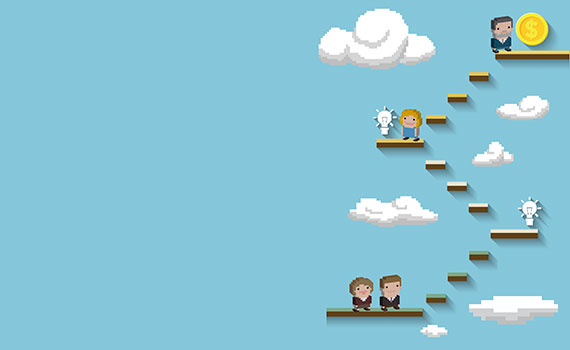 This article was first published in the January 2020 International edition of Accounting and Business magazine.
The most successful organisations around the world are discovering that one of the best ways to work may be to play. In a recent survey by learning management platform TalentLMS, 89% of respondents reported that they would be more productive if their work was gamified. Of those who already used the technique, an astounding number felt that gamification made them feel more productive (89%) and happier (88%) at work.
'Gamification in business is being recognised as an asset in training and marketing. Play and games are how we learn as individuals and form social interactions,' says J Travis, a researcher of play and games.
Travis, who recently completed his PhD dissertation, Playing with Consumers: Examining the Role of Play in Consumer Marketing at City University of Hong Kong, traced the use of games and play through advertising and marketing over several decades. He believes that the use of gamification in the workplace is a logical evolution.
'It is a natural transition for games to be morphed as tools for training in business and marketing,'Travis says. 'The simplicity of gamification for motivation should never be underestimated, given its power for connectivity in all aspects of culture.'
In the US, employee training is one of the first areas to undergo gamification. 'In business, sales training has been gamified through incentives and professional competitions. The aspect engages employees where work feels less like work,' says Travis. 'Striking the work-life balance society promotes can only be achieved when a business understands their employees are their greatest asset and treats them accordingly.'
Dixon Wu, a UX (user experience) and gaming consultant at Spoon Usability, has worked in both the US and Asia. He sees US gaming and tech companies as being at the forefront of gamification.
'It can be as simple as switching up corporate terminology,' he says. 'A gaming company I worked with replaced "workshops" with the term "dojo". So instead of going for a course, you feel like you are going to upgrade your ninja skills. The first step of gamification is to basically change mindsets. It helps people look at the same thing from a different angle.'
While North America had the largest share of the global gamification market in 2018, other regions, including Asia Pacific, are catching up. Wu believes that cultural differences can have an impact on adoption.
'Western cultures are more playful and experimental, so they are able to adopt it more naturally. Asia may have a strong gamer culture, but there is a strict line dividing work and play,' he says.

Next level, Asia
Still, Asian corporations are taking their first leap. Professional services firm Deloitte China recently invested significantly to develop an exclusive game, targeted at newly promoted staff. Rolled out last March after a year in development, Throne Legend – similar to the popular empire-building game Three Kingdoms – is an internal app that aims to make learning and training fun.
'A virtual learning environment is great for many to retain the lessons after classroom learning,' says Cissy Chiu, learning and development leader at Deloitte China.
According to a Deloitte report, Gaming away the leadership gap, most employees spend just 1% of the working week on formal learning activities. Gamification, the firm says, may be more effective than lectures or videos in driving up this figure. The report also points out that adults learn best via experiences that can provide a foundation to learn and reflect.
At Deloitte, staff are invited to play Throne Legend after attending a two- or three-day programme to transition into new roles; the game can then go on for three or four months. 'They will first log in and be randomly assigned a kingdom,' explains Angela Lee, learning and development director at Deloitte China. 'They then work in the team of their assigned kingdom and complete both individual and team tasks to support its growth.'
The challenges include key components in the firm's learning programme, allowing players to practise leadership skills and shore up their teamwork. A chat function and chat groups allow players to communicate.
'The game requires those from different regions and functions within the organisation to collaborate, similar to our Deloitte environment, where it might be hard to meet in person,' says Lee.
At the end of a specified period, the kingdom with the most points wins, the players are awarded small prizes and a dashboard shows the rankings.

Not just a hi-tech solution
Andrew Lau, CEO of Malaysia-based gamification consultancy Think Codex, says the common misconception is that gamification is about turning everything into video games.
'A lot of people think gamification is all about apps, board games and online stuff. But gamification is 80% psychology; the rest is game mechanics and dynamics,' says Lau, who is also the vice chair of the International Gamification Confederation.
The goal, Lau explains, is to bring out specific behavioural patterns. 'The majority of gamification is really motivational science, behavioural economics, habit-building models and skills improvement. Gamification is used at the back end to engage a person,' he says, adding that many things have already been gamified, including the idea of the corporate ladder itself.
In its recent report, Gamification and sustainable behaviour change in the workplace, consultancy Accenture noted that game mechanics can help get past the walls that consumers have built against a 'deluge' of information. Still, David Phalaris, director and co-founder of Hong Kong-based Maloya Games, believes that the power of gamification is mostly untapped in corporate settings.
'If corporations would compare the outcomes of their gamified and traditional training programmes, they would be more compelled to roll it into other phases of their operations,' says Phalaris, noting that this is particularly true for human resources.
'Many people know how to work an interview to give the right impression. But using game simulations allows HR managers to see how they would communicate and react in real-life work situations,' he says.
Games are not only engaging but also provide purpose and meaning for those playing them. Microsoft tapped into this when it asked staff to help translate its Encarta encyclopaedia. Participants thought their efforts would help represent their country and language better, says Lau. Meanwhile, companies like TripAdvisor have tapped into this same mindset with their reviews, which individuals contribute by the millions.
By setting up the right drivers (see boxout), employers can make work processes more meaningful and drive engagement. This could be particularly useful in both the training and actual work in areas that can be seen as tedious, such as compliance and due diligence.

Psychological triggers
Beyond the workplace, the idea of driving engagement through games is nothing new. Accenture's report points to the Solitaire application that Microsoft included in Windows 3.0 in 1990 to help users practise the mouse's click-and-drag functions.
'It's about setting up the psychological triggers for the right purposes,' Lau says. 'With the workforce, especially millennials, forcing behavioural patterns through policies and top-down management approaches is no longer a viable option.'
In fact, poor management can often have the opposite effect on the workforce, fostering employee disengagement, counterproductive work behaviour and increased turnover.
While gamification has become increasingly popular in the West over the last 15 years, in Asia, it is mainly big corporations and multinationals that are driving the movement. Phalaris believes that gamification would be an easy concept to grasp in the region, even among older workers, given the strong gaming culture in the region.
'Even in the parks in Hong Kong, you still see old people playing go – the traditional board game – or Pokemon Go. They are more active than their peers in Europe,' he says, adding that games are 'brain food' that can keep older workers mentally nimble and relevant to the workforce.
'Games are also the glue between generations,' he concludes. 'They bring people together.'

David Ho, journalist
"The simplicity of gamification for motivation should never be underestimated, given its power for connectivity in all aspects of culture"